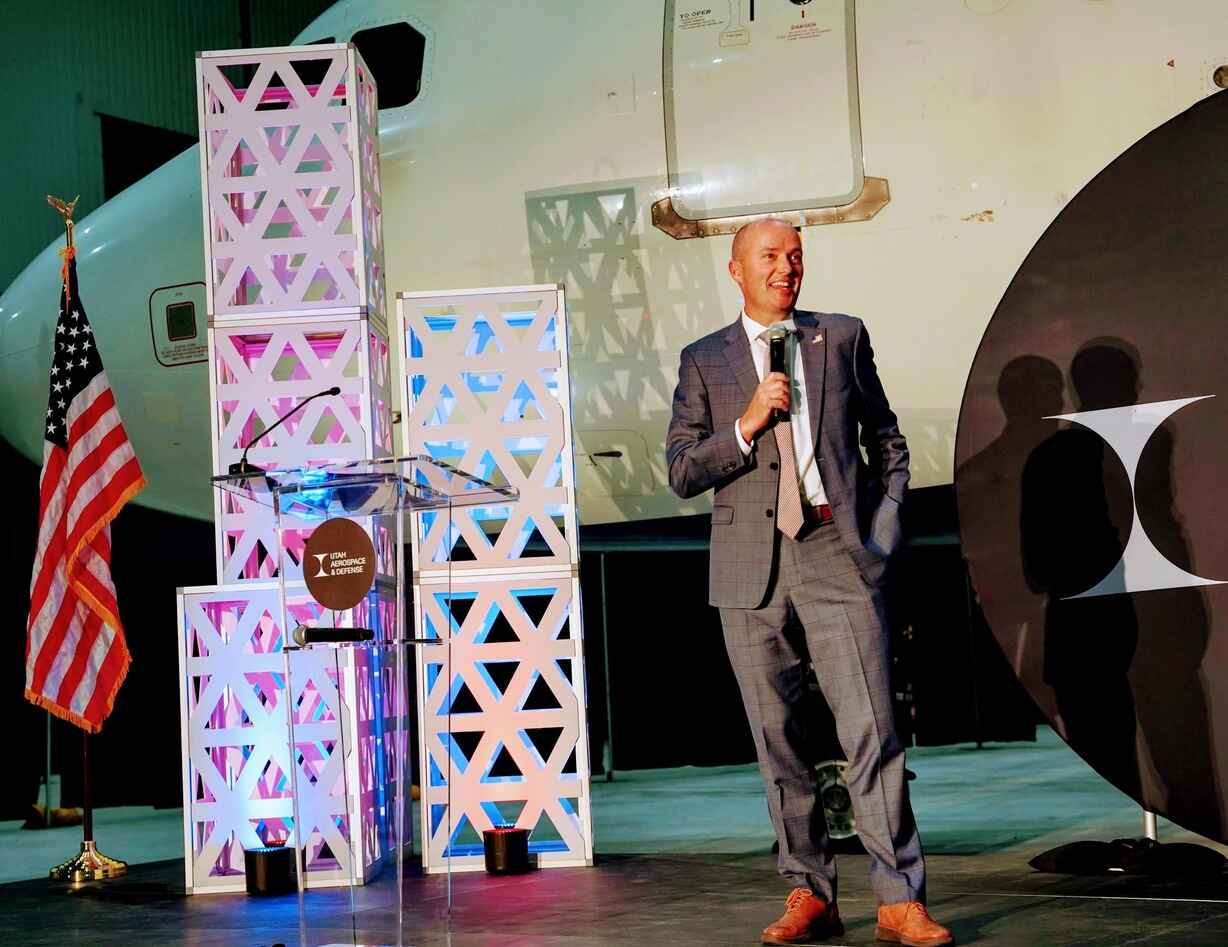 47G Revitalizes and Reimagines Utah's Aerospace & Defense Industry
On October 12, 2023 the Utah Aerospace and Defense Association unveiled a bold new vision for the state as it seeks to build the world's premier ecosystem for aerospace, defense, and cyber companies. At the expansive Delta Hangar at the Salt Lake City International Airport, the organization launched its new brand, "47G." It also announced a partnership with the University of Utah for substantial investments in artificial intelligence and semiconductor technologies that have the potential to revolutionize the industry.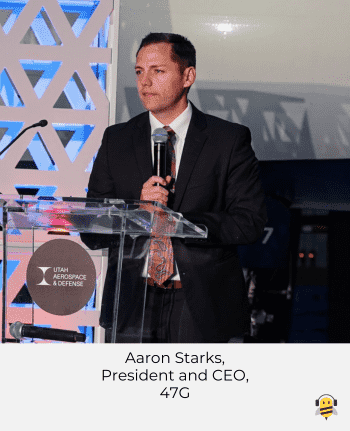 As explained by Aaron Starks, 47G President and CEO, the 47G brand is rooted in the "human drive to explore new frontiers on earth and in space." The brand honors Utah's legacy while simultaneously bringing into focus the unprecedented, fast-paced nature of rapid technological innovation happening in Utah.
"The new brand for our organization holds deep significance; it is more than just a new name. 47G pays homage to the Utah pioneers who settled the region in 1847 and to the test pilots who shattered records to experience nearly 47 g, the greatest acceleration ever achieved by humankind," said Starks. "Utah's frontier landscape, entrepreneurial spirit, and pioneer legacy makes us a natural choice for those seeking the freedom to push the boundaries of technology."
Utah's pioneers were front and center at an event unveiling the new brand. Governor Spencer Cox, legislative leaders and industry executives celebrated the descendants of Utah's original Space Port Committee, which was created by the Utah State Legislature in 1971 to conduct feasibility studies that would position the state as a potential site for space shuttle launches with the National Aeronautics and Space Administration. While the shuttle program was eventually awarded to Cape Canaveral, Florida, the effort laid the groundwork for the vibrant aerospace and defense ecosystem that exists in Utah today.
Professors and researchers from the University of Utah led the committee's efforts in 1971, and the university continues to play a pivotal role in cutting-edge aerospace and defense research today. This was evidenced by the major announcements at 47G's brand unveiling by University of Utah President Taylor Randall.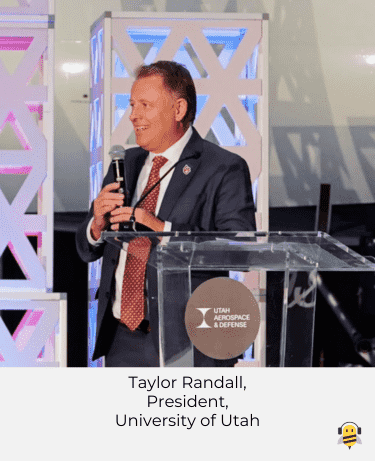 President Randall set the stage for the announcement by establishing the value of education and especially those institutions that conduct basic research. "Education can have an incredible societal impact on this state...in two fundamental ways," explained the UofU president. "First, we teach and develop the workforce. Second, a number of our universities—the University of Utah, Utah State University and Brigham Young University—actually do basic research to change the technological trajectory of our industry and our society." He cited the University of Utah, as being one of first nodes of ARPANET which later became the internet. "That basic discovery drove much of what is silicon slopes today."
President Randall then announced the official launch of the Utah Network for Integrated Computing and Semiconductor Research and Education (UNICOS). The organization, which consists of statewide partnerships between higher education institutions, governmental bodies, and members of private industry, will help develop Utah's semiconductor workforce and increase its access to key technological infrastructure.
Participating colleges and universities include:
University of Utah
Salt Lake Community College
Utah Valley University
Utah State University
Weber State University
Utah Tech University
Southern Utah University
Snow College
Brigham Young University
Mountainland Technical College, aka MTECH
This network will collaborate with companies within Utah's semiconductor industry, including Lockheed Martin, L3Harris, Micron, Texas Instruments, Silicon Technologies Inc., BlackRock and Merit Sensor.
"What brings this all together?" posited President Randall. "Our system of higher education, Talent Ready Utah, the Governor's Office of Economic Opportunity, EDC Utah, our Salt Lake Mayor's Office, and our state legislative leadership. It's a remarkable endeavor will put Utah at the forefront of semiconductor development in the United States."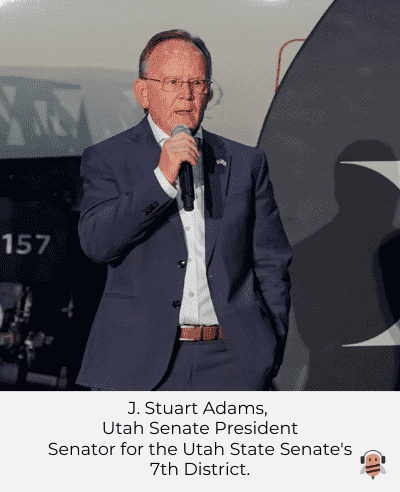 State Senator Stuart Adams recounted how he grew up "in the foothills" of Hill Air Force Base, instilling in him an appreciation for the air force base that has for decades been a prominent landmark and presence in his hometown, Layton, Utah. It motived the Senator to lead an effort to establish a state-of-the-art office development on the west side of the air force base.
"I have become acquainted with many of the men and women who have dedicated their lives to protecting our freedoms. The military loves to fund planes like the F35 and F22, but sometimes it has a tough time funding military buildings." explained Senator Adams. "Many employees at HAFB were working in old barracks. We came up with the idea of taking 550 acres of the west side of Hill Air Force Base and turning it into an Enhanced Use Lease. I've had the opportunity to chair that effort and see its great growth."
In 2019 Northrup Grumman broke ground on its new facility in Roy, Utah for the headquarters for its Ground Based Strategic Deterrent (GBSD) program to modernize the US ICBM system, employing thousands of Utahns.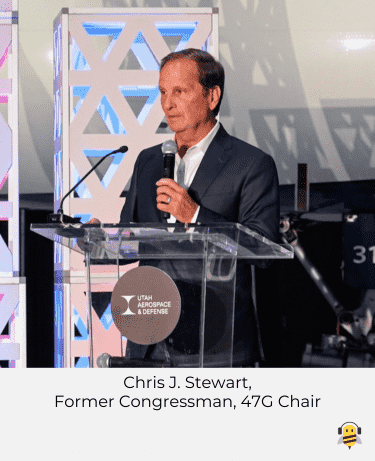 Former Congressman and recently appointed chair of newly-rebranded 47G Chris Stewart said, "47G members represent a constellation of Utah's leading companies, suppliers, educational institutions like the University of Utah, and state representatives who are at the forefront of developing and deploying world-leading, next-generation technologies. We are successfully charting an ambitious course to become 'America's Deep Tech Frontier.'"
Former Congressman Stewart established the context of why 47G matters: for Utah, for the nation, and globally. "Two years ago, none of us knew that Russia was going to invade Ukraine...None of us knew what was going to happen in Israel, with the incredible atrocities, tragedy and violence we're seeing... The fundamental responsibility of the federal government, before anything else, is to protect American lives in America's interest around the world.
He continued, "The world is unpredictable... But one thing is counter that chaos is the idea of American exceptionalism. The idea that America is a light.... I've seen it again, and again, in different places in the world where people ask me, 'Are you guys okay? We want you to be okay. We hope you are because we need you.' Whether we like it or not, we are the glue that holds the world together. And one of the most important parts of that is the ability to defend not only ourselves, but to defend those who need defense when it's appropriate to do. The US leads the world, and in this area, Utah can lead the nation in defense and national security."
As the final speaker, Governor Spencer J. Cox expressed gratitude for the 47G initiative and the people behind it. He also shared why he cares deeply about this initiative, "You are putting Utah on the map in ways that we have not been on the map before. You are building on the shoulder of giants."
He continued, "...But do you know why I love this industry? I love this industry because you provide really good jobs, to really good people in our state. And that matters. It matters to moms and dads. It matters to the kids who were able to go to college because their parents have a good job, and because they have had opportunities that that maybe others in their families haven't had. I care because you are raising the standard of living in our state."
The Governor shared a recent sobering experience that underscored to him the dangers of the current geopolitical vacuum and America's vacancy on the world stage. "I was in a room with experts from every geography in the world, people who work in international relations and military affairs. Every one of them told me a version of the same thing: The United States hasn't had a coherent foreign policy in over a decade. Our allies are saying, 'We don't get you anymore. All we see is that you hate each other and you're vacating your place on the world stage. We don't have anyone to take your place."
He continued, darkly, "One of those experts looked me in the eye and said over the next few months 'we are going to see destabilization in the world...we're going to see evil people testing the limits of the free world...willing to cross borders and create havoc.' And less than two weeks later, Hamas did exactly that."
The Governor summarized, "We need a strong America. The world needs a strong America. I've had an opportunity as Chair of the National Governors Association and work with 49 other governors. I know what's happening in their states. And I'm telling you, Utah has always been a weird state...we're weirder now than ever...and our country needs some Utah Weird right now."
For more information about 47G, visit its website, 47G.org, monitor its YouTube site, Youtube.com/@47G_Utah, and view the introductory video below: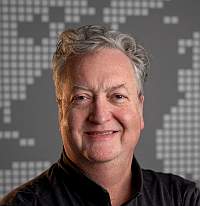 About the Author