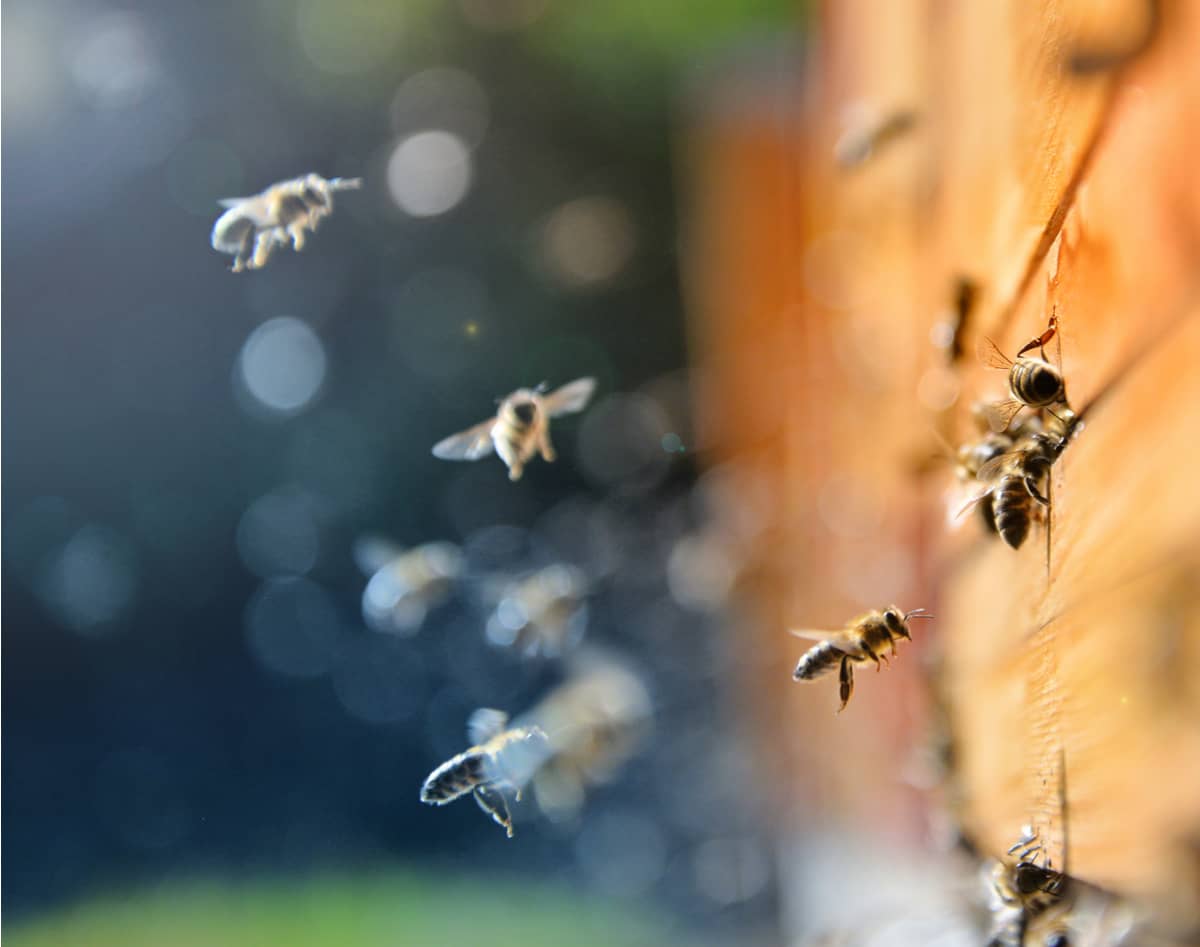 Buzzworthy - April 1, 2022
Deadline Approaching - Nominate Entrepreneurs to the WIN100 by Monday at Midnight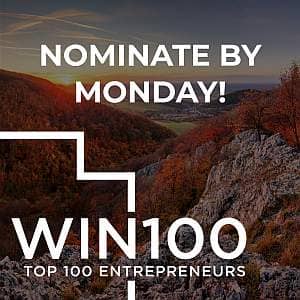 Hundreds of you have nominated your entrepreneurs to the WIN100, Thank you! The WIN100 is a superb way to recognize those tenacious, committed entrepreneurs who collectively make up Utah's vibrant and healthy entrepreneur ecosystem—the backbone of Utah's mighty economy. If you haven't nominated someone yet (up to 10 individuals that you believe will have a high growth venture in the next 2-5 years), don't wait much longer. Nominations end at midnight on Monday, April 4, 2022.
Why nominate an entrepreneur for the WIN100?
Utah is a mecca for entrepreneurs. The universities in the state; a vast support system of service providers; a supportive, business-friendly state government; a healthy and diverse investor community; and a deeply-engrained state culture of collaboration, humility, helpfulness matched with a historic attitude of self-reliance and can-do optimism all combine to make Utah the perfect place for entrepreneurs to thrive.
Contribute to the robust entrepreneurship culture in the Beehive State. Nominate someone you know who is achieving great things with a startup (and who may not getting the recognition he or she deserves). Nominate yourself, if you are that person.
The magic of the WIN100 is that it is community-nominated and peer-selected leaning on "the wisdom of the crowd."
Why participate in the WIN100?
It will increase the visibility of Utah's top venture entrepreneurs to the broader business ecosystem and particularly among in-state and out-of-state VCs and investors that are supporting this initiative will be attending the two in-person WIN100 events in May and October.
It provides excellent networking and dialogue opportunities with your peers, mentors and partner organizations—opportunities to elevate the community-minded and collaborative nature of Utah's entrepreneurship culture.
It is a unique, self-directed community of like-minded peers, all sharing the common goal of building Utah's healthy entrepreneurship ecosystem while simultaneously growing their own startups and achieving success.
Being nominated allows you to vote for other entrepreneurs on the WIN100 list consisting of hundreds of entrepreneurs in Utah. You may end up taking home a WIN100 award yourself—a small but meaningful measure of recognition by your peers for the great work you are doing.
Visit WINUtah.org to nominate up to ten entrepreneurs to the WIN100.
Pure Solutions Wins $10,000 Grand Prize in 2022 High School Utah Entrepreneur Challenge

On March 26, 2022, Pure Solutions won first place and the $10,000 grand prize at the 2022 High School Utah Entrepreneur Challenge (HSUEC) final event today. Pure Solutions is a product enabling consumers to easily analyze water samples. It was created by a team from Skyline High School. Pure Solutions expects to develop their invention and start selling it as soon as they can, and they are deciding between two options for the future either licensing the patent to utility companies or starting a business.
The competition is hosted by the Lassonde Entrepreneur Institute, an interdisciplinary division of the David Eccles School of Business at the University of Utah, and sponsored by Zions Bank. The pitch competition offers $30,000 in cash and scholarships to Utah high school entrepreneur teams.
"Winning this competition means so much more than just the money," said David Sun, a member of the Pure Solutions team. "I think the most valuable prize is the countless people that are so talented that we got to talk to, and bringing awareness to the issue is something that is really important to us."
Twenty teams made it to the final event in this business-idea competition open to all students in Utah ages 14-18. Every high school team that participated faced the challenge of identifying a problem and proposing a creative solution. The finalist teams submitted ideas ranging from medical devices for infants to an app that teaches financial literacy to high schoolers. See the list below for details and a description of the top 20 teams.
The High School Utah Entrepreneur Challenge is the youth version of the collegiate Utah Entrepreneur Challenge, which offered $60,000 in cash and prizes this year.
HSUEC Winners 2022
First Place, $10,000: Pure Solutions
Second Place, $5,000: Noisy NICU Cap
Third Place, $2,500: Creative Book Folding
Top Online Vote Award, $500: Viridis
College of Science Scholarships ($2,000): Pure Solutions; Noisy NICU Caps
Relay Wins $20,000 Grand Prize at 2022 Utah Entrepreneur Challenge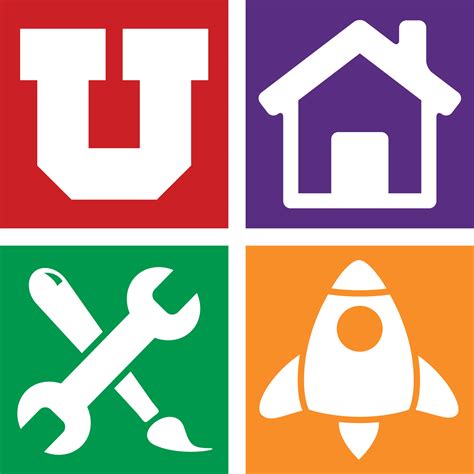 On March 26, 2022, Relay won the $20,000 grand prize and first place in the 2022 Utah Entrepreneur Challenge today. Relay is a mobile app focused on helping people who are working to overcome unwanted pornography habits, but they plan to expand to enable many types of self-improvement.
"What this prize will do is it will enable us to reach more people that are out there looking for us and provide different ways to get in front of them whether it is paid ads or other things so that we can help people see an impact in their lives," said Chandler Rogers, a Relay team member and student at Brigham Young University.
"We're inspired by the entrepreneurial spirit and grit of the teams competing today," said Brad Wilcox, student co-chair of the Utah Entrepreneur Challenge. "Congratulations to Relay. We're excited by the potential of every team we saw."
UEC Winners 2022
Grand Prize Award, $20,000 (award sponsored by Zions Bank) – Relay
Second place, $12,000 (Zions Bank) – The Orion Belt
Third place, $7,000 (Zions Bank) – Scouter
Bootstrap, $2,000 (Actium Partners) – BugBuddies
People's Choice Finalist Speed Pitch, $1,000 (Holland & Hart) – Scouter
People's Choice Online Vote, $1,000 (Holland & Hart) – Crypto Whales
Emerging Entrepreneur, $750 (Bank of the West) – Foam
Emerging Entrepreneur, $750 (Bank of the West) – Cambrio
Emerging Entrepreneur, $750 (Bank of the West) – Veterans in ComBAT
The UEC statewide business-model competition is managed by the Lassonde Entrepreneur Institute and features the best collegiate entrepreneurs in Utah competing for $60,000 in cash and prizes. Over 30 judges with diverse industry expertise judged the student startup teams, and the competing teams impressed judges with their innovative and original ideas. Teams pitched their ideas during an in-person event at the University of Utah.
One Utah Summit Announces 2022 Award Recipients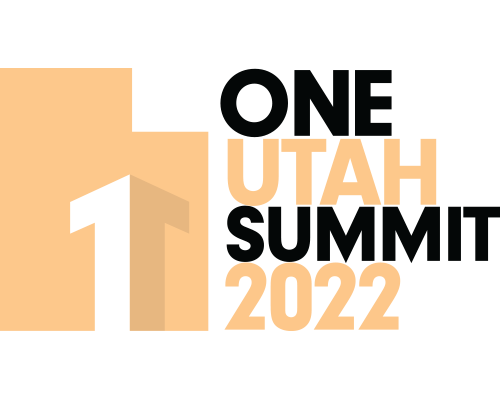 On March 31, 2022, the Utah Governor's Office of Economic Opportunity (Go Utah) announced the award recipients for the 2022 One Utah Summit hosted by Gov. Spencer J. Cox.
At the May 10 summit, Gov. Cox will recognize individuals and companies that have made long-time significant contributions to Utah's economic development, local communities, and industries. Recipients of the governor's summit awards live and work full-time in Utah and have supported the local economy for five years or more.
"We're beyond excited to announce this year's award recipients for the 2022 One Utah Summit," said Gov. Cox. "These awards are going to companies and individuals who are making a lasting impact in our state. On behalf of the state of Utah, I want to congratulate all of the award recipients and wish them the best as they continue to help make Utah a better place."
Utah Businessperson of the Year — Davis Smith
Smith is the founder and CEO of Cotopaxi – an outdoor gear and active lifestyle brand – with a social mission at its core.
Utah Business of the Year — HealthEquity
Neeleman founded HealthEquity in 2002 with a vision to repair the fractured relationship between patients and their physicians and to help more people obtain quality health insurance by re-introducing consumerism to the industry.
Utah International Business of the Year — Walker Edison
Brad and Scott Bonham co-founded Walker Edison in 2006 with a vision to break the mold and help people Live Outside the Box. The company has built an innovative e-commerce based manufacturing model that provides the highest quality of stylish, ready-to-assemble home furnishings shipped straight to consumers' doors around the world.
Cameron Russell Williams Rising Impact Award — Gladymir Philippe
The inaugural year for the Cameron Russell Williams Rising Impact Award. The award honors a black business and technology entrepreneur who's poised to have an impact on bringing together diverse people and providing opportunities that create prosperity for Utahns. Gladymir Philippe is the founder and CEO of Kado, a marketplace that democratizes access to a college student's first job. Gladymir was selected for this award because he embodies the spirit of entrepreneurship and innovation that Cameron Russell Williams exhibited during his life.
Utah Energy Pioneer Award: Individual — Craig Wagstaff
Wagstaff has been instrumental in the natural gas industry throughout his career, first with Questar and then with Dominion Energy when the two merged. He ushered Utah through the merger, ensuring that the unique Utah way of doing business remained a keystone of the organization. His stable leadership led to lasting industry partnerships, including between Dominion and Smithfield Foods, to develop the nation's largest renewable natural gas project through a network of hog farms.
Utah Energy Pioneer Award: Business — Rio Tinto Kennecott
Rio Tinto Kennecott (RTK) is a world-class, fully integrated mining operation in the Salt Lake Valley. The Bingham Canyon mine has key minerals, such as copper and tellurium, that are critical for energy production. Companies like RTK extract resources to produce the energy and technologies needed to enable our modern lives.
Utah Energy Pioneer Award: Community — Emery County Commission
Emery County Commission has a vision for stabilizing Emery County's energy economy. It includes the San Rafael Energy Research Center, a national leader in medical isotope production, molten salt technology, and nuclear energy.
Governor's Medal for Science and Technology: K-12 Education — Kelli Booth
Under the direction of Kelli Booth, NUAMES has earned a respected reputation as a premier STEM high school in Utah. During her tenure as executive director, science offerings have increased, providing more concurrent enrollment, AP courses, and greater health occupation opportunities, and the students' test scores have improved.
Governor's Medal for Science and Technology: Academia/Research — Bruce Gale
Dr. Bruce Kent Gale, a professor and chair of mechanical engineering and adjunct professor in bioengineering, electrical and computer engineering, and materials science and engineering at the University of Utah, has graduated 28 Ph.D. and 23 MS students and supervised 11 post-docs. He and his associates have 26 patents, with seven pending in biomechanics, microfluidics, and medical devices. Dr. Gale and his students have spun off six companies based on these patents.
Governor's Medal for Science and Technology: Industry — Christopher Gibson
Dr. Christopher Gibson co-founded Recursion – a Salt Lake City-based company whose mission is decode biology and industrialize drug discovery. As Recursion's co-founder and CEO, Gibson has led the company through exponential growth, including raising more than $1 billion in private and public capital, delivering four clinical-stage programs and more than 50 pre-clinical and discovery programs, and hiring over 400 highly skilled employees spread across life sciences, technology and operations.
To learn more or register ($399) for the May 10th summit, visit oneutahsummit.com.
Kiln announces plans for Provo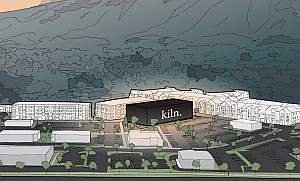 Kiln announces plans to establish its largest flex-office and co-working community—40,000 square feet of co-working space—in Provo in the Fall of 2022. The new Kiln space is a part of Provo's River's Edge development, a mixed-used development purchased and redeveloped by Brighton Development.
TechBuzz has profiled Kiln's unique approach to stylish and flexible co-working spaces and has highlighted previous locations. Arian Lewis, Kiln's founder, discusses why he chose Provo as home to Kiln's latest co-working space:
Instructure Partners with Better Days to Deliver Educational Courses About Utah Women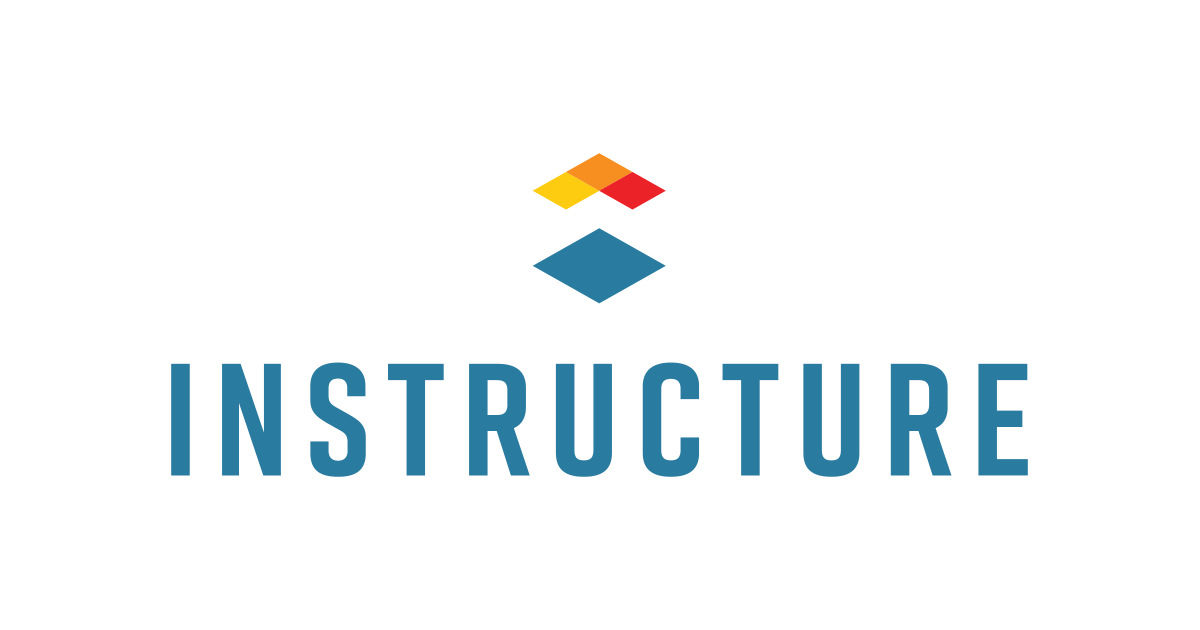 Instructure (Salt Lake City) announced on March 30, 2022 two complementary K-12 courses in Canvas LMS focused on helping Utah students better understand the role of influential women in the state's history. The curriculum, developed by Better Days, presents women's history in a new and engaging way. Canvas users can find the free content on Canvas Commons and Canvas Network, Instructure's learning object repository and open online course offering.
Better Days, a 501(c)(3) nonprofit organization dedicated to popularizing Utah women's history, provides free resources for teachers and students. Women have always made history in Utah, but too often they're missing from the history books. The modules give educators the tools, primary sources, and lesson plans to bring Utah's suffrage story, including the trailblazing contributions of Dr. Martha Hughes Cannon, into their classrooms. Activities address elementary and secondary state standards, particularly for Utah Studies courses.
"We are proud to partner with Better Days, an organization that has already raised the visibility of the significant historical contributions of Utah women," said Michelle Suzuki, Senior Vice President of Marketing at Instructure. "By making these courses accessible to the majority of Utah schools through Canvas Commons, we hope to better understand our past and make Utah a better place for women in the future."
Since launching in 2018, Better Days' education curriculum has become a part of many Utah schools, reaching thousands of students. Better Days led a statewide campaign in 2020 to commemorate the 150th anniversary of women first voting in Utah. Their goal is to create an engaging statewide learning experience that highlights the valuable contributions of women throughout the history of the state and inspires all students to make a difference in their own communities. Canvas provides a unique opportunity to impact more students across the state.
"Teaming the great scholarship and lesson design that Better Days is known for with the ease of use and accessibility that Canvas brings sounds like a win-win for teachers and students," said Robert Austin, Humanities Team Coordinator for the Utah State Board of Education.
"We're excited to partner with Instructure to make our content available to learners throughout the state," said Katherine Kitterman, Executive Director of Better Days. "By making this course accessible to everyone on Canvas Commons, we hope that teachers make this a regular part of their curriculum."
Krado launches Leaflet on Indiegogo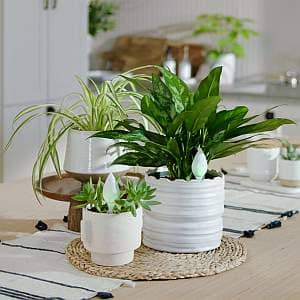 Krado, the award-winning startup previously covered by TechBuzz, has launched an Indiegogo campaign for its new Leaflet product. Leaflet is an app and sensor providing knowledge and nutrients to people who care for houseplants (or try to). Through its tiny leaf-shaped sensors, Leaflet monitors light, humidity, soil, and temperature in real time. Thoughtful about reducing waste of all kinds, Krado 3d-prints the leaflet sensors with biodegradable plastic. Leaflet packaging is fully compostable with no single use plastics, paper booklets or ink. Krado uses laser etching instead. The company offers its members free sensor repair, service, and upgrades.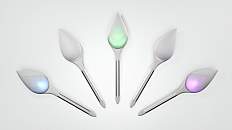 The Indiegogo membership offer is five sensors for the price of two: $99 (55% percent off standard pricing). Other Indiegogo specials involve discounts of 20-30%. Membership is all inclusive. The sensor, the product delivery, and app is all included in the pricing, with no hidden fees. Supplies are limited.
"With the climate changing, resources running out, and our ambitions with deep space travel, we need plant data more than ever," says Eric Lo, CEO of Krado. "That was the mission in mind when Krado created a little leaf-shaped sensor that translates plant data into easy, actionable tasks to help you care for your plants."
Krado is a bootstrapped Salt Lake City-based startup that has won several pitch competitions including last year's top award—a $250,000 convertible note from Pelion Ventures—at STRT Fest, sponsored by Silicon Slopes.
Domo Positioned as a Challenger in the 2022 Gartner Magic Quadrant for Analytics and BI Platforms

On March 30, 2022, Domo announced, for a second time, it was named a Challenger in the 2022 Gartner Magic Quadrant for Analytics and Business Intelligence (BI) Platforms.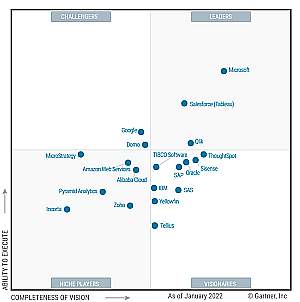 Gartner Magic Quadrants are a measure of a company's relative position in the market's as compared to its competitors and a general barometer of how companies are performing against Gartner's view.
According to Gartner, "Today's analytics and BI platforms are augmented throughout and enable users to compose low/no-code workflows and applications. Cloud ecosystems and alignment with digital workplace tools are key selection factors.
Domo has a 94% recommendation rate based on 72 customer reviews in the last 12 months as of the 24th March 2022 in the analytics and BI platforms category of Gartner Peer Insights.
"Domo challenges the status quo of traditional BI, where the use of data is limited to a fraction of an organization. Through data apps built on our platform, Domo puts data to work for everyone at all levels of an organization right where work gets done," said John Mellor, chief executive officer at Domo. "Data apps break the traditional BI model because they combine data with workflow, packaged into an experience that can be put right at the point where work gets done, or embedded within software applications used inside a company, or external to the company by customers and partners."
For a complimentary copy of the 2022 Gartner Magic Quadrant for Analytics and BI Platforms, visit here.
Women Tech Council Announces 2022 Shatter List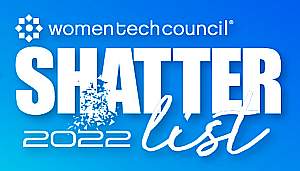 On March 30, 2022, Women Tech Council (WTC), today released the 2022 Shatter List to celebrate Women's History Month. The list is the first to name and recognize the technology and innovation companies whose programs are leading and accelerating progress towards breaking the glass ceiling for women in tech.
"No single company has arrived at the finish line for promoting and engaging women in tech, but many are making important and impactful efforts that are creating progress throughout the economic pipeline," said Cydni Tetro, WTC president. "Recognizing this progress and elevating the best practices spurring it drives momentum and accelerates the path to change for the entire tech community."
Using public and private data, the Shatter List reviews and rates the development and successful implementation of company-wide practices that are moving organizations towards more inclusive cultures and advancing women in tech from entry level positions to executive roles. The analysis centers in the four areas most critical to break the glass ceiling for women in tech:
Executive engagement (active support from all leadership, especially the executive team and CEO)
Company programming (proactively implement programs to support women and currently has women in leadership and executive roles)
Community investment (active participation with the broader community to share and learn best practices for inclusion and culture)
Women's or Diversity & Inclusion group (internal, formal programs that support women)
While no company's implementation in these areas is complete and many are innovating to continually evaluate and improve processes, a Shatter List ranking indicates a strong organizational commitment, active and meaningful programming, and impact for women in tech.
The 2022 Shatter List includes 47 companies:
1-800 Contacts
3M
Adobe
Ancestry
AvidXchange
Bamboo HR
Brandless
Canopy
Chatbooks
CHG Healthcare
Clearlink
Dealertrack
Degreed
Dell Technologies
Divvy
Domo
eBay
Goldman Sachs
Health Catalyst
HealthEquity
HireVue
InMoment
Instructure
Intermountain Healthcare
Lucid Software
MarketStar
Meta
MX
Myriad Genetics
Nice CXone
Northrop Grumman
O.C. Tanner
Oracle
Overstock
Pluralsight
Progressive Leasing
Pure Storage
Qualtrics
Recursion Pharmaceuticals
Texas Instruments
Varo Money
Vivint Smart Home
VMware
WCF Insurance
Weave
Workday
Zions Bancorporation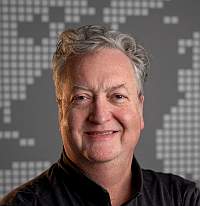 About the Author