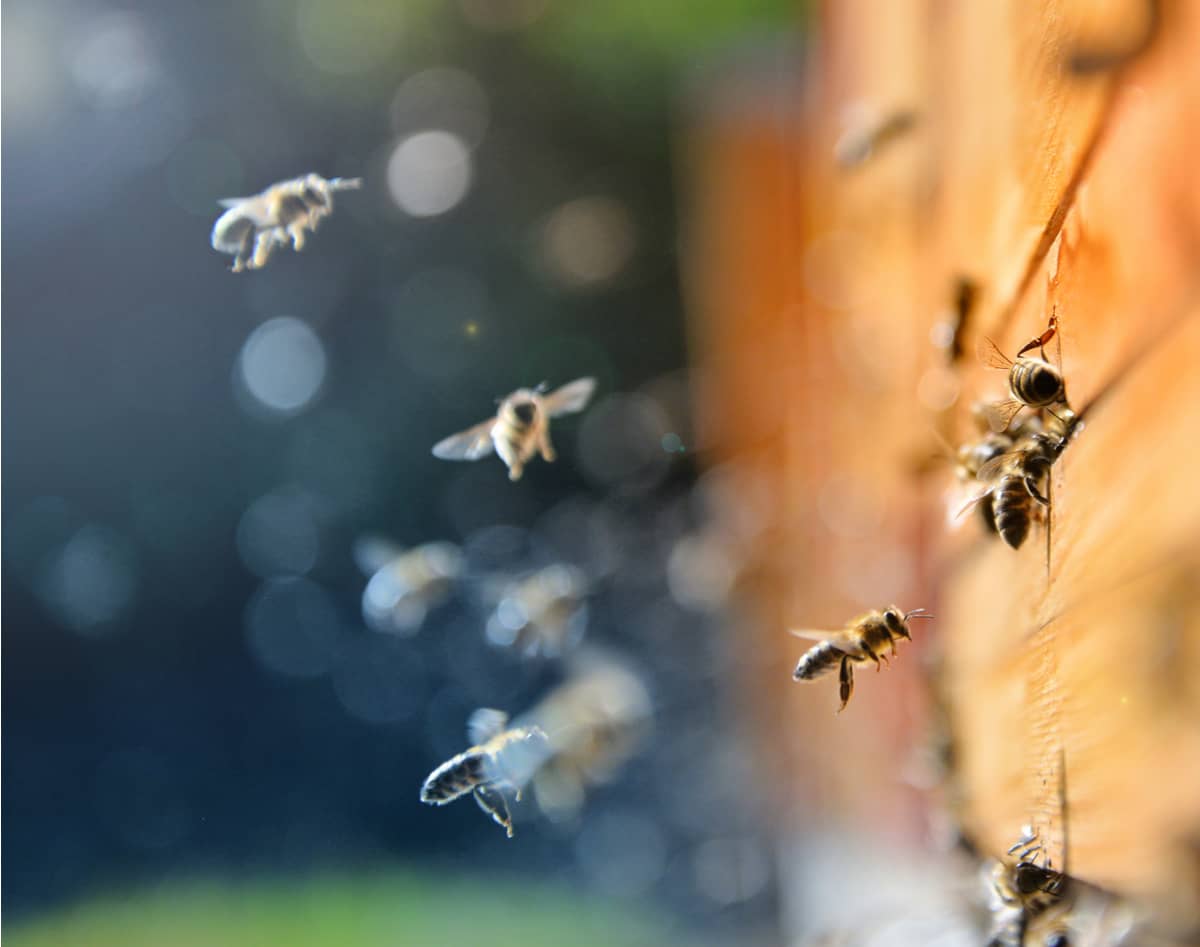 Buzzworthy - April 29, 2022
BioUtah Honors the Life of Senator Orrin Hatch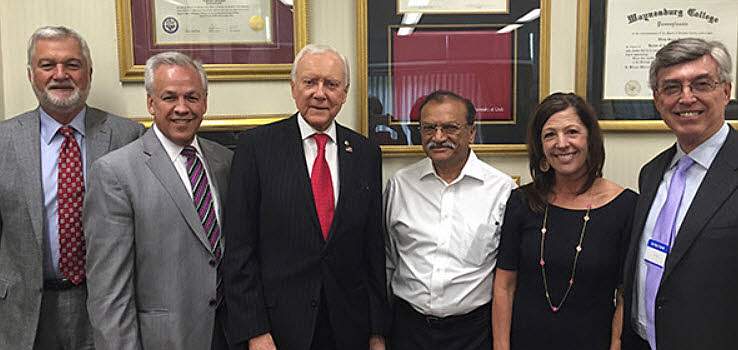 On April 23, 2022, Senator Orrin Hatch passed away at age 88. He had served 42 years in the US Senate. He was the longest serving Senator in Utah's history.
Reflecting on the Senator's life and legacy, Kelvyn Cullimore, president and CEO of BioUtah, said, "Senator Hatch was a political giant. He was a tireless, passionate and effective advocate for Utah and the country for decades. I know from my years as a board member of the Medical Device Manufacturers Association how revered he was by our industry nationwide as our number one champion!"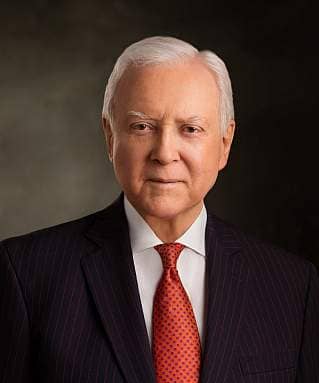 BioUtah and Utah's life sciences industry honors the late Senator Hatch "as a stalwart champion for medical innovation and improving the lives of patients. Among the numerous causes he took on was repeal of the medical device tax that had passed as part of the 2010 Affordable Care Act. He sponsored legislation to fully repeal the 2.3% percent excise tax and kept up the fight until the tax was finally repealed in 2019. He visited medical device companies in the state and understood that the tax would stifle R&D, hurt job creation and put Utah's fast-growing device industry on its heels."
During his Senate tenure, the late Senator Hatch held influential committee chairmanships, including chair of the Senate Finance Committee and chair of the Senate Judiciary Committee. He influenced legislation ranging from tax and trade to religious liberty and healthcare, and was known for his ability to reach across the aisle. Senator Hatch received BioUtah's Public Service Award in 2013 and the organization's Lifetime Achievement Award in 2016.
His death was announced in a statement by the Hatch Foundation. an organization founded after he left office. Matt Sandgren, the foundation's executive director, put it this way, "Senator Hatch touched the hearts of countless individuals and I know I speak for all of them when I say he will be dearly missed."
Talent Summit - May 4, 2022

The Women Tech Council is holding its Talent Summit on May 4, 2022.
Themed "Resignation to Reinvention," this event is tailored to help women in every field learn how to reinvent themselves through insights on what everyone from early level to executives should be focused on moving forward.
The event will feature the following speakers:
Aniza Brown - Executive Director, Catalyst Campus
Blake Moderzitski - Managing Partner, Pelion VP
Jennifer Smith - EVP and CIO, Zions Bancorporation
Jill Wiggins - Sr. Director, Contentsquare
Julie Simmons - CIO, Swire Coca-Cola
Juliette Bautista - Founder and Director, Club Ability
Megan Stettler - Director, OC Tanner Institute
Renae Flores - Technical Support, Degreed
Shannon Peterson - CEO, Woobie
Selma Milkota - Marketing Product Manager, O.C. Tanner
Seraphine Kapsandoy Jones - VP Population Health, Centene Corporation
Vance Checketts - COO, Artemis Health
It takes place on May 4, AKA "May the Fourth be with You," 2022, 8:30am-1pm at the Show Barn at Thanksgiving Point. To register ($60), click here.
MX Partners with Klarivis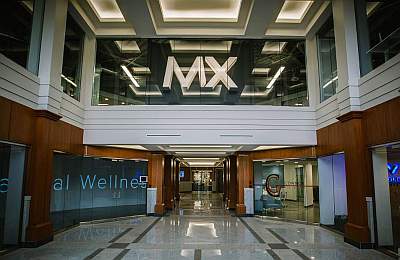 On April 28, 2022, MX Technologies (Lehi, UT) announced a partnership with Klarivis, (Roanoke, VA), an enterprise dashboard and analytics solution for the financial services industry.
KlariVis compiles and aggregates high-value, actionable data into an interactive, user-friendly enterprise dashboard and analytics platform. The KlariVis platform provides financial institutions with infrastructure to modernize elements of their tech stack.
"Our integration with KlariVis demonstrates our shared commitment to power the open finance economy by empowering financial institutions with data-driven insights," said Don Parker, Executive Vice President of Partnerships, MX. "Data is complex, and MX reduces that complexity to make it actionable. The KlariVis user-friendly analytics platform together with MXdata will help financial institutions build a stronger, more modern data infrastructure."
The MX Data Engine helps financial institutions and fintech companies transform transaction data to better understand consumer profiles, measure performance gaps, and identify new areas of investment. By partnering with MX, KlariVis will be able to offer its clients data insights that provide additional breadth and scope to the KlariVis reporting and analytics platform.
"We are thrilled for the future of our relationship with MX, and what it means for our clients," said Kim Snyder, Founder and CEO of KlariVis. "Our partnership with MX will expedite our ability to create transformative opportunities for financial institutions across the country. Once integrated, KlariVis clients will be able to easily act on additional revenue and cross-sell opportunities that live in their transactional data."
Lassonde Releases Student Innovation Report

The Lassonde Entrepreneur Institute released this week the 2022 edition of Student Innovation at the U. The annual publication celebrates and highlights student innovation with stories about remarkable students from all parts of the UofU campus: technology, arts, design, fashion, software, outdoor, health, apps and more. The publication is produced by the Lassonde Entrepreneur Institute, an interdisciplinary division of the David Eccles School of Business and the hub for student entrepreneurs and innovators at the University of Utah.
Passive Logic Names Dave Arnold as Finance VP/Chief of Staff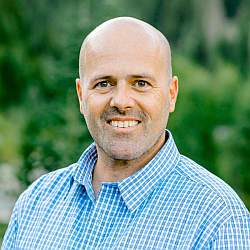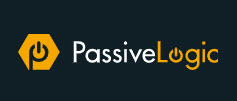 Passive Logic names Dave Arnold as its new VP of Finance & Chief of Staff. Arnold was recently at energy and chemical giant Saudi Aramco where he held key roles including Procurement Negotiator, Business Manager and Chief of Staff over his nine years with the company.
Arnold's "experience dynamically scaling companies and managing complex operations in finance and energy provide a great foundation for his role as Chief of Staff & VP of Finance at PassiveLogic," says Troy Harvey, CEO of Passive Logic. "After years in the U.K, France, and Saudi Arabia, Dave is moving back to the U.S. to join the PL team. I look forward to working together to scale the team and the company."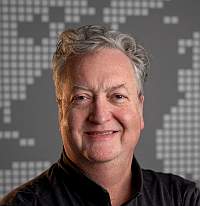 About the Author