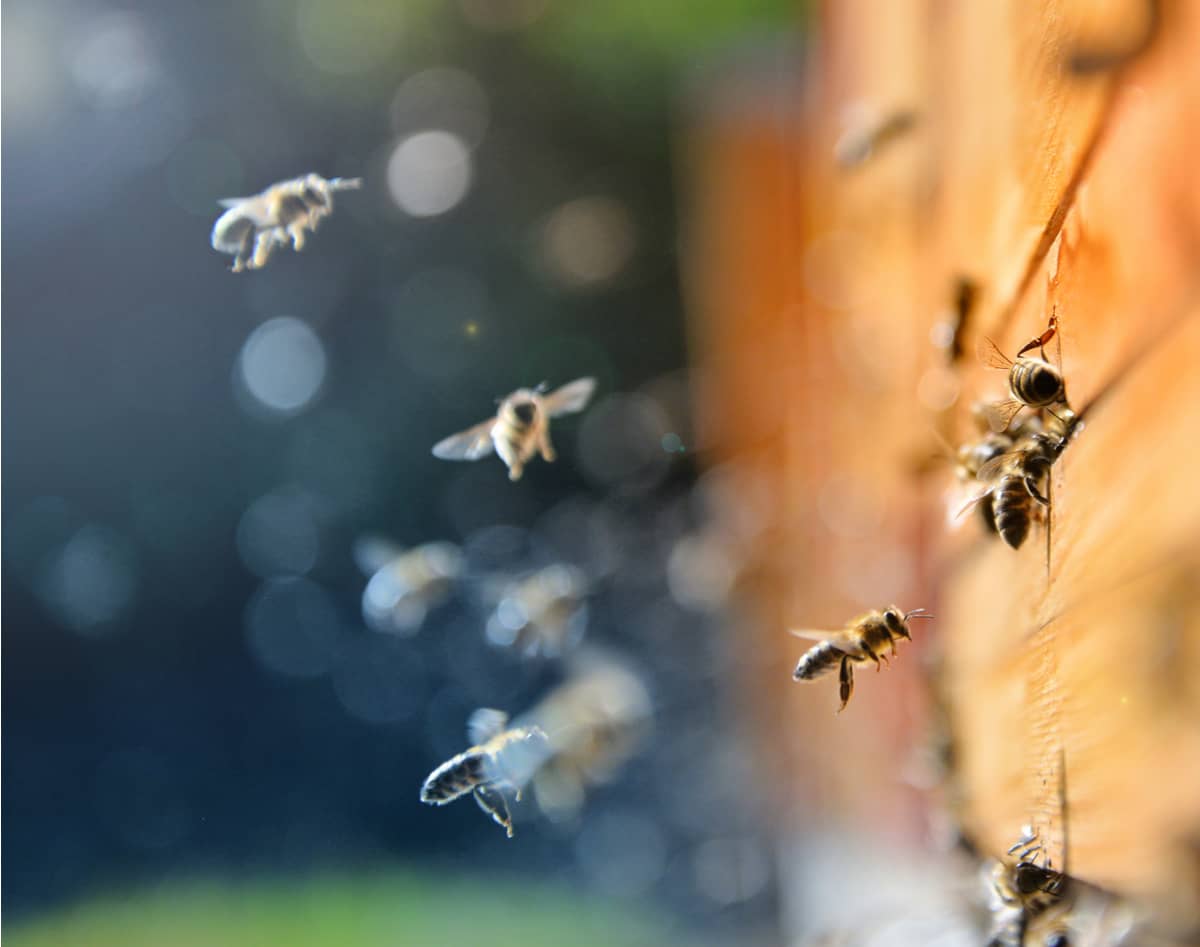 Buzzworthy - July 15, 2022
Nomi Health Acquires Everyone Health and Sano Surgery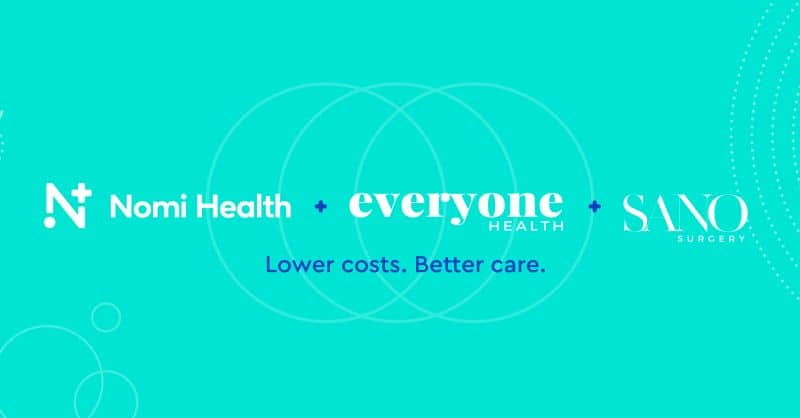 Nomi Health (Orem) announced on July 15, 2022 it has acquired sister companies Everyone Health and Sano Surgery in a $26.5 million purchase.
Everyone Health has agreements with self-funded employers and third-party administrators for pre-negotiated, all-inclusive prices that save employers up to 70% relative to commercial fee-for-service rates. The company delivers these savings via Sano Surgery's direct contracting with more than 10,000 physicians and facilities—surgical hospitals, ambulatory surgery centers, endoscopy centers, radiology centers, labs and more—in 300 of the largest U.S. cities across 48 states, all now part of Nomi Health's national provider network.
"Nomi Health believes healthcare needs a rebuild, not a renovation. These companies share in our vision of extracting the complexity and cost from traditional healthcare, so buyers experience substantial savings and, most importantly, patients have greater access to more affordable care," said Mark Newman, founder and CEO of Nomi Health. "In three short years, we expanded easy access to care to 15 million Americans, while significantly driving down cost of care to buyers. The immediate contributions of Everyone Health and Sano Surgery will accelerate this track record in the years ahead."
Founded by CEO Dutch Rojas 10 years ago, Sano Surgery has a network of nearly 6,000 medical facilities and 8,000 lab locations nationwide, ranging from radiology and orthopedics to women's health and oncology. This network enables Everyone Health to deliver higher quality medical treatments and services at lower prices. As a result, physicians benefit from predictable volumes and payments, while patients enjoy a more streamlined care and billing experience.
"My goal is affordable and accessible healthcare for all. We've built a nationwide network of physicians and medical facilities that allows us to bring substantially lower pricing and more transparent transactions to the market, benefiting countless Americans," said Rojas, founder and CEO of Sano Surgery and Everyone Health. "As the dual crisis of access and affordability grows on the heels of the pandemic, the time is right to increase our impact as part of Nomi Health."
The acquisitions enable buyers to turn to Nomi Health for a full suite of solutions—analytics, care delivery and a direct network—all underpinned by a modern claims infrastructure and payment rails. It also brings 12 full-time employees, including Rojas, to Nomi Health to accelerate the continued expansion of the company's network of clinical partners, which is critical as Nomi Health takes its support and services into more communities nationwide.
The acquisitions of Everyone Health and Sano Surgery come on the heels of Nomi's $200 million acquisition of healthcare analytics leader Artemis Health in January. In December 2021, Nomi raised a $110 million Series A investment led by Rose Park Advisors.
MX selected by Kinly and Recognized, with Fiserv, by TearSheet for Innovation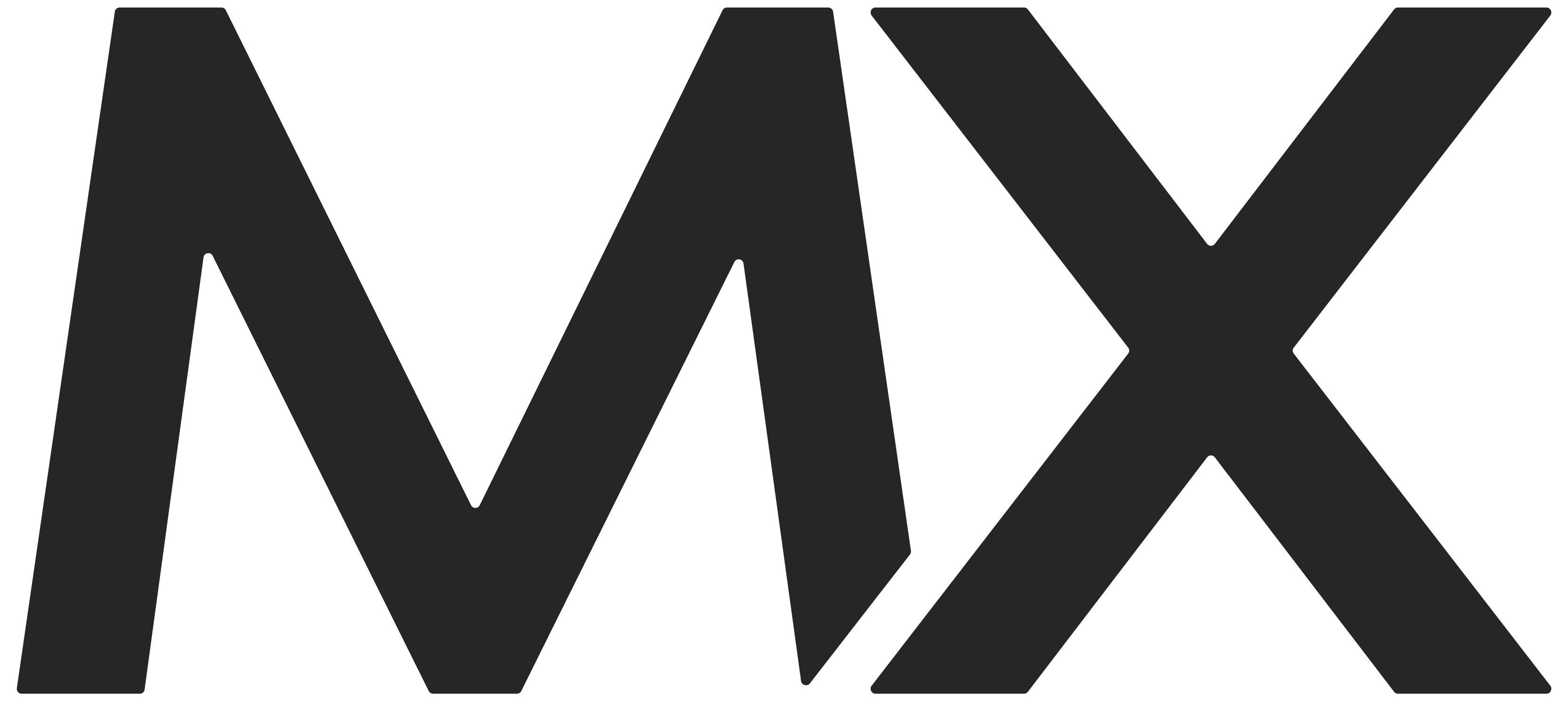 On July 11, 2022 MX announced that Kinly, a digitally native neobank based in Atlanta, now uses financial data aggregation and enhancement solutions from MX to power Kinly's custom-built financial tools that support the African American community.
"We love MX and its mission — and share a passion for diversity," said Donald Hawkins, Founder and CEO of Kinly. "I've been impressed with MX's world-class financial data platform for years and look forward to partnering with them. MX's open finance APIs will help fuel our mission to help serve and improve the financial livelihood of our broad community."
Kinly focuses on improving financial outcomes through financial education, saving and wealth building, early access to wages, overdraft protection up to $100, and by providing cash back rewards for purchasing from Black-owned businesses and thousands of widely-used retail merchants.
"Working closely with Kinly to help provide data enhancement and personalized financial advice for the Black community aligns perfectly with our mission to empower the world to be financially strong," said Brett Allred, Chief Product Officer at MX. "We're big fans of Kinly and the underrepresented community it serves and look forward to its continued growth and ongoing partnership into the future."
MX also announced that MX and Fiserv (Brookfield, WI) and MX are joint recipients of the Tearsheet 2022 Data Innovation Award. Fiserv and MX announced on July 15, 2022 that they were recognized for enabling consumers to securely share financial data with their favorite apps or services through direct connections, eliminating the need to share personal credentials such as usernames and passwords with third parties. The award was presented as part of Tearsheet's DataDay Awards 2022, which recognize and celebrate the best data products, services, and brands powering the modern financial system.
"Fiserv and MX are advancing the future of open finance through secure data sharing," said Justin Jackson, Head of Product for Digital Payments at Fiserv. "By providing direct connections and eliminating the need for credential sharing we are empowering consumers to confidently use the apps and tools that make their lives more convenient, without putting their personal information at risk."
MX accesses tokenized consumer data via AllData Connect from Fiserv, a part of the AllData Aggregation product suite, which provides Fiserv financial institution clients with a secure portal through which consumers can agree to share their financial data with third-party apps. Instead of requiring consumers to authenticate their financial institution accounts with third-party providers by sharing their private credentials, AllData Connect issues an identifying token in place of the consumer's username and password. The third party can then provide that token to the financial institution to access the consumer's data.
"Together, we're committed to building a more connected, frictionless, and secure financial ecosystem that delivers the interactions consumers seek, while prioritizing data privacy, consumer access and choice," said Don Parker, Executive Vice President of Partnerships at MX. "Thank you to Tearsheet for the recognition and Fiserv for their continued partnership."
Salt Lake Chamber Celebrates Leadership Utah Class of 2022 Graduates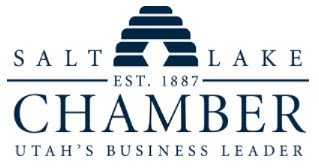 The Salt Lake Chamber announced its 2022 Class of Leadership Utah on July 13, 2022. Leadership Utah is the Salt Lake Chamber's signature leadership program. It's an exclusive experience for mid- and upper-level management professionals to gain insight into the opportunities and challenges facing our state and become more engaged leaders. Over the last year, the Leadership Utah cohort of public and private sector participants expanded their network, heard from key community leaders, and learned how best to support our ever-changing society.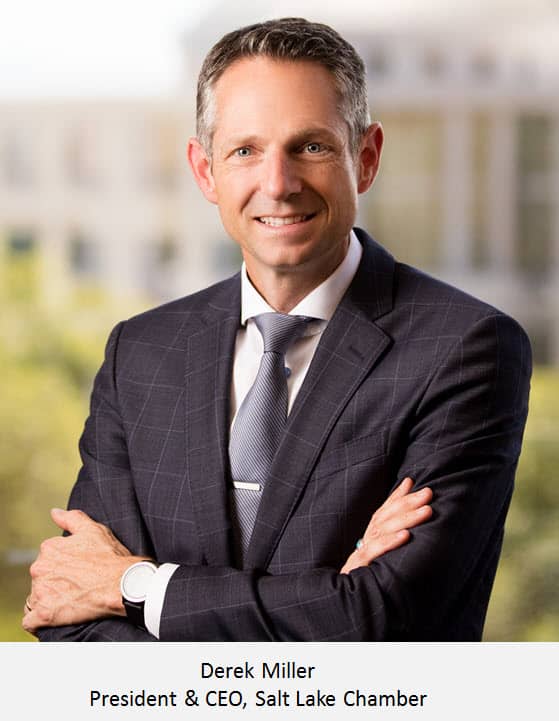 "The graduates from Leadership Utah represent the next generation of business leaders who will be tasked with solving economic and community challenges," said Derek Miller, president and CEO of the Salt Lake Chamber and Downtown Alliance. "These leaders now have a new strength, lens and network to ensure a prosperous future. The Salt Lake Chamber is honored to associate with these talented individuals who represent the best of Utah's business community."
Participants were selected on a range of criteria that included work experience, a demonstrated interest in community engagement, Chamber affiliation, and future aspirations to serve on boards and advance within their organization.
The topics covered during the 2022 program included:
Health Care
Crime and Law Enforcement
Community Service
Education and Technology
Government
Arts, Sports and Entertainment
Environment and Infrastructure
Economic Development
Military and Tourism
Religion and Culture
Members of the Leadership Utah Class of 2022 include:
Rachel Anderson, Attorney, Fabian VanCott
Mallory Bateman, Director of Demographic Research, University of Utah Kem C. Gardner Policy Institute
Kelsey Berg, Deputy Chief of Staff, Office of Senator Mitt Romney
Jeremy Blair, Vice President of Finance, Mountain America Credit Union
JD Borg, Assistant Vice President and Senior Portfolio Specialist, Wells Fargo Bank
Jordan Carroll, Communications Manager, Salt Lake County
Lisa Cox, CEO and SVP of Sales & Marketing, Gem City Fine Foods, LLC
Brian Epperson, CEO, Target River
Erin Farr, Senior Business Development Manager, EDCUtah
Alison Fuller, Senior VP of Finance, Canopy
Cameron Gabriel, Administrative Director, LDS Hospital
Brian Garrett, Deputy Director, Utah Department of Veterans and Military Affairs
Trisha Gary, Commercial Underwriter, America First Credit Union
Amber Gracanin, Relationship Manager, U.S. Bank
Deedra Hansen, Assistant Director of Development, Salt Lake Community College
Neal Hansen, CPA and Partner, FORVIS CPAs & Advisors
Garrett Harding, Associate Director of Community Outreach and Engagement, Huntsman Cancer Institute
Rachel Heatley, Advocacy and Investigations Director, Humane Society of Utah
Danielle Higley, Vice President of Safety and Risk, WCF Insurance
Jeffery Jensen, Security Team Leader, American Express
Paul Jibson, Manager of Joint Operations & Regulatory Affairs, Dominion Energy
Joshua Jones, Director of Marketing & Communication, Downtown Alliance
Katrina Kaddas, Program and Events Coordinator, Salt Lake Chamber
Seraphine Kapsandoy, Vice President of Population Healthcare and Clinical Operations, Centene Corporation
Evan Kellogg, Director of Claims Services, WCF Insurance
Dave Kimball, Executive Director of Product & Marketing, Deseret Book Company
Shanna Marchant, Vice President, Cigna
Nichole Mathews, Market and Administrative Manager, Urban Food Connections of Utah
Matt Mitchell, Executive Director of Pharmacy Services, SelectHealth
Anna Mkrtchyan, Commercial Relationship Manager & Vice President, Wells Fargo
Kristina Olivas, Urban Affairs Manager, Downtown Alliance
Lisa Paletta, Hospital Administrator Primary Children's Hospital, Intermountain Healthcare
Ryan Perry, Communities and Social Performance Manager, Rio Tinto Kennecott
Jose Ramirez, Chief Engineer, ALSCO
Schyler Richards, Vice President for Institutional Advancement, Noorda College of Osteopathic Medicine
Taelor Rimer, Marketing Specialist, University of Utah Health
Megan Sanburn, Business Operations Manager, Federal Reserve Bank of San Francisco / Salt Lake City Branch
Alicia Schindewolf, Senior Vice President & Community Banking Sales Manager, Zions Bank
Sylvia Semper, Associate General Counsel, Vivint Solar
Nate Speth, Development Coordinator, Hensel Phelps
Dr. Tamara Stevenson,Vice President of Diversity, Equity, and Inclusion & Chief Diversity Officer, Westminster College
Dylan Walker-Pecoraro, Vice President & Organizational Development and Communications Manager, Zions Bancorporation
Jeremy Wells, Chancellor, Roseman University of Health Sciences
Adam Whitaker, Chief Development Officer, American Red Cross, Utah Nevada Region
Brent Wilhite, Business Development Director, Penna Powers
Tom Yates, Senior Vice President of Sales & Marketing, Deseret Digital Media
Connie Yengich, Lead Business Advisor, Women's Business Center of Utah
Zions Celebrates Opening of its Technology Center in Midvale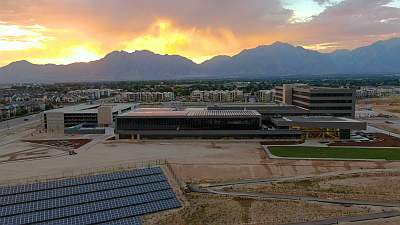 On July 15, 2022, Zions Bancorporation hosted a ribbon-cutting celebration at its new 400,000-square-foot technology campus in Midvale, Utah. Located on the former Sharon Steel Mill Environmental Protection Agency Superfund site, the campus will be the company's primary technology and operations center, serving Zions' affiliate banks in 11 western states, in addition to several national lines of business.
As one of Utah's largest technology employers, Zions welcomes approximately 1,500 technology, operations and other employees to the Platinum LEED-certified building. Employee amenities include workspaces that maximize natural light and views, a large café featuring a healthy menu, bike lockers, adjacent community park with pickleball courts, sharable e-bikes, a community garden, and proximity to the Historic Gardner Village light rail station.
The building is constructed with low VOC-emitting materials, triple-pane exterior glass, and ultra-efficient heating and cooling systems. Up to 75% of the building's electricity will be produced onsite by more than 2,000 photovoltaic panels, as pictured above. The campus includes 181 electric vehicle charging stations. Situated on a bluff overlooking the Jordan River Parkway, the property supports a regional habitat system through ecologically focused design and landscaping.
Designed by architectural firms WRNS Studios, and Method Studios, the project was built by Okland Construction and Layton Construction and managed by Gardner Company. Colliers International assisted Zions Bancorporation with the transaction. An estimated 1,500 workers were employed during the two-year construction project. The building features artwork commissioned by local artists Jann Haworth, Brian Kershisnik and Matt Monsoon.
During the ribbon-cutting celebration, Zions Bancorporation Chairman and CEO Harris H. Simmons presented a $100,000 donation to the Silicon Slopes Computer Science Fund, which promotes K-12 computer science outcomes for educators and students in Utah. A donation of $50,000 was also made to the Jordan River Foundation, and $10,000 was given to the Canyon School District Midvale Schools Farmers Market.
"Zions Bancorporation has long been known within the banking industry for its financial technology innovations, and in recent years we have been making industry-leading investments in our core banking systems while also investing heavily on digital banking capabilities," said Zions Bancorporation Chairman and CEO Harris H. Simmons. "We believe this new campus will spur even greater innovation and operational effectiveness while materially reducing our overall occupancy expense."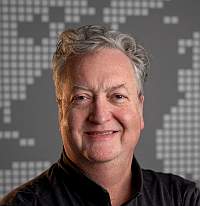 About the Author