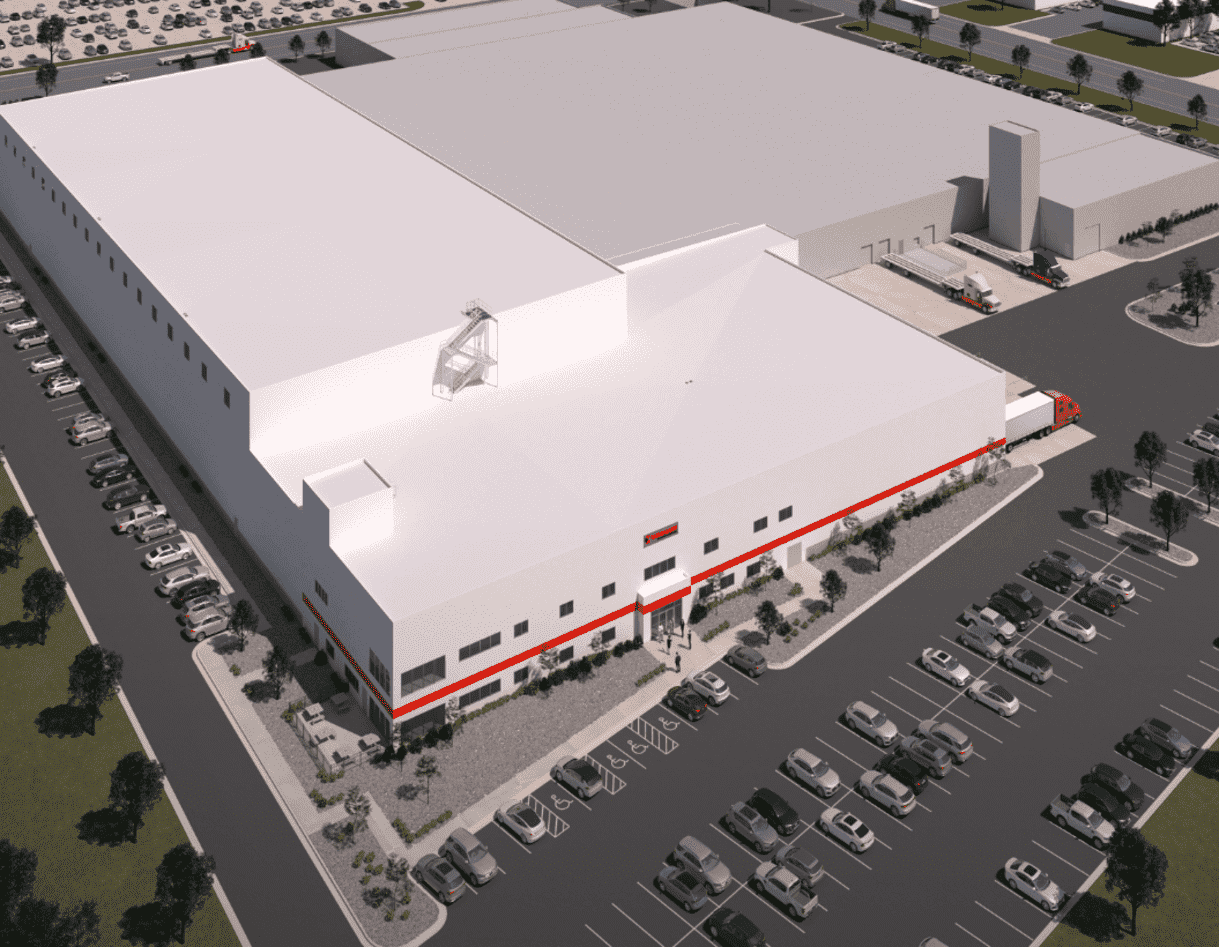 Chromalox Expands Manufacturing Facility in Ogden
Chromalox broke ground on a major upgrade and expansion of its North Ogden factory that produces thermal electric heating technology used for sustainable heating applications in industrial and commercial installations throughout the globe.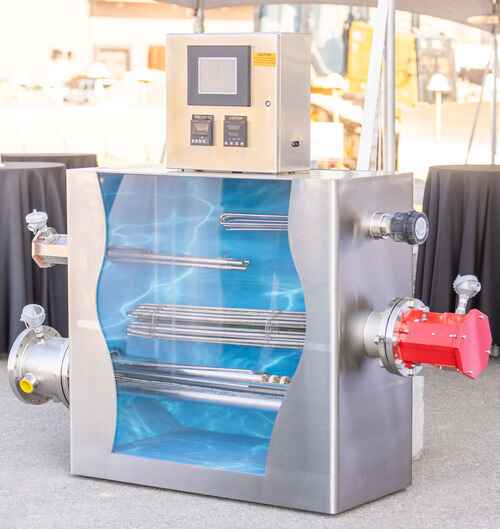 The company is investing more than $58 million in a major expansion project with EK Bailey Construction (Ogden) to increase capacity, create jobs, and advance to new manufacturing technology, while also implementing key technology and systems in accordance with Spirax-Sarco Engineering's One Planet Sustainability Strategy. It will also be the stage for an innovative partnership with Weber County to address the workforce development of its incarcerated population.
Among its many benefits, the new facility will:
Continue the company's emphasis on ensuring the safety, satisfaction and work environment for colleagues, supporting both retention and recruitment,
Provide an environmentally controlled facility to increase product yield and life,
Enhance customer service and continuity of supply, and
Secure the future growth of the business in which Chromalox's colleagues and vendor partners can thrive.
Chromalox anticipates the new facility will be completed by the end of 2024.
Spirax-Sarco Engineering's One Planet vision is to be a global leader in industrial sustainability by increasing energy efficiency, minimizing greenhouse gas emissions and improving water efficiency. To that end, the North Ogden facility is making a significant investment in a ground source heat pump system to efficiently heat and cool the facility year-round with renewable, geothermal energy. Additional investments will include LED lighting and high efficiency systems to conserve water consumption and improve recycling. State-of-the-art paint booths will utilize environmentally friendly paints and incorporate advanced filtration systems all while reducing operational energy consumption.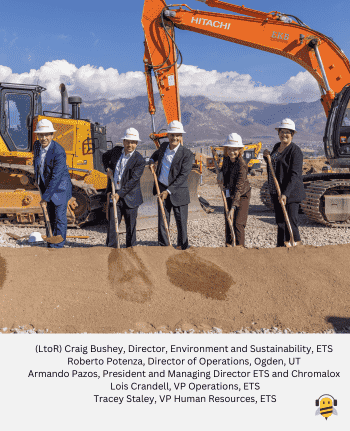 Founded in 1917 and headquartered in Pittsburgh, Pennsylvania, Chromalox has a presence on six continents with factory offices, stocking representatives, and over 2,000 authorized distributors worldwide. In 2017 Chromalox was acquired by Electric Thermal Solutions, a business of Spirax-Sarco Engineering, a British manufacturer of steam management systems, peristaltic pumps, and associated technologies. Spirax-Sarco was founded in 1888 and is headquartered in Cheltenham, England. The company has engineering, warehousing, and sales locations throughout Europe, Asia, and the Americas, including Utah.
Its Utah facility, located in a well-established industrial park near Kimberly-Clark's facility in North Ogden, supports Chromalox's mission of providing customers with highly efficient, modular and scalable electric heating solutions for decarbonization of process heating, steam generation and temperature control systems. Following the company's standard environmental procedures, the North Ogden facility, when complete, will be LEED Gold certified, a widely used green building rating system of healthy, energy-efficient green buildings.
Mike Skroski, an energy engineer at the North Ogden facility, shared details with TechBuzz about how the facility will be a model for energy and water efficiency as well as carbon offsetting. He said the company has made a big investment in onsite geothermal energy production through a series of 400-foot deep wells. "The facility plans to implement ISO 14001 (in Ogden and in all of the company's plants globally), be landfill-free by 2025, eliminating solvent-based paints globally in all of its plants, reducing water consumption by 10% and repurposing and recycling as much as possible. The North Ogden facility will be ready for solar panels as well, augmenting its geothermal capacity, making it a model commercial building for sustainability in the state," said Skroski.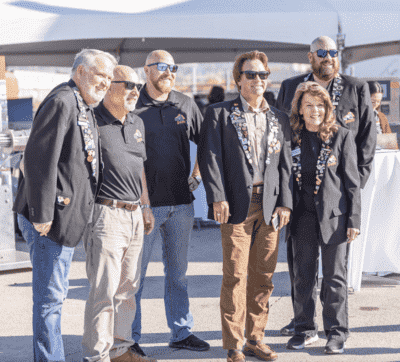 Skroski explained that Chromalox is a supplier to many well known energy companies, manufacturing companies, universities, and a wide range of industrial concerns. One of them, Cotopaxi—not the popular Utah-based sustainable outdoor gear company, but rather a UK-based sustainable energy company—has developed process and optimization metering software, Strata, that uses Chromalox meters to meter water temperature, compressed air and other inputs. "Like other Chromalox customers, Cotopaxi uses the Chromalox technology to then make reports that can identify water and energy waste and use these reports to operate more efficiently, saving the company money while at the same time improving the environment," said Skroski.
Chromalox is also committing resources to restore five acres in the Ogden Nature Preserve, announced Craig Bushey, Director of Environment and Sustainability at Chromalox. "Chromalox employees will be given 24 hours of paid leave to work on meaningful community-building activities," said Bushey. "This project will include restoring natural vegetation, wildlife habitat and land in Ogden that was historically impacted by former military operations."
Chromalox will also task its internal environmental audit team and a tool developed by the company to conduct decarbonization assessments of its own plants and make recommendations to further environmental improvements and increased energy efficiency. The company says it is committed to becoming net-zero in terms of carbon emissions by 2025, an ambitious goal that is far more aggressive than many of other global companies in its sector.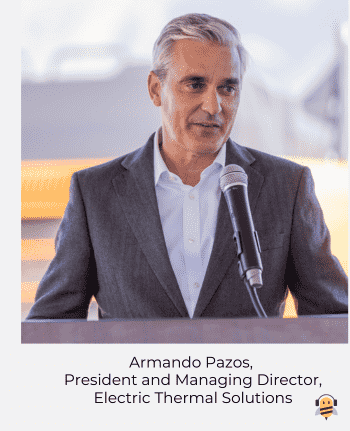 Armando Pazos, President and Managing Director of ETS, spoke at the ground-breaking to a group of assembled city and county officials, industry leaders, employees, media and others. Pazos praises Ogden as a location with "an experienced workforce (including some with as much as 40 years' experience with Chromalox, as well as highly qualified future hires), as well as existing infrastructure and certifications for seamless transition to the expanded facility.
"Over the recent decades, our engagement with the state of Utah and particularly the Northern Weber County region has been highly effective for Chromalox," said Pazos. "We have made great strides in our quest to set the bar progressively higher for clean and sustainable energy and to meet these demands with operational excellence.
"Given the high demand that we're seeing right now globally for industrial customers to decarbonize their processes, our patented offerings to electric industrial processes with our advanced electric heating technology, we need to double the size of our manufacturing capability to meet this demand. So that's why we're expanding the capacity of our plant here in Ogden," shared Pazos with TechBuzz.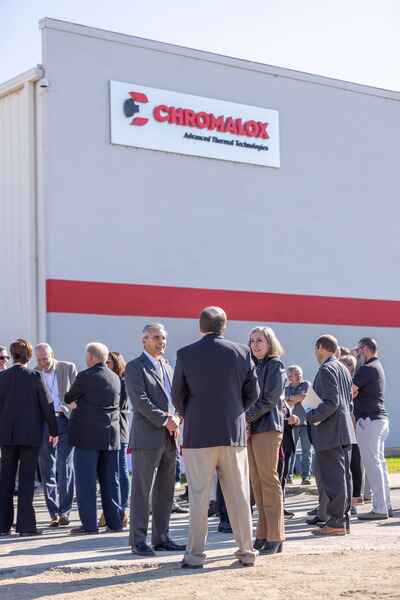 "This upgrade and expansion will increase sustainability and biodiversity at Chromalox's Weber County facility and is a proactive step in enriching our community," said Gage Froerer, Weber County Commissioner. "We look forward to working with Chromalox as a global leader in paving the way in thermal electric heating technology."
As a showcase sustainable facility, "Chromalox falls in line with Weber County's economic development vision," said Stephanie Russell, Director of Economic Development & Government Relations for Weber County. "We're happy to come in and help them with one of our public finance mechanisms for their infrastructure plan—and it doesn't cost taxpayers money." The expanded facility will add over 150 good paying jobs to the area but it also will act as a catalyst for the county's plans to reduce recidivism in the county's incarcerated population.
Russell explained, "Ogden is known for its manufacturing employee population; it is one of the highest in the state. We have a focus on advanced manufacturing and innovation, which makes Chromalux such a good fit for our county. While these advanced manufacturing companies provide a lot for our tax base and our general fund, they also allow us to advance our own innovations such as creating a program to train and transition those in the corrections system into actual manufacturing jobs with local companies like Chromalux."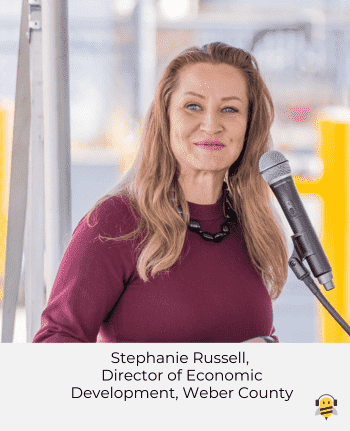 She continued, "This is a ground up operation. We work with local businesses, government agencies, economic development departments, commissioners, tech schools, and universities to create a circle of partnerships that will help us take people who are disadvantaged, low-skill, coming out of jail, and train them, rehabilitate them, and put them into a well-paying, sustainable jobs, thereby stopping the generational behavior that led to their incarceration in the first place. This is why these facility expansions are so important. It is not just about expanding brick and mortar. It is about creating a new way of rehabilitating people to go back into the community to become productive citizens."
Weber County Sheriff, Ryan Arbon, shared that Weber County plans to shortly propose a bond to the county, not to exceed $98 million, to expand and modernize and expand the county's aging 12th Street Correctional Facility with an additional 48 medical and mental health beds (32 for males and 16 for females) and 224 beds for work & community release inmates, increasing the total capacity between both facilities to 1,160 beds.
It will include upgrades of its medical health clinic and infirmary for healing and addiction recovery, and a novel community release center—mentioned above by Stephanie Russell—that will have the ability to host community partners, such as Chromolox and others, to begin on day one of incarceration the rehabilitation of inmates in the corrections system. The program will help inmates transition to sustainable employment—at local state-of-the art manufacturing facilities such as Chromalox'—rather than starting the process when they get out of jail.
"I don't want people coming back to our jail," said Sheriff Arbon. "Unlike Chromalox and other expanding businesses in the county that are growing, hiring and looking for business, I don't want anybody's business."
For more information about this county bond and the county's plans for upgrades to its Justice Center and related initiatives click here. A town hall for the bond will be held on November 8, 2023 at 6:30 p.m. at the Weber County Sheriff's Office, 1400 Depot Dr., Ogden.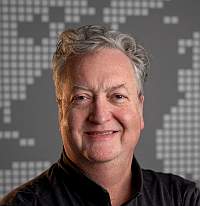 About the Author