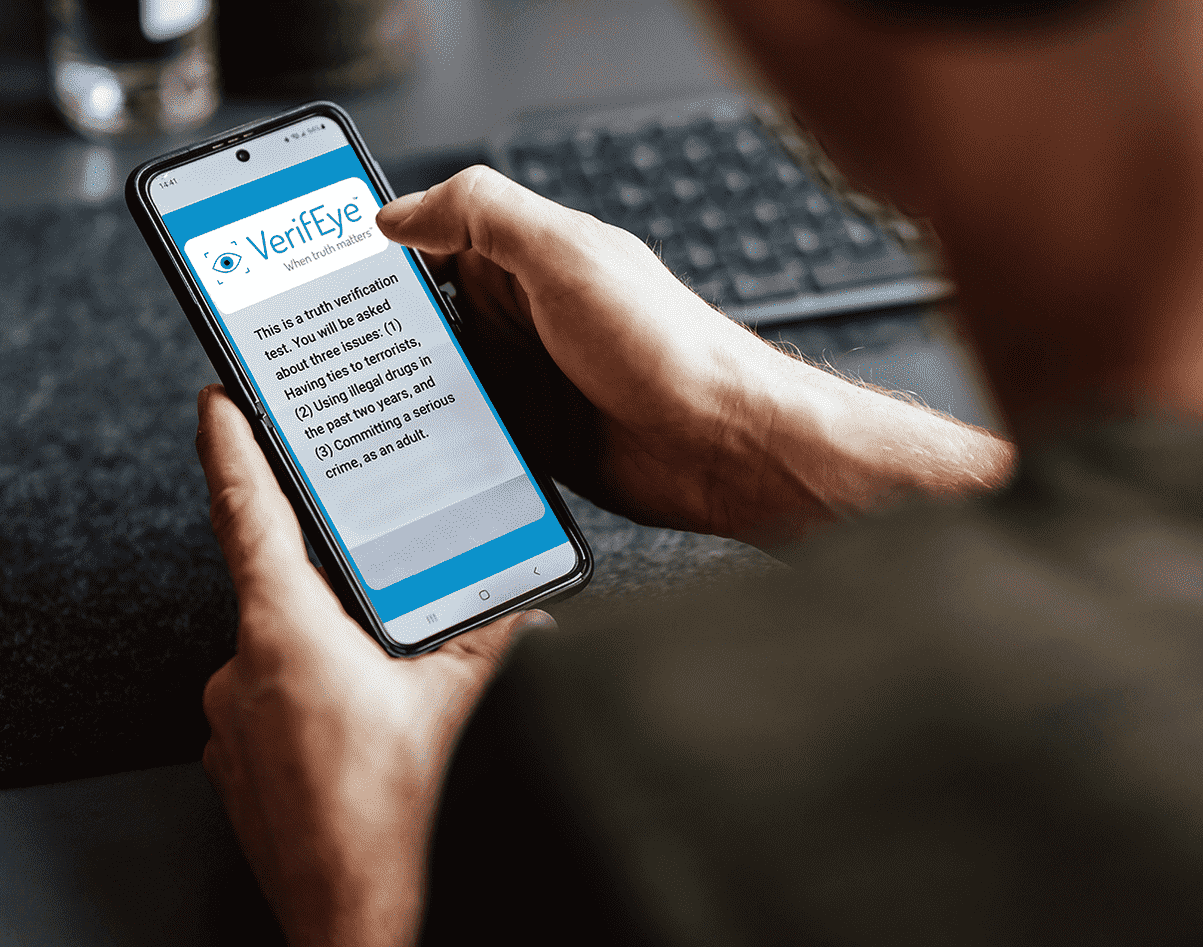 Converus Launches VerifEye, a Truth Verification App
Converus announced it has launched VerifEye, a "truth verification" app that can be used in security screening contexts to detect deception. Like Converus' previous EyeDetect technology, VerifEye does so by measuring participants' ocular-motor responses (i.e., changes to involuntary eye behavior, most notably pupil dilation) while they read and responded to statements on a questionnaire delivered via a smartphone app. Importantly, VerifEye takes the EyeDetect technology to a new level by making it available as a smartphone app, obviating a third-party proctor to administer it.
TechBuzz sat down with Todd Mickelsen, President and CEO of Converus to review the origin of his company's technology and the significance of the new product, VerifEye.
The theory for this detection method arose out of a 2002 trip to the Pacific Northwest. Talking shop while hiking Mt. Rainer, University of Utah professor, Dr. John C. Kircher, his colleague, Doug Hacker, an educational psychologist, and Don Krapohl, a U.S. government-trained polygraph scientist, hypothesized that changes in eye movements and pupil size while reading and answering questions about a crime would reveal deception. They wondered, "Would changes in cognitive load affect the eye in such a way that we can capture those changes and be as accurate as the polygraph in predicting whether or not someone is being deceptive?"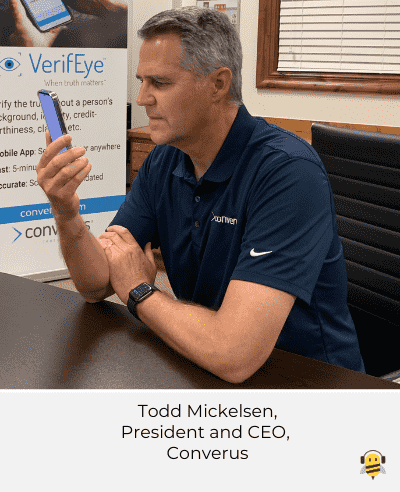 Mickelsen explained the hiking scientists recognized that polygraph tests are cumbersome and not scalable, as they require a human proctor to administer the tests. Ideally, a better testing method would be automated and also not require sensors attached to the subject, they conjectured.
Upon their return from Washington Kircher and Hacker learned that a fellow UofU professor, cognitive scientist Anne Cook, had acquired through a research grant a $40,000 camera that could detect eye movement, pupil size, etc. Kircher, Hacker and Cook came together and decided to collaborate. During 2003 the UofU team tested the hypothesis that deception could be accurately detected with eye tracking technology. Their results came back showing an 85% accuracy rate. They knew they were onto something and spent the next ten years conducting additional research and refining their models.
In 2013, Utah-based investors Paul Ahlstrom and Rob McMillen of Alta Ventures approached the four-person UofU team to license their eye-based deception detection science and to create a startup, Converus, to commercialize it.
The company was formed in 2013 and launched its first product, EyeDetect, the next year. Converus now has over 600 discrete clients in 50+ countries. The software is available in over 50 languages. People take the test in their native language for optimal results. Over 80 federal, state or other law enforcement agencies are using the company's EyeDetect product, including several police departments in Utah. These agencies typically are using an enterprise license with Converus which provides a set number of test scores and priced as an annual subscription according to the size of the organization and number of tests needed.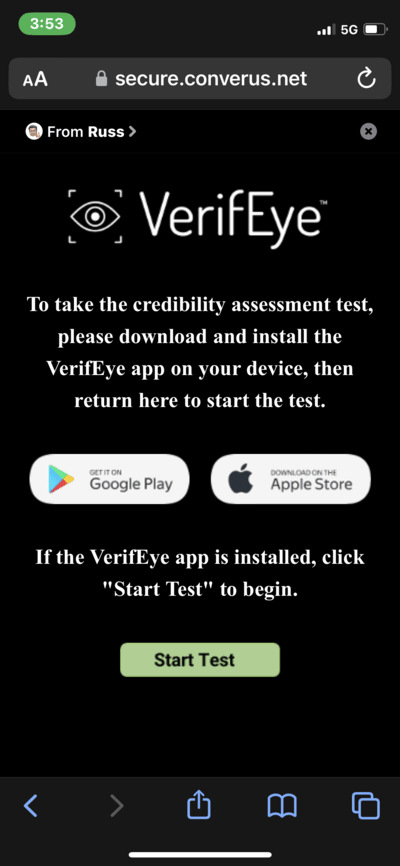 VerifEye represents a significant enhancement of the Converus deception detection technology, offering users the key advantage of accessing the technology via smartphone.
Mickelsen said VerifEye is a big innovation and is expected to bring about an inflection point in the company's customer-base and revenue. The fact that it puts the EyeDetect technology into an easy-to-use app marks a key improvement in taking the Converus technology to the masses.
Mickelsen said outside the US the Android operating system is used on 95% of smartphones. Converus offers VerifEye for both Android and Apple's iOS operating systems. VerifEye is available in the App store and Google Play Store for free. Mickelsen said it can even work on phones with older versions of iOS or Android operating systems: iOS 12, released in 2018, and Android 5 (known as "Lollilop") that was released in 2014.
Converus' business model is that the customer pays for the scoring of the test—a cost that varies according to the type of license, number of tests an organization is administering, and the geographical location of the customer.
Once a VerifEye test is completed, in ten minutes on average, data are uploaded, analyzed and scored in near real time. Test results are available to the customer in a dashboard, by email, or via the VerifEye API. Converus says the test is about 80 percent accurate.
The US has enacted a law, The Employee Polygraph Protection Act (EPPA), that prohibits most private employers from using lie detector tests, either for pre-employment screening or during the course of employment. Some US based companies utilize truth verification systems for their operations that involve persons from outside the US.
For example, IsoTalent, a Utah-based global recruiting and employment firm (and for full disclosure, parent to TechBuzz News), uses VerifEye to confirm employees based in Mexico are certified and do not have any disqualifying issues—like drug use or ties to cartels.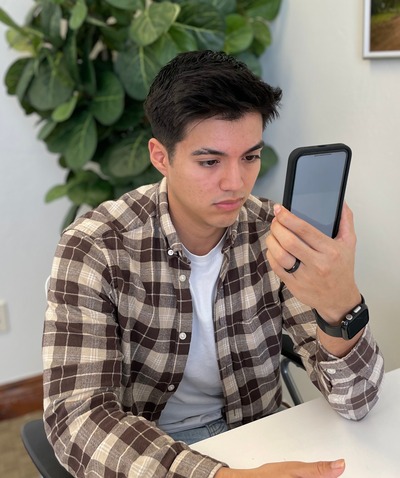 "Using VerifEye as an initial screening tool for new hires will reduce recruitment costs by 20%," said IsoTalent (and TechBuzz News) CEO and Co-founder, Paul Ahlstrom.
Similarly, EyeCanKnow, a U.S.-based company using VerifEye to provide truth verification services, has launched an online service for anyone seeking fidelity or sobriety testing. EyeCanKnow's customers choose a topic, timeline, and other details about a particular event. They then receive a unique VerifEye link by email to take a test. Clicking the link downloads the app and starts the test, which is self-administered on a mobile phone. No reading of the questionnaire is required—a digital voice asks test questions using the device speaker and verbal responses are recorded. After the test, the customer (as previously mentioned) can pay to see the test results.
The VerifEye app is gaining worldwide popularity. In Mexico, VerifEye is used for pre-employment and employee monitoring tests by a security company, a logistics company that distributes medicine, and by a BMW dealership. And a South African firm uses VerifEye to test for ties to terrorists.
The company also has clients in Peru that do credit risk verification. "Peru lacks the central credit bureaus like we have here," said Mickelsen. "Many people there get loans from unusual sources, and then they don't pay back the loans. Traditional lenders have a default rate of 40%. Using our technology they've changed their default rate from 40% to 7%, saving them millions."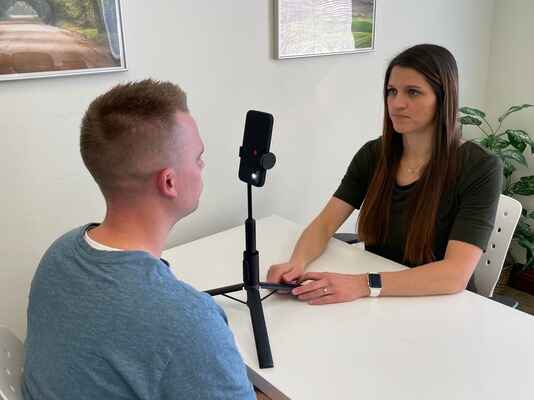 Mickelsen said they are talking with ride share companies overseas that want to deploy a lie detection test but require it to be self-administered and via a smart phone. "It would be unrealistic to have all these drivers come in to a central location for a more traditional lie detection test," said Mickelsen. "VerifEye as a smart phone app is a game-changer for companies like this. They can easily screen driver candidates via an affordable 10-minute test that they do on their own. The ability to affordably, accurately, and quickly verify truth via an app anywhere, anytime, and in almost any language, has garnered interest worldwide," said Mickelsen. "We've had discussions with several large companies—one has the potential to run over a million tests annually."
The company says its deception detection tools can add validity to a selection or review process, also when administered in combination with other lie detection tests. VerifEye is "an overt truth verification test designed to directly measure a participant's memory of past experiences, including counterproductive or dishonest behavior. Credibility can be a strong predictor of overall job performance, reliability, and trustworthiness," says Mickelsen.
"Eyes are the window to the soul," goes the saying. With Converus' latest technology, eyes also hold the key to employment by enabling employers to easily find the highest quality candidates.
For more information on VerifEye, check out the video below or visit Converus' website.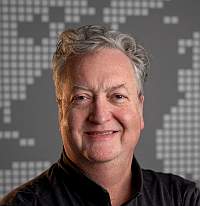 About the Author