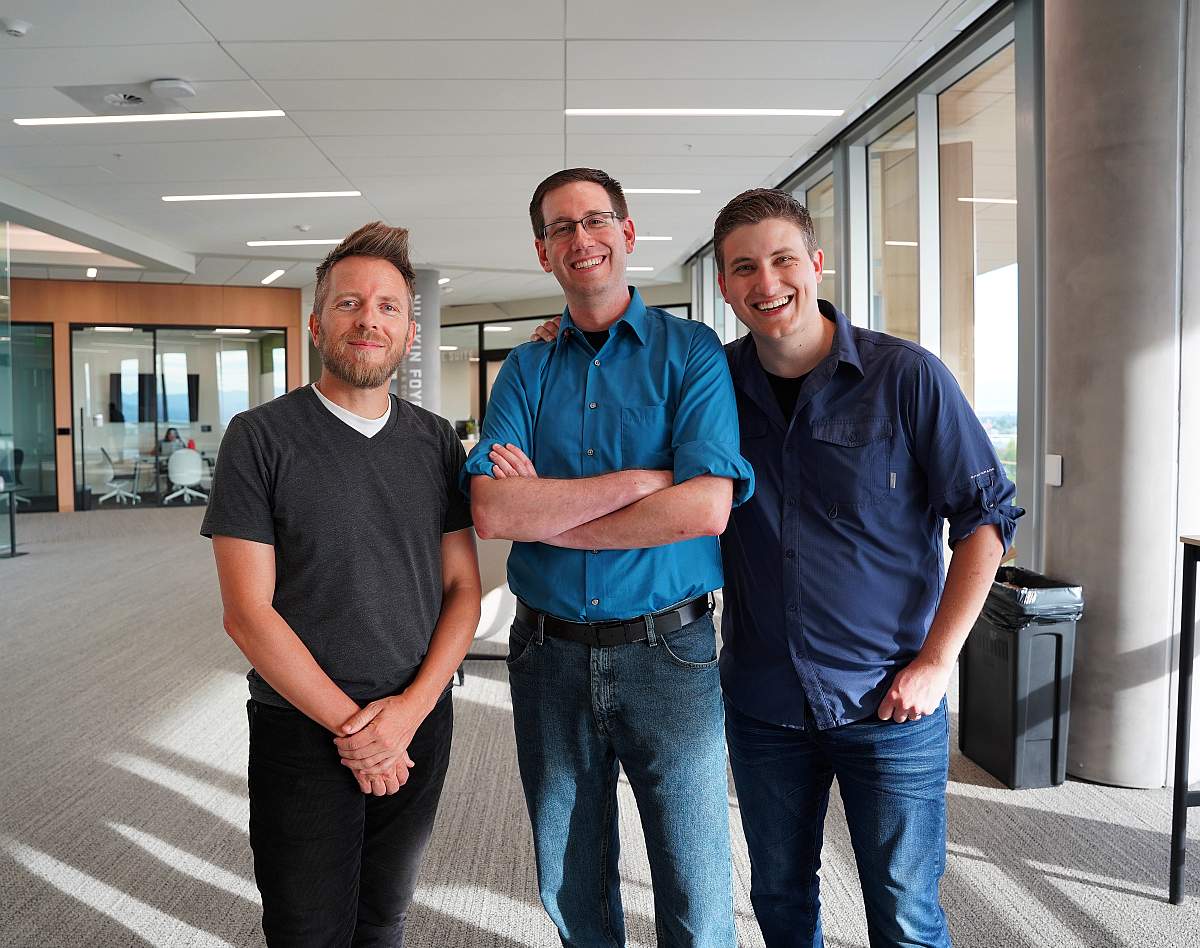 Dimension X Raises $600K Pre-Seed Round
Mark Zuckerberg's vision for the Metaverse is ambitious, but creating immersive experiences is difficult. Dimension X is a Utah startup providing a solution to this problem.
Founded in Salt Lake City on June 10, 2022, with offices in Dallas, Dimension X (DimX) recently closed its pre-seed funding round of $600,000. Startup Ignition Ventures (SIV), a new pre-seed fund in Utah profiled by TechBuzz last week, filled the entire round.
Scott Robertson, CEO, is a Unity expert with deep ties into the immersive application development community. He ran his own development agency, Graphic Arts and Technology United (GATU) for nine years.
Kyle Ringgenberg, CTO, is the co-founder of three companies and has published 16 patents. He's familiar with every major AR/VR device and initiative on the market.
Chris Keller, COO, has been involved in several startups including Health Catalyst. He has also run his own marketing, product, and development agency, AppDevv, for three years.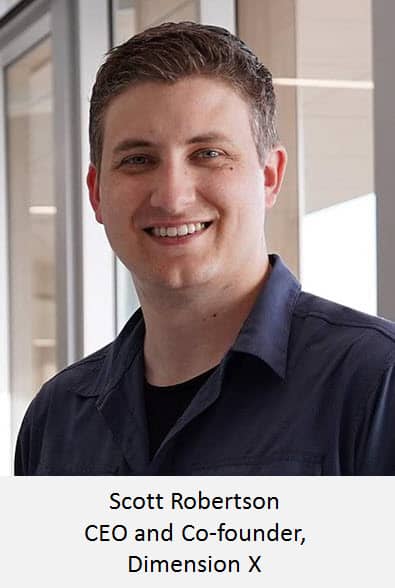 In 2016, Robertson and Ringgenberg met at Lockheed Martin where they worked in the original Skunk Works®, famous for its R&D of cutting edge technology. Robertson and Ringgenberg developed software for some of the country's biggest and most innovative aerospace projects, including AR/VR simulators for F-35, C-130, and QueSST (among many others). The three founders came together because of a project to overhaul the simulation software for the Christa McAuliffe Space Center and Telos University, which will draw heavily on DimX's solutions.
DimX is a Metaverse company developing a platform that simplifies the process for creators and storytellers to build immersive experiences for physical and virtual worlds. DimX is doing for immersive experience creation what Wordpress did for website building, or what Figma did for interface design, and what Unity did for game development. The platform's no-code builder enables drag-and-drop simplicity for creators and storytellers to author narratives. DimX APIs allow those with coding and modeling experience to expand narratives in new and unimagined ways.
Collectively, the DimX platform empowers corporate trainers, educators, developers, designers, manufacturers, gamers, storytellers, and business leaders to train, educate, design, simulate, entertain, and market in immersive ways that can't be done today.
Currently, the process of creating immersive experiences takes significant time, money, and skill. It requires a team of advanced developers and 3D designers, most often using Unity or Epic's Unreal Engine. Simplifying this process, DimX's platform works on top of these existing solutions, leveraging their robust rendering technology to deploy experiences to any device. Today, approximately 9.5 million developers build on these two game engines. DimX sees a path to expand the market to 100 million creators and consumers who will be able to build immersive virtual experiences.
Other companies have demonstrated that a simplified approach can drive huge market expansion. Roblox, an imagination platform, has enabled gamers to become creators and achieved over 200 million monthly active users on its platform. A majority of these users are under 25 years of age, representing the next wave of immersive experience creators for the Metaverse. Often conflated with virtual reality (VR), immersive experiences are much more complex and varied. They include everything from massive theme park simulators to everyday mobile devices. They also include augmented reality (AR) and mixed reality (MR) which layer and embed virtual elements into the real world. Broadly defined, an immersive virtual experience causes one to forget that the experience isn't real.
Technologies that enable immersive experiences have been evolving over the last 30 years. One such technology is lidar, a laser technology that measures distance. It was embedded in the Xbox Kinect device to sense body movement for games like Just Dance, which allowed users to dance without a controller. Since 2020, Apple's iPhone 12 Pro, iPhone 13 Pro, and iPad Pro models have shipped with lidar sensors; driving measured improvements in photography, video capture, photogrammetry and other techniques for scanning the real world as 3D objects. Lidar is turning smartphones into real-time 3D capture and display devices.
DimX is already collaborating with a number of innovators using lidar technology; including one that is creating a 'seeing is believing' experience that scans 2D blueprints and extrudes them into modifiable 3D versions.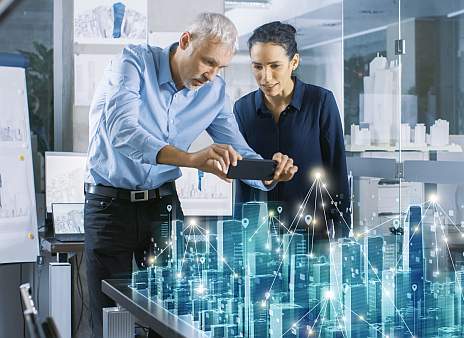 Another immersive technology is volumetric content. This visualization technology can ingest magnetic resonance imagery (MRI) data, as well as other 3D sources, to create volumetric virtual 3D objects in VR/AR. Prototype holographic devices will soon make this possible in physical space, making real what was science fiction for Tony Stark in Iron Man. Clinical teams can use this technology to study, or train on a patient's virtual anatomy. They can rotate, expand, slice, and model specific surgical procedures long before the patient even enters the operating room.
According to the '10,000 Hours to Mastery' rule, the path to expertise is expensive and time consuming. The DimX team suggests that immersive experiences may dramatically accelerate learning by increasing engagement, repetition, and targeted training.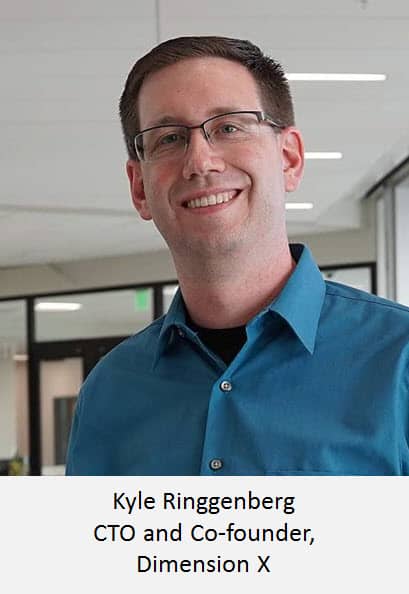 Imagine someone training to become a surgeon. For that person today, the 10k hours doesn't start until their 20s when they begin pre-med courses. But with immersive technology, a prodigy may begin their training a decade earlier.
"Can we ingest more learning, earlier in life?" asks Ringgenberg. "If so, our technology will create a huge opportunity for all students to explore more career paths and develop deeper mastery, in less time and for much lower costs. As this immersive technology becomes more affordable, it may be the great equalizer to give students in developing countries access to the latest advances in education."
Backing this startup is Startup Ignition Ventures (SIV), an early-stage VC fund that follows the concept from 'idea to exit.' "With more than 20 years of angel investing across more than 100 companies, I'm tuned into winners," says John Richards, SIV's managing partner. "And the stars seem to be well aligned. The founding team has several unfair advantages, and their platform strategy couldn't be any better timed to capitalize on a gigantic opportunity at the front end of an evolving market. With our lean startup methodology, we are committed to helping this team to win big."
The DimX founders have studied the history of immersive technology. Their plan is to look out for proven patterns and and follow validated models, while at the same time avoid the pitfalls that this space is known for, including the challenges that Second Life faced at the turn of the century. Since around 2010, large amounts of VC funding have flowed into the development of AR/VR hardware until investment peaked in 2019. What followed was a wave of shuttered VR businesses that ran out of money.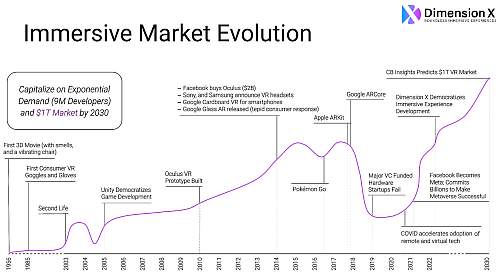 "Many of those hardware businesses failed because of high consumer prices and un-compelling experiences that were clunky, unbelievable, and shallow," says Robertson. "Challenging, device-specific software APIs has kept, and continues to keep, many developers from building for even the best hardware."
Since the trough of 2020, sales of consumer VR devices have continued to break records. Rumors now suggest that Apple may soon to release its own immersive device. Just like it has done with the iMac, iPod, iPhone, and AirPods, Apple may arrive late to market with a superior product that nails the consumer experience and drives massive consumer demand.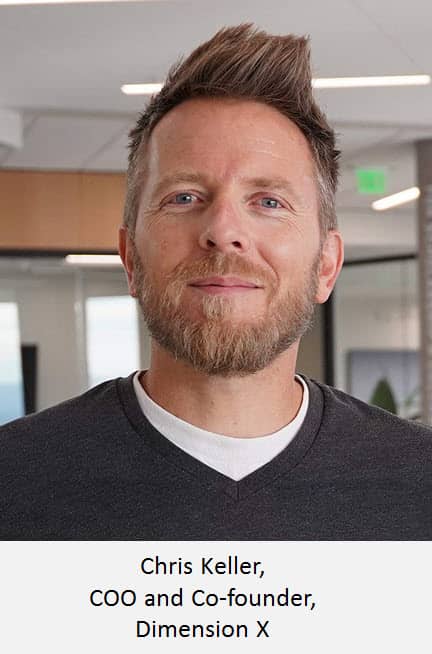 "For decades now, gaming has been the dominant immersive technology use case, but the lines are blurring," says Chris Keller, the company's Chief Operating Officer. In 2016 Niantic launched Pokémon Go, which created a worldwide phenomenon, driving a new wave of immersive gaming by average consumers. At its peak the game had more than 250M monthly users and over six years, the company raked in $5.5B in revenue.
DimX resonates with the future envisioned by famed investor Andreeson Horowitz in which the lines between gaming, socializing, and transacting fade entirely. In May of 2022, a16z announced a $600 million games fund focused on the future of the games industry hypothesizing that the "coming Metaverse will be built by games companies, using games technologies. From content creation to multiplayer enablement to virtual economy management and live ops, the games industry has already solved many of the problems that need to be solved to create the Metaverse."
Every major technology, consumer, and entertainment company seems to have made a bet on the future of the Metaverse. While the recent economic downturn has led some big tech companies to slow their Metaverse hiring, the eventuality of the Metaverse as a strong market seems imminent. CB Insights estimates the Metaverse will be a $1 trillion market by 2030. Mark Zuckerberg predicts a billion people will be in the Metaverse. And if SIV is right about DimX, this might just be one of the biggest growth success stories to come out of Utah.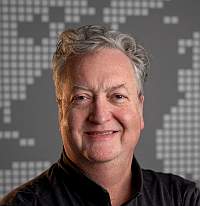 About the Author