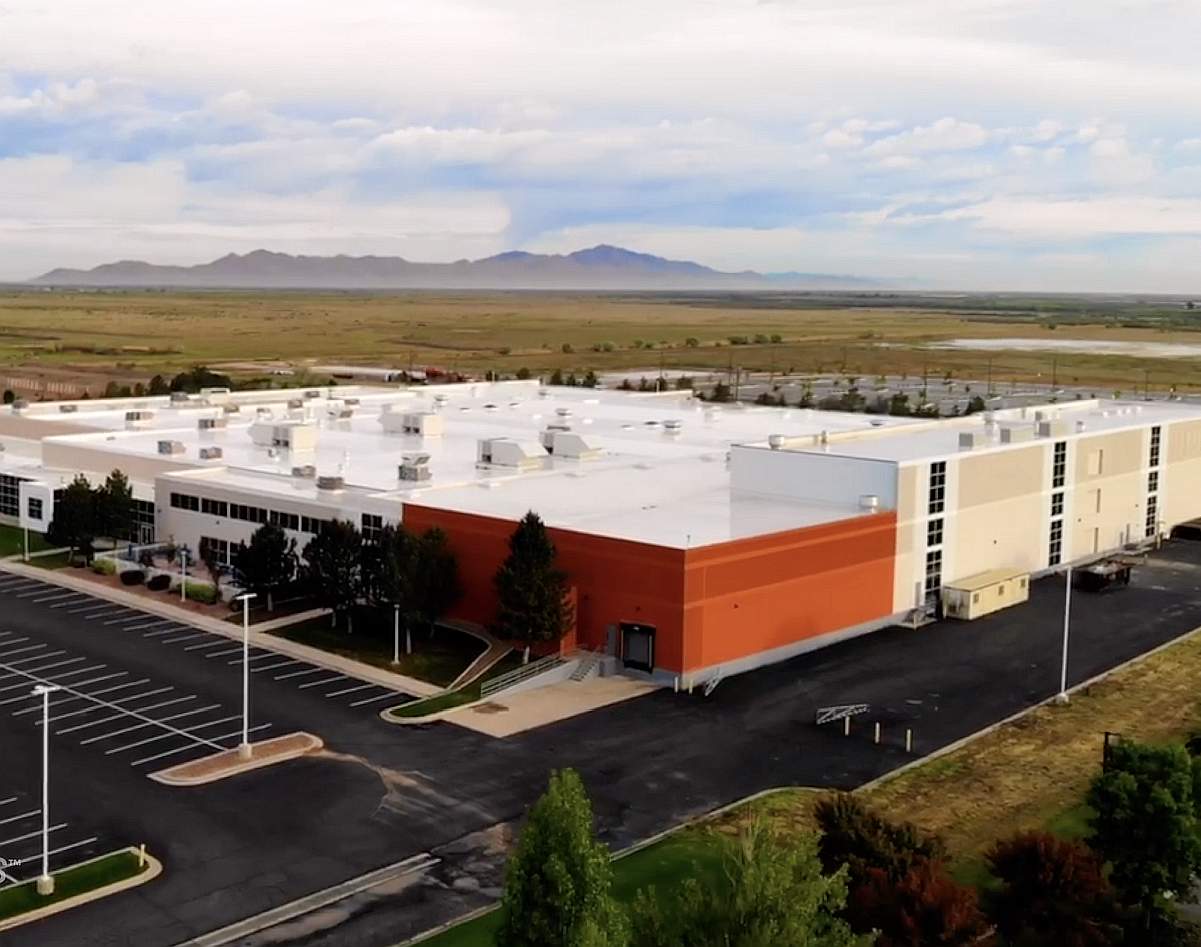 DiscGenics Announces Research Collaboration with the U.S. Department of Veterans Affairs

Today DiscGenics announced a basic science Cooperative Research and Development Agreement (CRADA) with the U.S. Department of Veterans Affairs (VA) to assess the feasibility of using DiscGenics' proprietary Discogenic Cells with the VA's whole, tissue-engineered endplate-modified disc-like angle ply structure (eDAPS).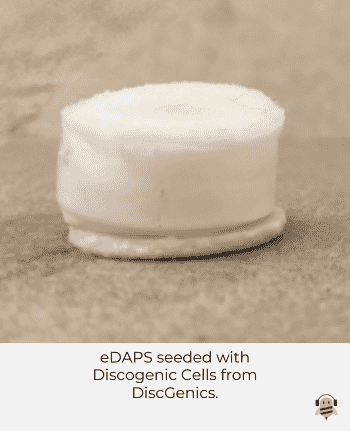 eDAPS, devised by researchers at the VA and the University of Pennsylvania, are living tissue-engineered resorbable polymer vertebral disc implants that mimic the native structure and function of the disc and are intended to replace degenerated discs in patients with late-stage intervertebral disc (IVD) degeneration.
Discogenic Cells are a manufactured, live progenitor cell population derived from donated adult human intervertebral disc tissue and are used as the therapeutic engine in DiscGenics' mild to moderate lumbar degenerative disc disease product candidate, IDCT (rebonuputemcel).
Through this ongoing collaboration, researchers have determined that eDAPS manufactured using DiscGenics' proprietary nucleus pulposus and annulus fibrosus derived Discogenic Cells are mechanically and biochemically distinct from eDAPS using mesenchymal stem cells (MSCs).
"Discogenic Cell-derived eDAPS are a promising translational development, as we can now culture tissue-engineered discs at a scale appropriate for human cervical disc replacement using a translatable human nucleus pulposus and annulus fibrosus cell source," said VA Principal Investigator, Sarah Gullbrand, Ph.D., a Research Scientist in the Translational Musculoskeletal Research Center at the Corporal Michael J. Crescenz VA Medical Center, with a co-appointment as a Research Assistant Professor in the McKay Orthopaedic Research Laboratory in the Department of Orthopaedic Surgery at the University of Pennsylvania.
This project has been awarded BRAVE Funding by the VA Technology Transfer Program (TTP), which will further research of this combined technology and support a large animal study of Discogenic Cell-derived implants. The BRAVE Funding is intended to continue innovation of VA-owned technologies and better position the technology for partnering with companies for the benefit of the veteran and broader use in the United States.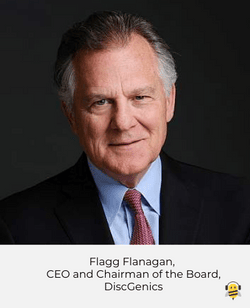 "DiscGenics is proud to be collaborating with the VA, Dr. Gullbrand, Dr. Robert Mauck, and their team at the University of Pennsylvania on this important project," said Flagg Flanagan, CEO and Chairman of DiscGenics. "Back pain arising from IVD degeneration is one of the most common causes of limited function in adults. DiscGenics is developing IDCT for mild to moderate lumbar degenerative disc disease, but we recognize that for many patients whose disease has progressed to the severe stage, surgical intervention may be necessary. Utilizing our Discogenic Cell platform to generate implants that could replace degenerated discs would significantly broaden the treatment options for this patient population."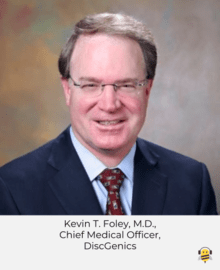 Kevin T. Foley, M.D., Chief Medical Officer of DiscGenics added, "A biologic disc replacement in lieu of existing mechanical devices would continue to change the paradigm of spine care away from a device-centric model to one of disease modification through biologic and cell-based treatments."
DiscGenics is a Salt Lake City-based privately held, late-stage clinical, biopharmaceutical company developing cell-based regenerative therapies that alleviate pain and restore function in patients with degenerative diseases of the spine. DiscGenics's first product candidate, IDCT (rebonuputemcel), is an allogeneic, injectable discogenic progenitor cell therapy for symptomatic, mild to moderate lumbar disc degeneration. IDCT is a mixture of live Discogenic Cells, which are a manufactured progenitor cell population derived from donated adult human intervertebral disc tissue, and a viscous carrier. IDCT has been granted regenerative medicine advanced therapy (RMAT) and Fast Track designations by the U.S. Food and Drug Administration. As the only company in the world to develop an allogeneic cell therapy derived from intervertebral disc cells to treat diseases of the disc, DiscGenics can offer a non-surgical, potentially regenerative solution for the treatment of patients suffering from the debilitating effects of back pain.
TechBuzz has covered multiple significant announcements from the company, including the $50 million Series C investment in October 2020 led by Tokyo-based Ci:z Investment LLP with participation from Eagle Fund SP1 LLP, Medical Incubator Japan (MIJ), CareNet of Japan, Mitsubishi UFJ Capital, and other existing long-term investors.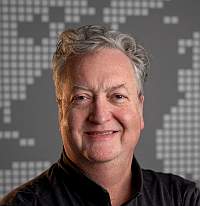 About the Author