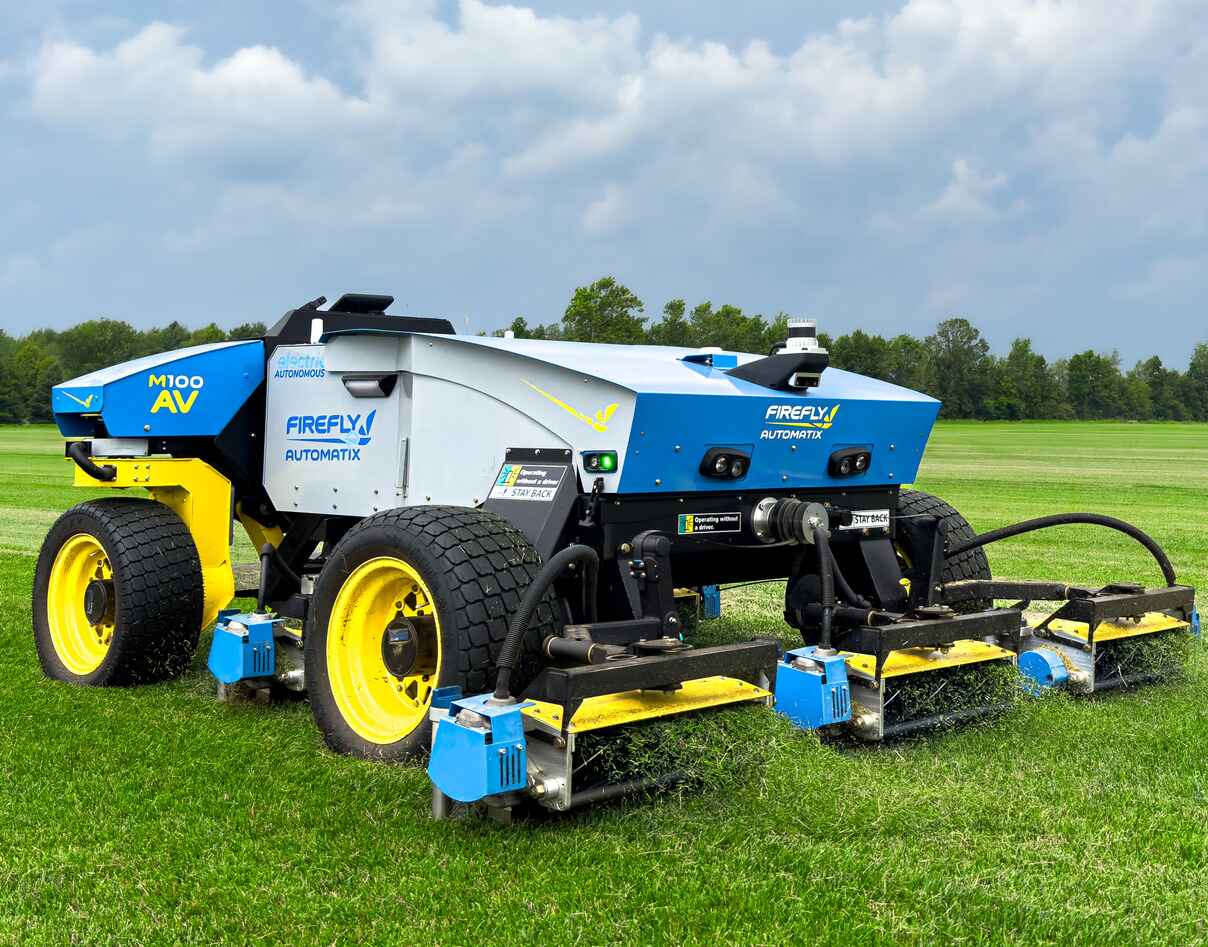 FireFly Automatix Launches First Commercially Available Autonomous EV Mower

FireFly Automatix announces it is unveiling the autonomous, all-electric M100-AV mower at the Turfgrass Producers International convention this week at DeBuck's New Lawn Sod Farm, in Belleville, Michigan. The M100-AV is FireFly's first all-electric vehicle (EV) mower.
Scott DeBuck, owner of this summer's TPI's host farm, said: "I am highly impressed by the innovative FireFly reel automatic mower. Its cutting performance produces truly beautiful results, and the capability to program various mowing angles is truly astonishing. Owning a mower like this would be a dream come true, and I firmly believe that the industry as a whole would greatly benefit from such a remarkable invention."
Breaking ground with an unprecedented level of autonomy in professional mowing, the M100-AV can operate without on-site supervision and includes LiDAR-enabled obstacle detection and avoidance for safety. Additionally, FireFly's newest mower provides intelligent path planning, so no boundary wires are needed, and mowing patterns are optimized for maximum efficiency.
Evidence of labor challenges, the number of H-2A temporary farm worker positions increased more than seven-fold over the past 17 years, according to the USDA. Utilizing autonomous machines could meet these challenges and reduce labor costs by 90%.
Powered by an advanced LiFePO4 battery, the M100-AV has a 100 inch cutting width, can quietly mow up to 25 acres per charge at speeds of 7 acres/hour. It recharges in two hours. With no gasoline or operating emissions, the mower is predicted to decrease fuel costs by 87%, as well as reducing owners' carbon footprints.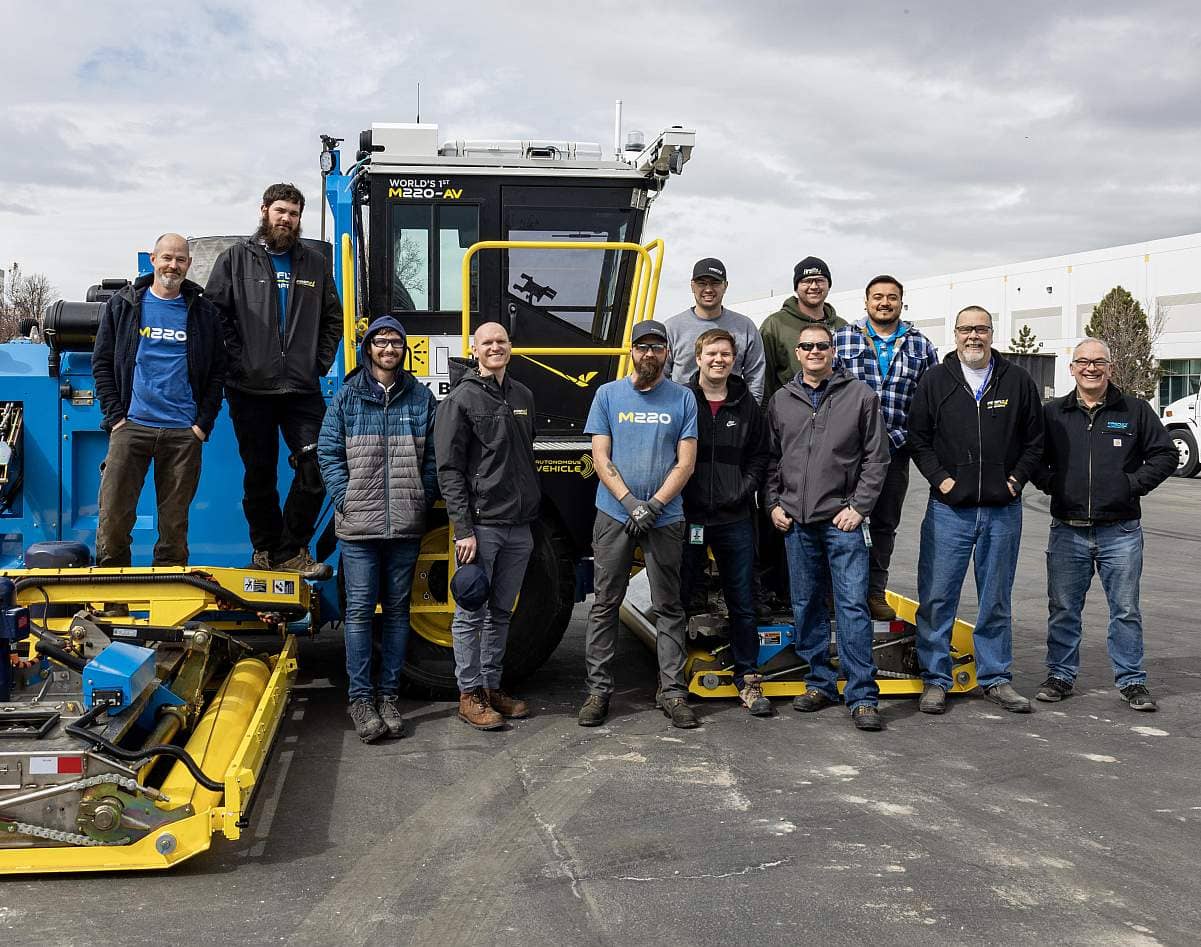 Mark LeBlanc, the project's head engineer, said, "It has been incredible engineering this product from the ground up with such a talented and passionate team. The culture here at FireFly is what allowed our engineering team to dream big and achieve a level of excellence that will bring electric and autonomous technology to the mowing world in an incredible way."
A dominant force in the turf production industry, FireFly will enter larger markets with the M100-AV. The robotic mower's ideal applications are sports fields, golf courses, and municipalities.
In addition to the M100-AV's revolutionary driverless and EV technology, it is designed for a 65% maintenance cost reduction and a 76% longer machine life. The mower offers many other value-adding features:
Four independent electric drive motors are synchronized with two independent steering motors to achieve low-impact traction.
Wide stance and balanced weight distribution allow for low ground pressure and impressive sidehill performance.
The RoloRocker™ cutting unit design achieves a more stable ride through the field, enabling higher speeds and a better aftercut appearance.
SyncLift™ position-based lift technology reduces the need for a clean-up pass.
Drive motors are engineered for a 100,000+ hour life and low maintenance.
FireFly is currently accepting pre-orders and anticipates delivering the first production models this Fall. The company expects a rapid ramp-up of production, thanks to its established capabilities in a world-class manufacturing facility in Salt Lake City.
FireFly Automatix manufactures a continuum of autonomous, hybrid, and electric equipment for the turfgrass sector providing increased productivity, fuel and labor savings, and data and connectivity to users. FireFly was named Utah's fastest growing company in 2016 and 2017 by MountainWest Capital Network and has demonstrated high resilience through the COVID pandemic.
In April 2023, FireFly announced the first customer implementation of its 22-foot-wide hybrid (diesel/electric) autonomous field mower, the M220-AV.
The video below shows the all-electric M100-AV in action: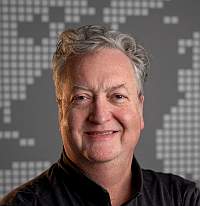 About the Author