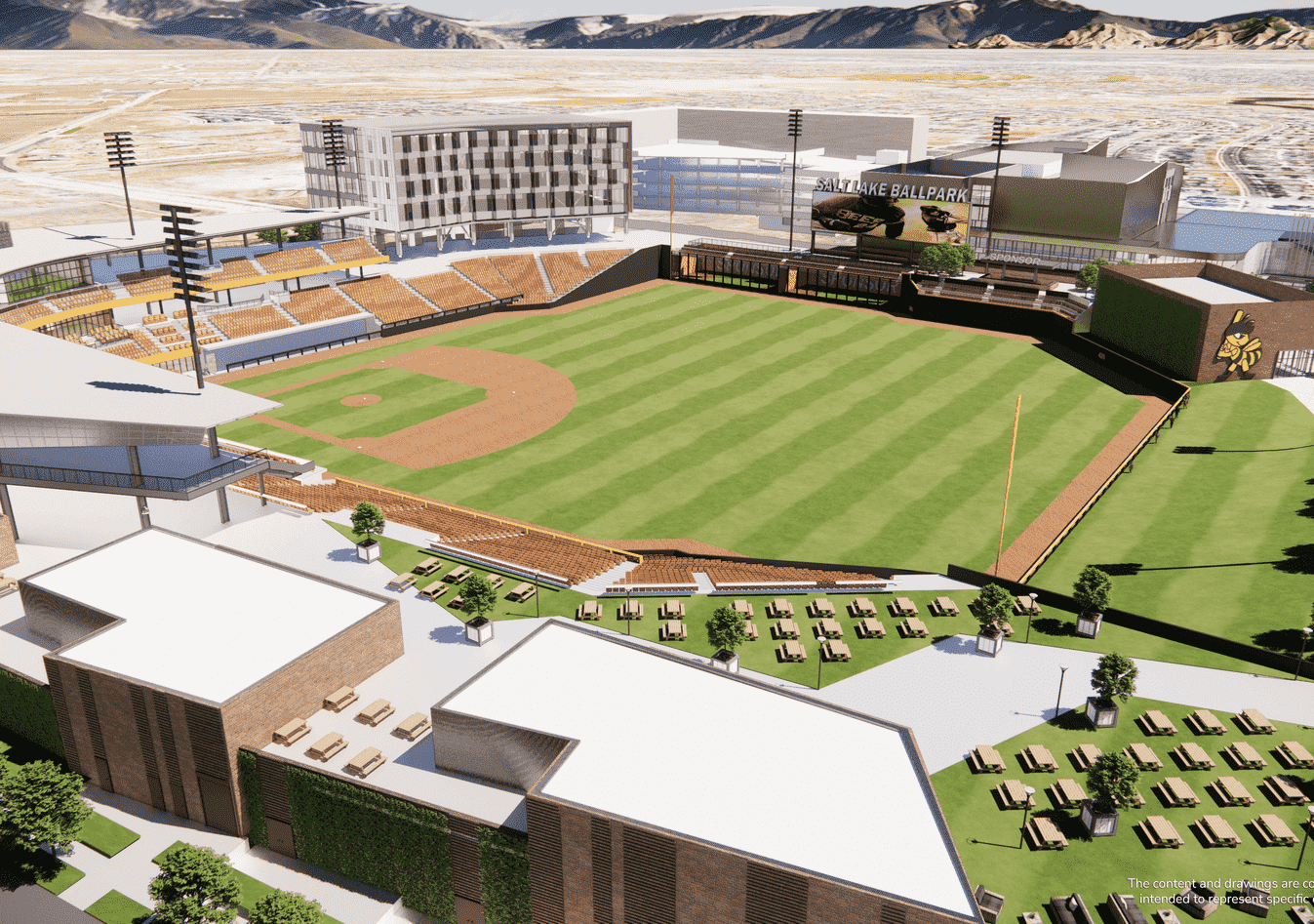 Larry H. Miller Real Estate Breaks Ground on New Salt Lake Bees Ballpark

Today, the Larry H. Miller Company broke ground on a new, privately funded ballpark for the Salt Lake Bees, the Triple-A affiliate of the Los Angeles Angels located within Downtown Daybreak in South Jordan, Utah.
Additionally, the Bees announced America First Credit Union (AFCU) as the exclusive naming rights partner for the ballpark and nearby sports and entertainment plaza, as well as a finance and lending partner for Downtown Daybreak and other Larry H. Miller Real Estate projects.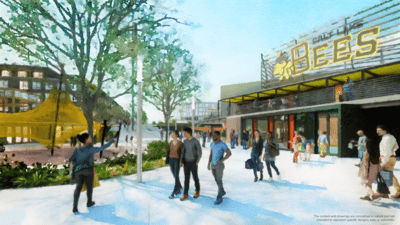 The new ballpark, with capacity for 7,500 fans, will offer a range of tickets from open-lawn seating to expanded premium, club and field-level seating where fans are closer to home plate than the pitcher; a variety of local, tasty food and beverage options for every wallet; event spaces; family-friendly gathering areas and a new alcohol-free zone; year-round programming and activities; an easily accessible team store; and picturesque views of the Wasatch Mountains. Located along Mountain View Corridor and a planned UTA Red Line TRAX Station, the ballpark is easily accessible for fans across the Wasatch Front and walkable and bikeable for those who live within the 4,100-acre master-planned community of Daybreak. Fans may purchase season tickets by calling or texting (801) 325-BEES (2337), emailing tickets@slbees.com, or visiting beesballpark.com.
"Downtown Daybreak will be a transformational, mixed-use development in the fastest growing part of Salt Lake County, and we are thrilled this initial phase will be anchored by a new ballpark and entertainment plaza. This project, located between the TRAX line and Mountain View Corridor, will be a destination for the community to gather and create shared experiences for family and friends," said Steve Starks, CEO of the Larry H. Miller Company. "Our landmark partnership with America First speaks to the power of collaboration and a shared commitment to enrich lives. We are also grateful for the City of South Jordan, a strong partner in bringing this vision to reality."
"We are a family-centered community, and we are excited to join friends and family from across the region as together we enjoy America's favorite pastime right here in South Jordan," said City of South Jordan Mayor Dawn Ramsey. "We are one of the fastest growing areas in the state and know that creating a vibrant regional destination for fans and guests to gather year-round is needed on many fronts. The master-planned urban center, anchored by the ballpark and Larry H. Miller Megaplex Entertainment will also bring jobs, diverse housing and amenities, entertainment, retail and dining options, and natural recreation areas. I am proud of the collaboration between the city council and staff at South Jordan City and the team at the Larry H. Miller Company. This is a true partnership and a once-in-a-generation opportunity."
"We look forward to playing in this growing area of the county," said Marc Amicone, president and general manager for the Salt Lake Bees. "This new facility and its amenities will provide a world-class game-day experience for our players and fans. We know that our fans will enjoy the family-friendly experience of Triple-A baseball in this state-of-the-art venue."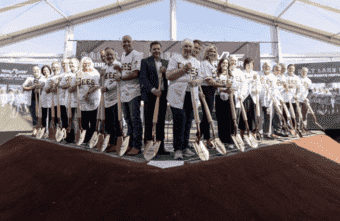 AFCU will be the team's exclusive naming rights partner of the ballpark and its adjacent sports and entertainment plaza, appropriately named "AMERICA FIRST SQUARE." The square is an outdoor sports and entertainment plaza that will include year-round versatility for concerts, summer games, ice skating, and holiday lights, all within proximity to pre- and post-game shopping and dining experiences.
AFCU will also have credit union exclusivity rights and a street named in Downtown Daybreak, as well as collaborative promotions with Swig for credit union members. Additionally, the partnership includes the Salt Lake Bees contributing $200,000 annually toward community projects, with a monetary match from the America First Charitable Foundation. The credit union will also partner with Larry H. Miller Real Estate for finance and lending related to Downtown Daybreak and other development projects.
"We couldn't be more excited to work with America First," said Michelle Smith, president of LHM Sports + Entertainment. "We felt their enthusiasm and commitment to the Salt Lake Bees and our entire sports community during every conversation. They have been longtime partners of ours and share our promise of providing exceptional experiences for guests and families, as well as enriching the lives of our friends and neighbors."
"As we met with the Larry H. Miller Company, it became clear that the new Salt Lake Bees ballpark would be more than just a sports venue and entertainment plaza. Instead, it's a one-of-a-kind gathering place for friends, family and the community," said Thayne Shaffer, America First Credit Union president and CEO. "Giving back and strengthening others is a core part of who we are at America First, and it's a commitment we have shared together with the Larry H. Miller Company for decades. We are grateful to continue this truly remarkable partnership and honored to be part of the Bees' incredible new home."
As part of its commitment to its 1.3 million members and the communities it serves, AFCU partners with numerous non-profit organizations and charitable foundations throughout Utah, Nevada, Arizona, Idaho and New Mexico.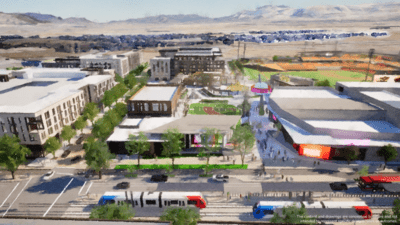 "The Salt Lake Bees and the Larry H. Miller Company are dedicated to delivering best-in-class experiences and memories for our fans and guests. America First Credit Union shares that commitment and goal," said Ty Wardle, chief revenue officer for LHM Sports + Entertainment. "From the moment we began discussions, their vision was to bring something never before experienced to Bees fans and the southwest quadrant. The concept of AMERICA FIRST SQUARE is unique, as it will be one of the most visited sports and entertainment venues in the state, where we anticipate more than one million visitors annually. We also look forward to the community impact that develops through the charitable giving aspect of this partnership."
The ballpark, along with the newly announced Larry H. Miller Megaplex Entertainment – a cinema-entertainment center (CEC), will serve as the first anchors to the nearly 200-acre transformative, regional urban center. The CEC will feature premium large-format movie screens with 100-percent luxury seating, luxury bowling lanes with laneside dining, unique food and beverage offerings, a private chef and scratch kitchen, state-of-the-art arcade games, private event space, and more.
"We are proud to leverage partnerships across our organization, with the Salt Lake Bees, Larry H. Miller Megaplex and Larry H. Miller Real Estate, to deliver a sports and entertainment-anchored, master-planned development in the heart of South Jordan," said Smith. "We have studied the benefits of similar types of developments across the country and know this proven model will enrich the lives of residents, players, fans and guests."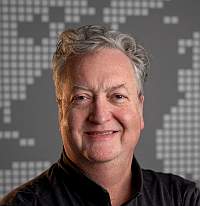 About the Author