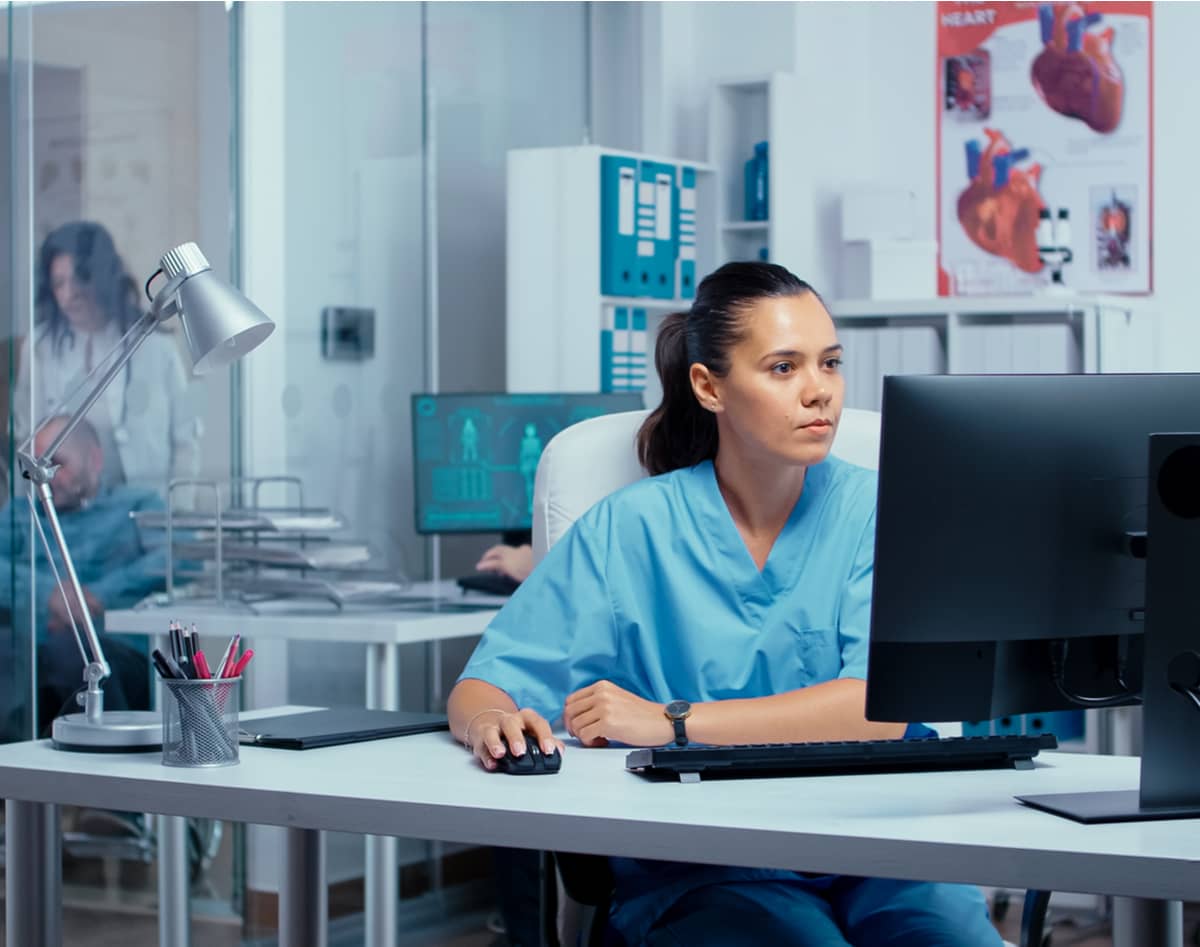 Nightingale College Is Helping to Solve the Nursing Shortage
Last year the pandemic put into focus the decades-long nursing shortage in America. Jonathan Tanner realized that his institution, Nightingale College, had an effective solution for two aspects of that shortage — the need for effective remote training and a way to place nurses in rural as well as urban centers.
Based in Salt Lake City, Nightingale College offers four nursing programs: the Associate of Science in Nursing, the Bachelor of Science in Nursing, the Registered nurse-to-BSN Program, and the Master of Science in Nursing Education Program. The college has 28 regional partner locations in 12 states. Nightingale was founded in 2010 by Wade Foster, and in 2012, was acquired by Palm Ventures based in Connecticut with office in Greenwich and London, UK.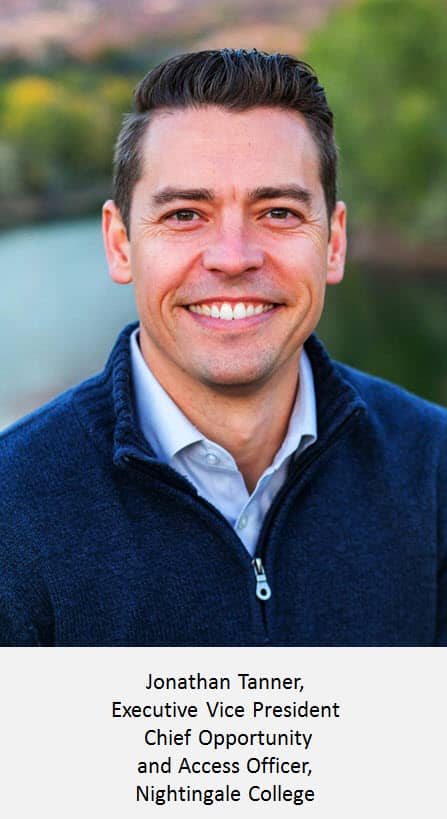 By Jonathan Tanner's point of view, the traditional method of educating nurses is, at a minimum, overtaxed. State programs subsidized by taxpayers adhere to traditional admissions policies and instructional methods. These programs are not graduating enough nurses to meet demand, says Jonathan Tanner, EVP and Chief Opportunity and Access Officer at Nightingale College. "It's so difficult to get into nursing school these days. It's unfortunate because the country needs nurses now. Post impact of COVID, on top of what we were already experiencing in a nursing shortage for over a decade, we are dealing with a serious shortage; and we are going to go through another pretty dramatic loss of the nursing workforce." Labor statistics suggest that by 2022, half a million nurses are projected to retire. That attrition combined with increasing demand, means over a million new nurses need to come online next year to keep up with demand. While the impact of this shortage is felt in some of the urban centers, it is our rural communities that will feel it the most. "Having a one nurse shortage in Salt Lake City is not the same as having one nurse shortage in Roosevelt, Utah," said Tanner.
Nightingale uses its proprietary instructional content combined with it's online platform (that is compatible with Instructure's Canvas and other popular Learning Management Systems) to train nurses efficiently, wherever they're located. The company encourages rural graduates to stay where they are and contribute to their communities. "Evidence indicates that if the nursing staff actually look like their patients, from a demographic standpoint, they will see better outcomes," says Tanner. Nightingale emphasizes teaching nurses online so nurses will stay close to home and serve their own communities.
Providing hands-on experiences and training required for nursing online touches on Nightingale's key strength. The college offers virtual simulation as part of its learning platform and is piloting virtual reality simulations in hopes to enhance the student's experience.
"Our virtual reality simulations make you believe you are involved; the styles, the noises, the way you're looking around… it feels so natural and realistic," said Tanner. "While I was in the SIM [simulation], somebody grabbed my arm, and it startled me. It took me a second to remember that I was inside of a virtual environment."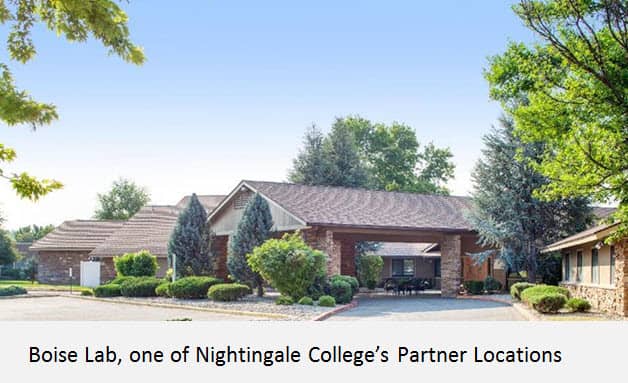 The college has developed virtual simulations via its online platform. However, it also requires in-person training, rotations, and skill pass offs at at its 35 regional healthcare partner institutions, or "hubs," that offer a critical training ground for nursing students and a means for students to enjoy tuition waivers and payments. "It's important to maintain an on-ground experience for our learners inside hospitals and long term care centers," said Tanner. Students spend 4-6 days at a hub at a time. They participate in hands-on training and observe the partners work. It is the College's hope for the partners to hire these students after graduation.
The location for each hub is driven by demand. "Prior to opening Las Vegas hub, we had 100 students driving to St. George every week because we were not approved to offer the nursing programs," says Tanner. The company went through a lengthy qualification process with the Nevada Board of Nursing to get their offerings approved in Nevada, as it has in other states. In most states Boards of Nursing establish "nurse practice acts" which govern education and training of nurses. "Some nurse practice acts are very friendly to our type of organization," says Tanner.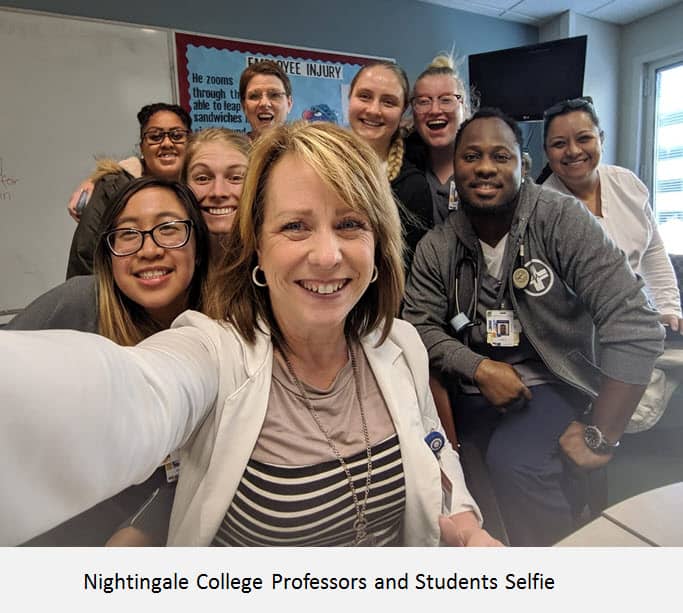 A big benefit to Nightingale has been the National Council SARA program (aka State Authorization Reciprocity Agreement), a national initiative establishing comparable national standards for postsecondary distance-education courses and programs. A voluntary agreement among states, SARA has allowed Nightingale to accelerate its program implementation in states that are party to the agreement, effectively bypassing the onerous Department of Education-led course and program approval process that can take over a year or more to complete.
Nightingale's tuition is two to three times higher than many comparable state university programs. "Tuition in several western states is very inexpensive as compared to others," says Tanner, " compared to programs in these states, our tuition is about two to three times more, In some states our tuition is actually comparable or relatively inexpensive."
Nightingale's partnership program with its healthcare partners is a core program of the college. It is also how the college's students obtain breaks on tuition, in some cases 5% off the standard rate. "Employers also are offering tuition assistance options that help students with their tuition,"explains Tanner, "and at the same time Nightingale College is saying to their students, 'If you're involved with one of our partners, and you're employed by them during the program, we will give you a tuition break.' Also some of our partners offer sign-on bonuses that can be applied directly toward their tuition balance."
Tanner says this partnership program is one of their key strengths. "We are probably one of the strongest nursing schools in the country, if not in the world, at connecting our healthcare partners with our graduates, mainly because our entire focus has been to solve the nursing shortage. It's not just about creating nurses, it's about actually solving a region's demand for nurses."
Additional useful nursing websites include:
LPN Programs Near Me, a tool for helping individuals understand the process for becoming a Licensed Practical Nurse in their state, including details on LPN programs in each state, each state's specific requirements for becoming a LPN, how to find financial assistance for LPN programs, information about the NCLEX-PN exam, and more.
Phlebotomy Classes Near You, tool for helping individuals explore phlebotomy as a career path and helping them become certified phlebotomists. It includes resources such as financial aid options, the process of becoming a phlebotomist technician, and a breakdown of the different types of phlebotomy certifications.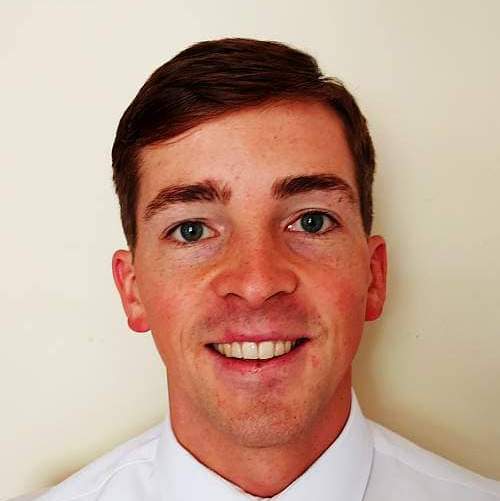 About the Author