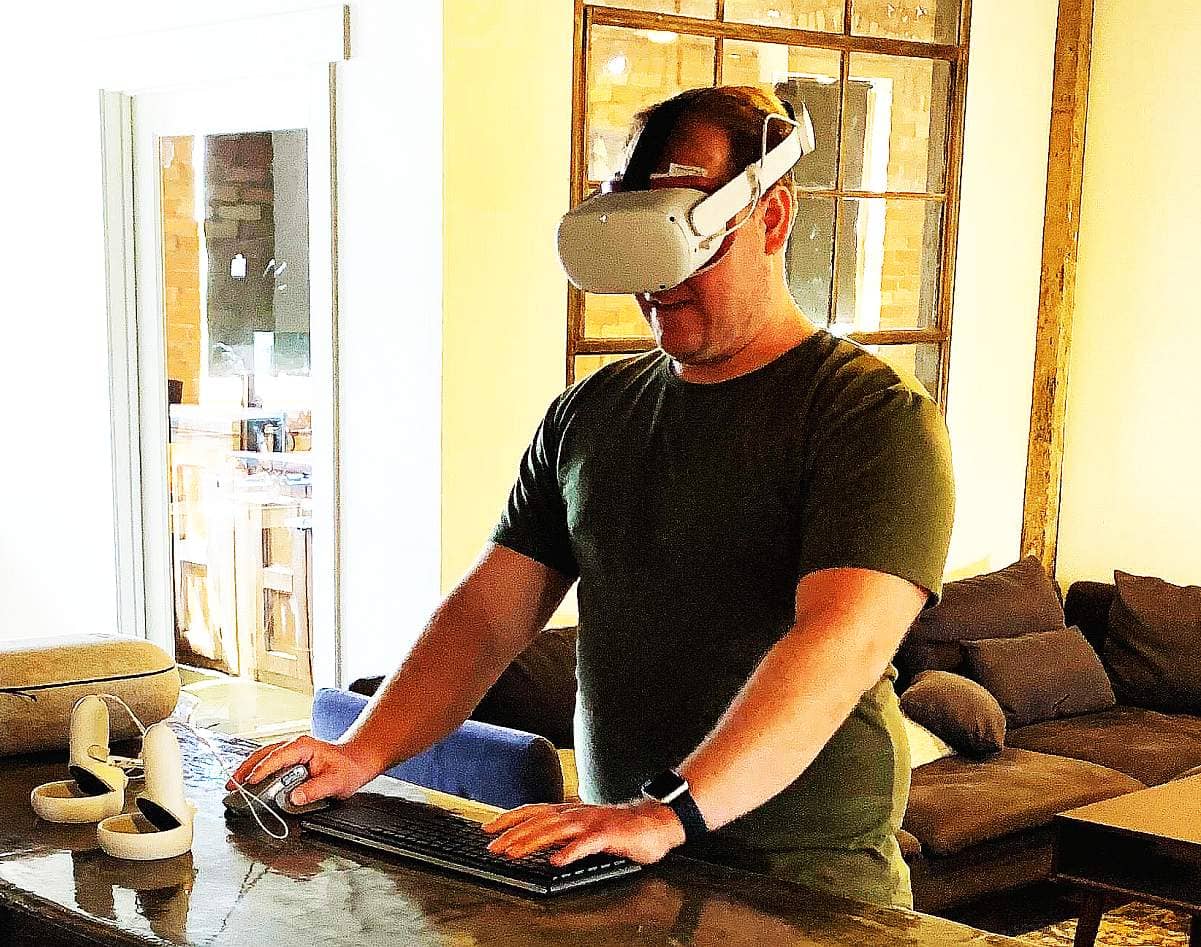 One Week in VR: How vSpatial Brings the Office to VR
We're all used to working from our laptops for 40 hours a week, but have you ever tried working in VR for a 40 hour work week? Daniel Platt is one of the few who has. Platt is the Director of Product at vSpatial, and co-founded the productivity-focused software startup in Provo building virtual office applications.
"The reason I'm working in VR for the week is to answer the question I get asked most." Platt said. "I have companies and individuals ask, 'Can you actually work in VR?'"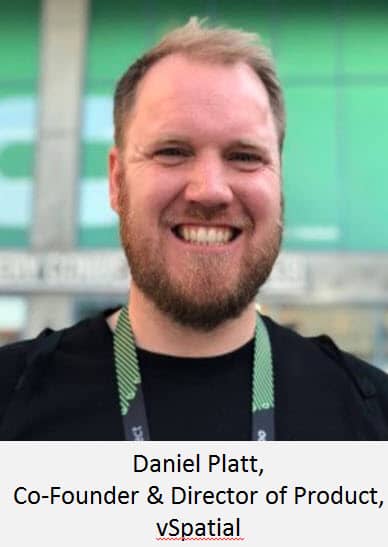 TechBuzz covered Platt and vSpatial last Fall with their mention in the annual Facebook Connect event. While most think of virtual reality (VR) in the context of gaming, Platt is focused on making VR a seamless way to get work done. To that end, Platt spent a week working exclusively from his head-mounted display, or HMD — in this case an Oculus Quest 2 from Facebook. The Quest 2 is largely responsible for driving the rapid VR adoption happening right now. The total VR market is expected to double from 5.5 million units sold in 2020 to 11 million projected to be sold this year. Platt also pairs a bluetooth keyboard and mouse to the Quest 2, which is wirelessly connected to vSpatial software on an external computer.
"We're all used to working with a mouse and keyboard, and so it was important to bring that workflow into VR" Platt said. "Now you can actually calibrate a virtual model of the K830 (bluetooth keyboard) and your mouse in VR, so you can see them with your hand-tracking."
Is it time to put on your HMD and enter the virtual office with limitless possibilities, including limitless screen space? Platt says vSpatial's virtual office is closer to prime-time than most might think.
"[In] the early versions of VR, it was almost impossible to look at a screen with lots of text," said Platt. Recent improvements in resolution have changed that. "I'm able to see things really clearly. I can read my emails on here just fine."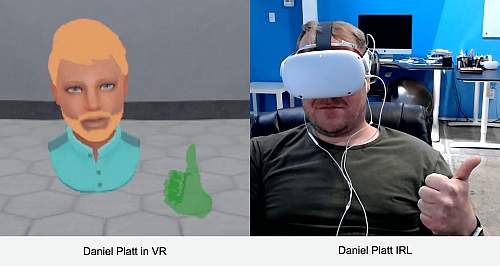 "I've worked on multi-monitor setups consistently for the last probably eight-years… I'm not really a laptop user." Platt says he prefers the multi-screen experience. "I hate tabbing into different screens all the time. I can't find what I'm looking for. I can't see everything I want to."

When it comes to products similar to vSpatial, Platt says, "Oculus has what they call an 'Infinite Office', which is somewhat similar to what you're seeing here. But it's limited to work only accessible from browsers."
vSpatial, on the other hand, allows access to more than just browsers. Platt's vision is to have virtual access to all of his files and desktop applications from anywhere with an Internet connection. Eventually, Platt wants the hardware to consist of the HMD with additional hardware suited to the individual user's preference, eliminating the need for a home computer entirely through the use of virtual machines.
"The goal is to not need to be anywhere near your PC," Platt says. "You could bring just a headset around with you anywhere... a mouse, and keyboard like I've been doing. As long as you have those, you get your ideal workspace from anywhere."
A "virtual machine" is a dedicated computer system implemented in software on a scalable hardware system, usually housed in a data center.
"When you're talking about virtual machines, you can assign more cores, more RAM, GPU, almost immediately. By just a few clicks of a button, and boom — you have a better PC that is doing the work for you."
One of the benefits of using vSpatial and virtual machines over traditional home computers is that files are automatically backed up to the cloud. "It's always safe, it's always secure, it's always backed up." Platt says. "Laptops at home can be broken, stolen, you name it. A bunch of your work is immediately gone."
When asked how accessible virtual machines and cloud computing are to the average office worker, Platt said, "right now, it's not very easy, admittedly... Right now, it is not very user friendly. That is one of the things we are trying to do, is to offer virtual machines from our app."
"That's one of the things we hope to make friendly; is the concept of a virtual machine to the average consumer."
It's #workinvr week for me. Todays setup:@oculus Quest 2 Headset w/ Deluxe Battery strap@Logitech K830 & MX Master 3 Keyboard (both paired to headset)
Apples earpods (for when I'm in meetings or jamming to @Spotify )
Using @vSpatialVR to remote connect to my @Alienware laptop pic.twitter.com/5egljTRgoQ

— Daniel Platt AR VR MR XR (@TheJinXR) June 1, 2021
Does the average consumer need a virtual machine? "If your work is primarily just web applications, where you don't need a really powerful PC, then you're probably fine with a Chromebook," says Platt.
"If you're doing anything that requires even a decent bit of CPU or GPU performance, waiting forever for things to render on a laptop, then vSpatial is definitely an option you should be looking at."
Right now vSpatial is only available on Microsoft Windows 10, "but Linux and macOS are coming," says Platt.
Was Platt's weeklong experience wearing his HMD using vSpatial software a success? Yes, but work is still work, even in VR. "You do feel it on your head after a while. I had to force breaks into my workflow where I say, 'Okay every two hours I am going to walk around my neighborhood.'" Platt uses his breaks to recharge his headset, other hardware, and himself.
Platt hopes VR can make workplace productivity truly independent of any physical settings. "What this really means is work from anywhere… we want you to bring this 'office' with you anywhere."
Platt shared his full experience of working in VR from his LinkedIn profile, including this post with a video overview of the experience.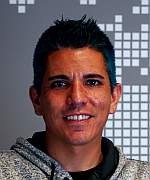 About the Author