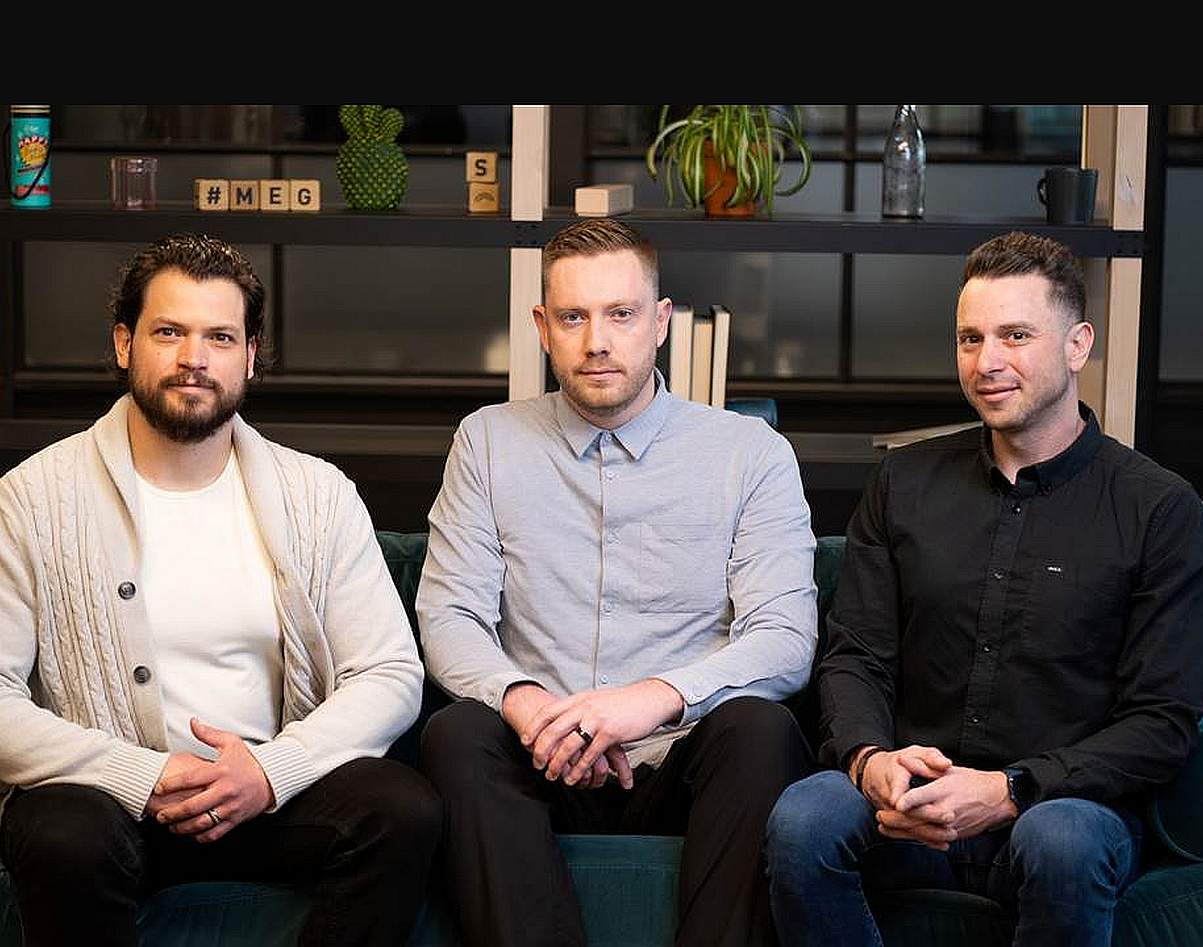 PortalCX Launches Home Services CRM
By Robby Poffenberger
There's never an ideal time for home flooding. But when it happened at PortalCX co-founder Holden Jasper's home, it was at a particularly bad time.

"I was going through a significant pain point in my life with two young children and a brand new house," he recalls. "And it was two days before Christmas, of course. So, it was just really messy."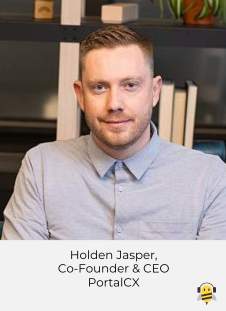 His idea for PortalCX came from this experience—the water damage was destructive, but the process of working with contractors and restoration specialists was equally messy.

"Construction people were coming in, ripping up drywall, and setting up fans to dry everything out," Jasper recalls. "And I had a lot of different text messages, emails, and calls coming in from various parties of the restoration company as well as construction people. I thought to myself, "Why isn't there a centralized application that funnels all of that communication and tells me where I'm at in the project, and where I'm going?"

At the time, Jasper, and his co-founders—and childhood friends—Ben and Matt Schwen, were running other startups when they set out to prove the concept of a customer experience portal that automatically updates customers throughout home service projects. The team received a seed investment from Startup Ignition Ventures in February 2023 and are launching their website on May 1, 2023. They are all now working on PortalCX full-time and have discovered that a widespread need exists for this type of software. They are determined to fill that need.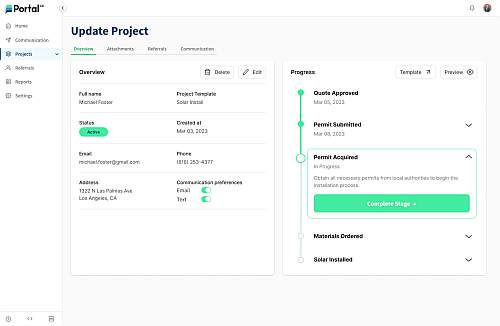 "I went through the same experience as Holden," Startup Ignition Ventures Managing Partner John Richards explained. "I was participating in a major pickleball tournament in St. George, Utah when I got the call that my basement was flooding. It was a nightmare just as Holden says with the mitigation, insurance, restoration, etc. Holden's solution made sense to us."

"It really doesn't matter what project you're going through," says Jasper. "It could be a bathroom remodel, it could be getting a fence up, an in-ground pool, obviously an end-to-end construction process. We thought, 'This is missing in the market and we have ways of solving these problems.'"

Ben Schwen, Portal's co-founder, COO and chief architect, describes their software as "plug-and-play software that plugs into a client's existing project management system, even if it's just a spreadsheet," which the company often sees. Portal's seamless integration reduces the need for additional staff to field questions from customers, minimizes cancellations, improves customer satisfaction and increases the likelihood of referrals.

When Portal got started, Ben Schwen was working on a Home Services CRM platform that he had founded, RYVE, which was acquired by Houston-based True Power in June of 2022. Given Ben's focus and background, Home Services became the natural market for PortalCX to apply their software. They tested concepts and sought validation of their business model. They started pitching the PortalCX platform to businesses in 2022.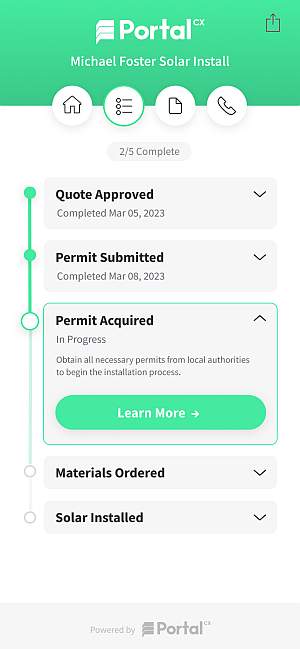 They first looked at the door-to-door solar market, a well-established market in Utah, which happens to have a 30-40 percent cancellation rate after a contract has been signed. They soon discovered that the cancellation pain point didn't apply to every business. However, problems with the support side are universal. Jasper says they're now "keeping things very general" with the portal and not going vertical-specific because their platform has broad application across multiple industries.

"Where and how we're filling in the holes is resonating with a lot of different industries," says Jasper. "Companies pay us knowing that there's a huge ROI (return on investment) for them because they're not having to answer all of those manual questions that could just go to something like PortalCX."

PortalCX currently services companies in a wide range of industries, including construction, e-commerce, manufacturing, and specialty projects such as custom jewelry. They also service very large businesses—some of whom, Jasper says, are $50 million-dollar companies who were still using paper before onboarding with PortalCX.
Portal's team designed the platform's interface to be clean and intuitive for both the business and the consumer. When PortalCX secures a sale, they send a custom portal to the customer showing how the customer's project journey is mapped out. The customer enrolls in notifications via text, email or both. The customer receives periodic calls to action, and critically, they are notified with updates about anything that changes on the project.

The customer can also see stakeholder information so they know who to contact if they have a question that can't be answered in the portal. That said, the company's "north star" proposition, according to Jasper, is, "How can we keep the customer in the portal and make sure they don't have to leave it to communicate with the companies?" Portal's goal is for key information to be released as effortlessly as possible. "Everyone stays on the same page due to automation," says Jasper.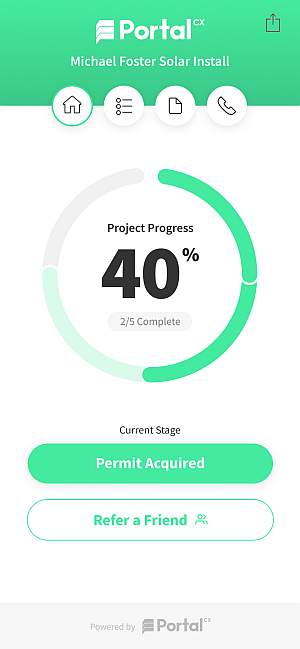 The system is currently active on Zapier marketplace. The company plans to facilitate custom integrations with SalesForce AppExchange, ClickUp and other CRMs in the near future. PortalCX currently accommodates a wide range of customers and projects; some are a week long and require only three or four updates. Others, like one with an Australia-based home construction company that PortalCX recently signed, are complex and span 12 months or more, with dozens of updates per week.

PortalCX operates on a SaaS subscription model based on the number of transactions per month, scaling up depending on the required features and functionality. Jasper says its inherent value becomes very clear to the businesses who use it.

"It's all about the support side of things—knowing you can scale without having to add bodies to your internal organization to answer questions that your customers are going to ask," explains Jasper.

Growth continues to be organic. The company hasn't spent a dollar on marketing. All their customers have come through their own contacts and networks. Some customers have asked if they can invest in the company.

In February 2023, Startup Ignition Ventures made a $600,000 pre-seed investment in PortalCX via a convertible note. Before that, the Portal team had bootstrapped the entire operation. The seed investment will fund future innovations, including more two-way communication on the portal, analytics for data including customer acquisition costs and lifetime value, and decreasing the integration time to between five and 15 minutes for every company. May 1, 2023 is the launch date for the PortalCX website.

The co-founders say they are planning to raise again within the year.

For more information, visit www.portalcx.com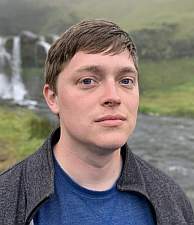 Robby Poffenberger is a business journalist interning at TechBuzz News. He began his career after high school at his hometown paper, the Tooele Transcript-Bulletin. Since then, he has been a copy editor at the Pulitzer Prize-winning Bismarck Tribune and served as editor of Utah Valley University's The Review. His work has appeared in Salt Lake City Weekly Magazine.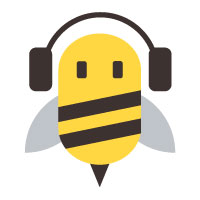 About the Author