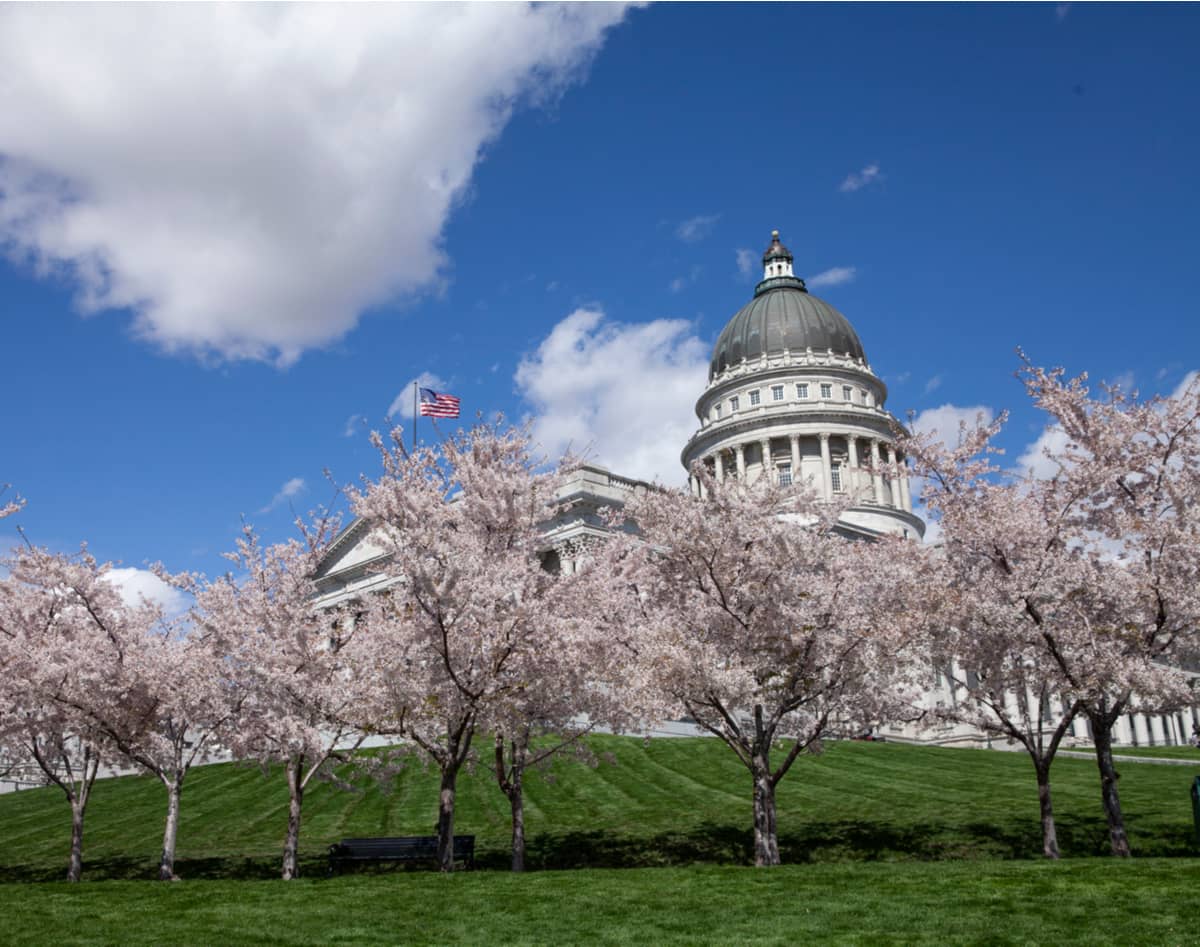 Salt Lake Chamber Awards Legislators as 2022 Business Champions
Today the Salt Lake Chamber presented the Business Champion awards to Utah legislators who stood for the interests of continued prosperity and quality of life for Utah employers and employees during the 2022 General Legislative Session.
The Salt Lake Chamber is Utah's largest and longest-serving business association. As a statewide chamber of commerce with members in all 29 Utah counties, the Salt Lake Chamber represents the broad interests of the state's 63,000-plus employers, which combined employ more than 1.4 million Utahns.
The Salt Lake Chamber awarded Business Champion Awards to 80 Utah lawmakers, listed below.
The Chamber's award is given to legislators who supported at least 80% of the Salt Lake Chamber's priorities during the 2022 Legislative Session. The title of Business Champion is directly tied to a legislator's support and voting record on the Salt Lake Chamber's "Priority Votes." During each legislative session, the Chamber's Board of Directors designates top priorities of the business community as "Priority Votes." The Chamber tracked 250 bills pertaining to Utah's business sector. It claims a 100% success rate for the nine critical bills that the Chamber considered "priority bills."
For more details of the 2022 General Legislative Session outcomes, view the Chamber' 2022 Legislative Scorecard.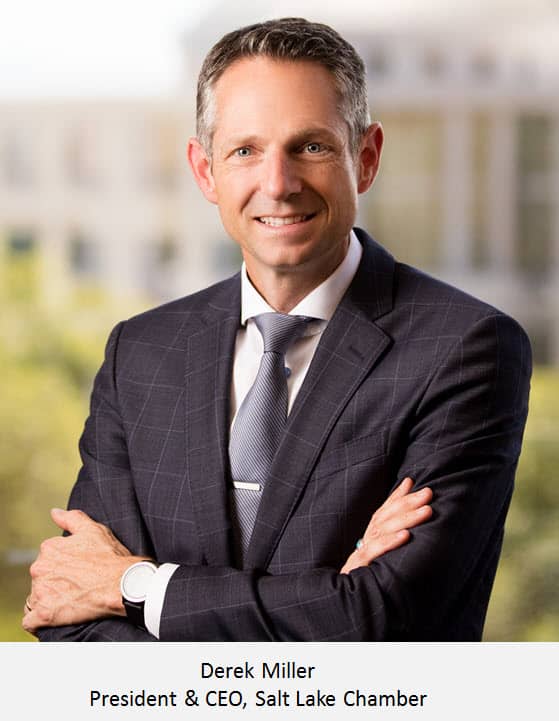 "Our state leaders understand how important a pro-business climate is for the overall health of our economy and society," said Derek Miller, president and CEO of the Salt Lake Chamber. "Every year we make a concerted effort to advocate for policies that will benefit the business community and the families those businesses support. The Chamber develops its legislative priorities for the session through a comprehensive process that involves our membership, allied organizations, and government leaders at the state and local levels. We are excited to honor the legislators who have worked with us to maintain our status as the best state for business in the country."
Additionally, the Salt Lake Chamber honored Rep. Steve Waldrip as the Chamber's 2022 Legislator of the Year for his work on many issues, including two of the Chamber's Priority bills he sponsored: H.B. 193, Full-Day Kindergarten, which greatly enhanced access to kindergarten across the state, and H.B. 462, Housing Affordability Amendments, which requires municipalities to adopt a moderate-income housing plan and creates a prioritization for Transportation Investment Funding (TIF). Rep. Waldrip was a key voice on a range of issues and serves on business and community-based boards.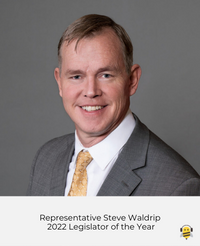 Upon receiving the award, Rep. Waldrip said, ""It is such an honor to receive this award from the Salt Lake Chamber. The organization stands for and represents excellence in the community and my work in the legislature was always geared towards doing my best for the constituents I represent and the state I love. I am grateful the Chamber supports efforts to build and maintain our enviable position as one of the best economies in the nation. We tackled hard challenges this year and the Chamber's voice was consequential in those debates."
The 2022 Legislative Business Champions Include:
House
Rep. Carl R. Albrecht
Rep. Melissa Garff Ballard
Rep. Stewart E. Barlow
Rep. Gay Lynn Bennion
Rep. Kera Birkeland
Rep. Joel K. Briscoe
Rep. Scott H. Chew
Rep. Clare Collard
Rep. Jen Dailey-Provost
Rep. Jim Dunnigan
Rep. Steve Eliason
Rep. Joel Ferry
Rep. Matt Gwynn
Rep. Steve Handy
Rep. Suzanne Harrison
Rep. Timothy D. Hawkes
Rep. Jon Hawkins
Rep. Sandra Hollins
Rep. Dan Johnson
Rep. Marsha Judkins
Rep. Brian S. King
Rep. Karen Kwan
Rep. Brad Last
Rep. Rosemary Lesser
Rep. Steve Lund
Rep. Cory Maloy
Rep. Ashlee Matthews
Rep. Kelly B. Miles
Rep. Carol Spackman Moss
Rep. Jefferson Moss
Rep. Calvin Musselman
Rep. Merrill Nelson
Rep. Doug Owens
Rep. Karen Peterson
Rep. Candice Pierucci
Rep. Stephanie Pitcher
Rep. Susan Pulsipher
Rep. Angela Romero
Rep. Douglas Sagers
Rep. Mike Schultz
Rep. V. Lowry Snow
Rep. Robert M. Spendlove
Rep. Jeffrey Stenquist
Rep. Andrew Stoddard
Rep. Jordan Teuscher
Rep. Steve Waldrip
Rep. Raymond Ward
Rep. Christine F Watkins
Rep. Elizabeth Weight
Rep. Douglass Welton
Rep. Mark A. Wheatley
Rep. Stephen Whyte
Rep. Brad Wilson
Rep. Mike Winder
Senate
Sen. Stuart Adams
Sen. Jake Anderegg
Sen. Curt Bramble
Sen. Gregg Buxton
Sen. Kirk Cullimore
Sen. Gene Davis
Sen. Luz Escamilla
Sen. Lincoln Fillmore
Sen. Keith Grover
Sen. Wayne A. Harper
Sen. David P. Hinkins
Sen. Don L. Ipson
Sen. Jani Iwamoto
Sen. Derek Kitchen
Sen. Karen Mayne
Sen. Michael McKell
Sen. Ann Millner
Sen. Derrin Owens
Sen. Kathleen Riebe
Sen. Scott Sandall
Sen. Jerry Stevenson
Sen. Daniel Thatcher
Sen. Evan Vickers
Sen. Todd Weiler
Sen. Chris Wilson
Sen. Ronald Winterton
Lawmakers were recognized for their efforts at an awards breakfast held in their honor with the Chamber's Board of Governors and Circle Level Members at the Little America Hotel.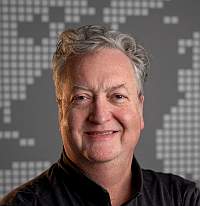 About the Author