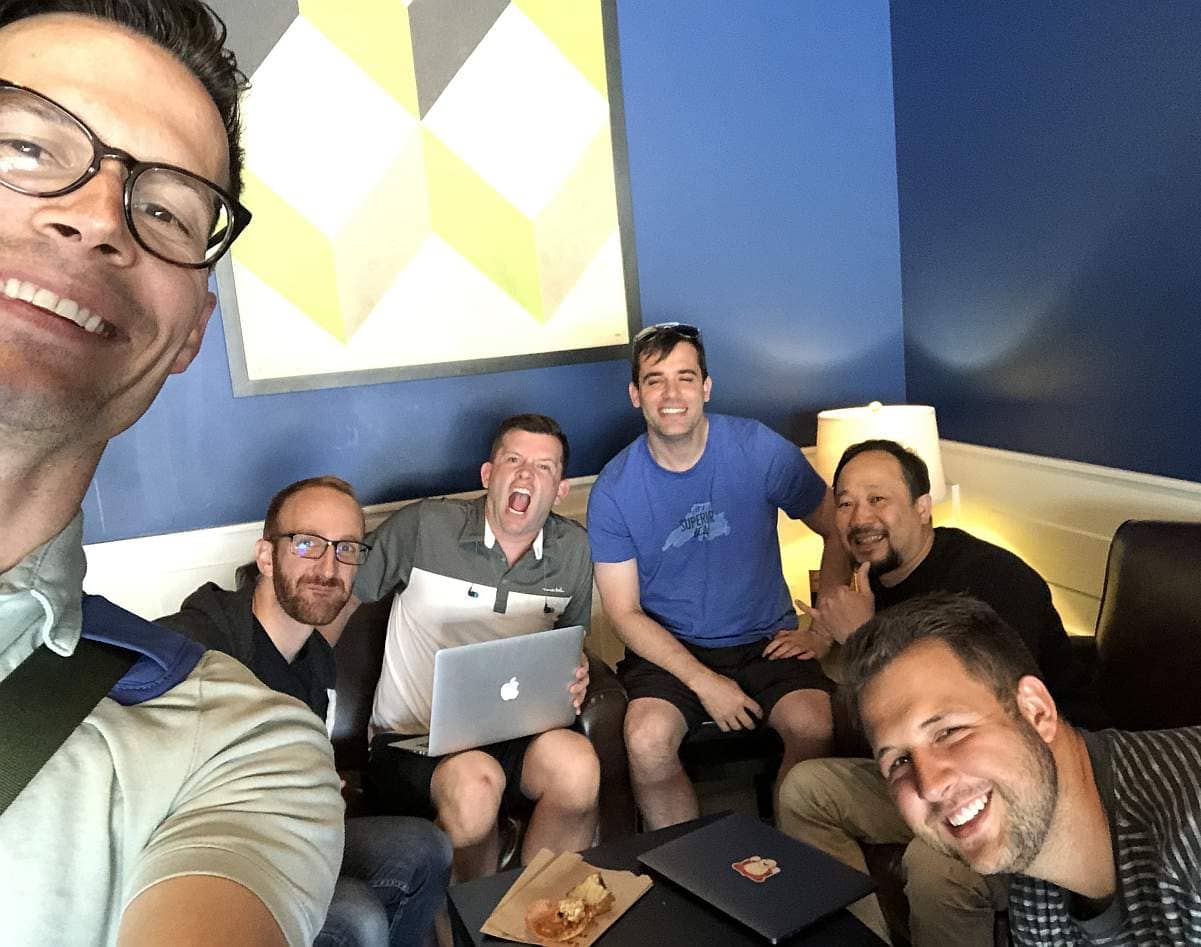 Spiff Announces $46 Million Series B Investment
Today Spiff announced it has raised a $46 million Series B investment from new and existing investors. Led by Lightspeed Venture Partners of Menlo Park, CA, the new round includes investments from Salesforce Ventures and Stripes, a Manhattan-based growth equity firm.
This latest funding brings Spiff's total funding to $68 million since its founding in 2017, $60 million of which the company raised in less than a year. Spiff's Series A round, which closed just a year ago, involved a $10 million investment from Norwest Ventures of Palo Alto and NextWorld Capital of San Francisco, plus many well-known Utah investment firms: Kickstart, Album VC, Epic Ventures and Peterson Ventures. Notably, Kent Madsen of Epic Ventures enthusiastically supported the A round in April of 2020, a low point in investor confidence during the darkest days of the pandemic. Kickstart, AlbumVC and Peterson Ventures also remained confident about the company's future throughout 2020 and eagerly jumped in on the Series B.
Individual investors in the round include: Mark Anderson, CEO, Alteryx; Daniel Dines,CEO, UIPath; Marc Maloy, CRO, BetterUp; Paul Melichiorre, CRO, Anaplan; Hanno Renner, CEO, Personio; Alexi Robichaux, CEO, BetterUp; and Leslie Stretch, CEO, Medallia and former CEO, Callidus.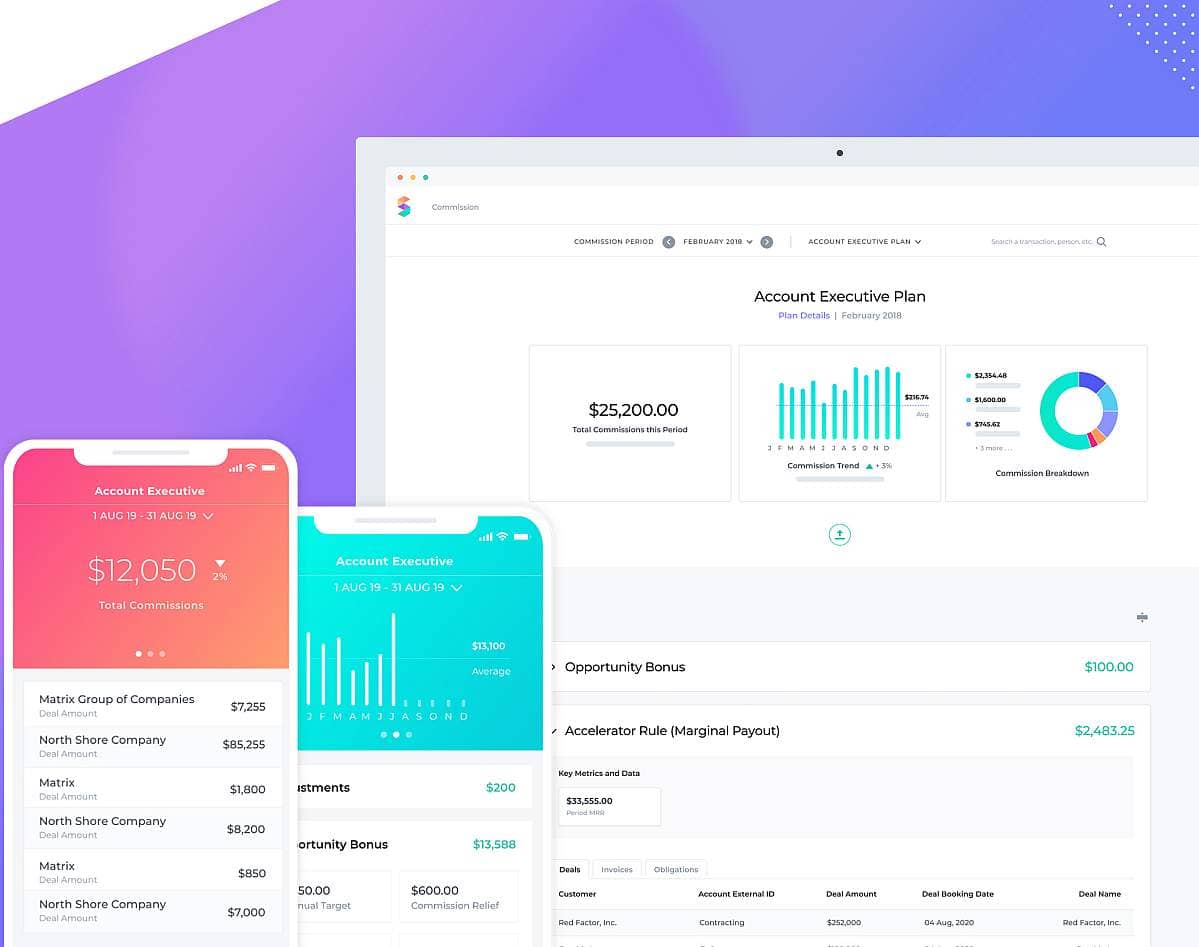 Lightspeed Venture Partners said Spiff reminds them more of a consumer app than what they are used to seeing in enterprise software. "Spiff takes commissions out of obscurity, both from legacy systems or manual spreadsheets, to a modern, drag and drop interface that's integrated into your entire stack," said Arsham Memarzadeh, Partner at Lightspeed. "They're being used as the control plane behind sales motivation and planning, and their daily usage rates among customers - from individual reps to the C-suite - indicate how critical incentives are in driving behavior."
In 2020, Spiff redesigned its flagship product, Spiff Commission Designer, the first enterprise-grade compensation platform. Spiff's automated commission software is designed to simplify sales performance management—making it easier to calculate sales commissions than using a spreadsheet.
"We've always known Spiff to be an insanely powerful mathematics engine," said Jeron Paul, Spiff's founder and CEO. "But with this latest release it has become 'Turing Complete' as a computational platform—the technical term for reaching the point at which there is no computational process that you can do in math or logic that you can't do inside Spiff."
G2, the peer-to-peer review site named Spiff one of the top ten fastest growing software companies in 2021. It gave Spiff the highest rankings in both the Sales Performance Management and Incentive Compensation Management categories.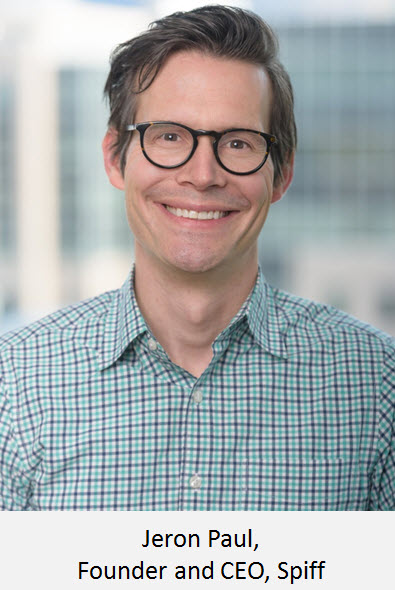 Spiff's mission is to put trust back into the commissions process, a complex process that is best integrated with other software systems such as Customer Relationship Management (CRM), Enterprise Resource Planning (ERP), Human Resources Information Systems (HRIS), and Business Intelligence (BI). "Our product goal is simple," said Paul. "Put trust back in the commissions process. Commissions you can trust should drive dramatic, measurable revenue growth. They should motivate reps to perform at their peak. And most of all they should free finance from endless spreadsheet challenges. For salespeople, a smoother commissions process gives them peace of mind and motivational insight into their earnings. For finance and sales ops executives, it's buttoning up and trusting a process that has grown manual, error-prone, time consuming, and expensive."
New investor Salesforce Ventures allows Spiff to build on its Salesforce.com integration and collaborate even further with Salesforce for Spiff customers. Spiff claims nearly 70% of their customer base uses Salesforce.com as its CRM. "Sales reps are the foundation for getting businesses back to growth, so Spiff is revolutionizing how companies drive motivation for sales teams by bringing transparency and trust to compensation," said Bill Patterson, EVP of CRM Applications at Salesforce. "We're thrilled to be traveling this growth path with Spiff as it simplifies the complexities of the commissions process that currently pains enterprises."
Jeron Paul says Spiff helps solve the perennial distrust between sales and finance teams. "Sales teams want more transparency about the math that goes into commission numbers. Finance teams are focused on the bottom line and making the company money - which is often at odds with plans for sales reps. Far too often, sales commissions are presented to the sales rep as a fait accompli by the finance team," observes Paul. "Some sales reps who were expecting a higher commission based on their own estimates may take it on the chin, but other reps are not having it; they don't consider the proposed commission as "law," but instead will be in the finance office looking at every calculation, every assumption that went into it. This makes a lot of extra work for finance teams. Our tool bridges that gap and engenders a lot of trust on both sides," says Paul.
The challenge is magnified in enterprises that deal with the complexities of different geographies, various plan structures, and thousands of global salespeople who are motivated by their commissions. Time is also a component that figures into the commission calculations that the Spiff team has thought hard about. Sales teams in large enterprises are constantly in flux. "Tracking when changes were made in the composition of sales teams is an important aspect of calculating commissions," says Paul.
While unarguably still a valuable business tool, spreadsheets lack the flexibility and scale to work effectively with today's complex commissions structures. "Commission spreadsheets and other legacy commissions apps continue to have a stranglehold over sales and finance teams when it comes to commission design," said Paul. "Spreadsheets have become the ripped and tattered sweatshirt of the commission process and it's time to toss them. We are in the waning years of spreadsheets as enterprise tools. Spreadsheets will always be amazing scratchpads but they are horrible enterprise automation platforms. Similarly, legacy commission software is just professional services masquerading as software. Spiff is a completely new breed of software, and a spreadsheet replacement for forward thinking businesses looking for a low-code/no-code commissions solution that can grow with the organization."
With this sizable infusion of capital, the company will add five or more "team members" (Spiff prefers to call employees "team members") to the team each month (currently at 120). It will add also sales performance functionality to its platform reflecting input from sales reps of its clients, many of which are well-known Utah-based companies: Qualtrics, Weave, Workfront, Podium, Lucid and others. The point of all this functionality is to give reps the ability to conduct what-if analysis, to benchmark their performance against higher performing reps, to forecast and set goals and targets themselves on a monthly basis with real-time notifications. In addition, upcoming releases will make it possible to display contests, badges, and leaderboard status. "We want to give sales reps deep analytics around their performance this month versus the previous month or being able to show, for example, that this week was the best first week of a quarter the sales rep ever had," says Paul.
A big premise of this Series B investment round is to focus on both product and engineering, said Paul. "We're big believers in eating our vegetables before eating dessert. We want to get the core architecture of Spiff strong enough to lay a foundation for what our engineers call 'extensibility,' a strong foundation upon which we can build a massive building. It has taken us three years to lay this foundation; now with this funding in place the floors will go up much more quickly."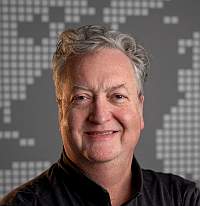 About the Author