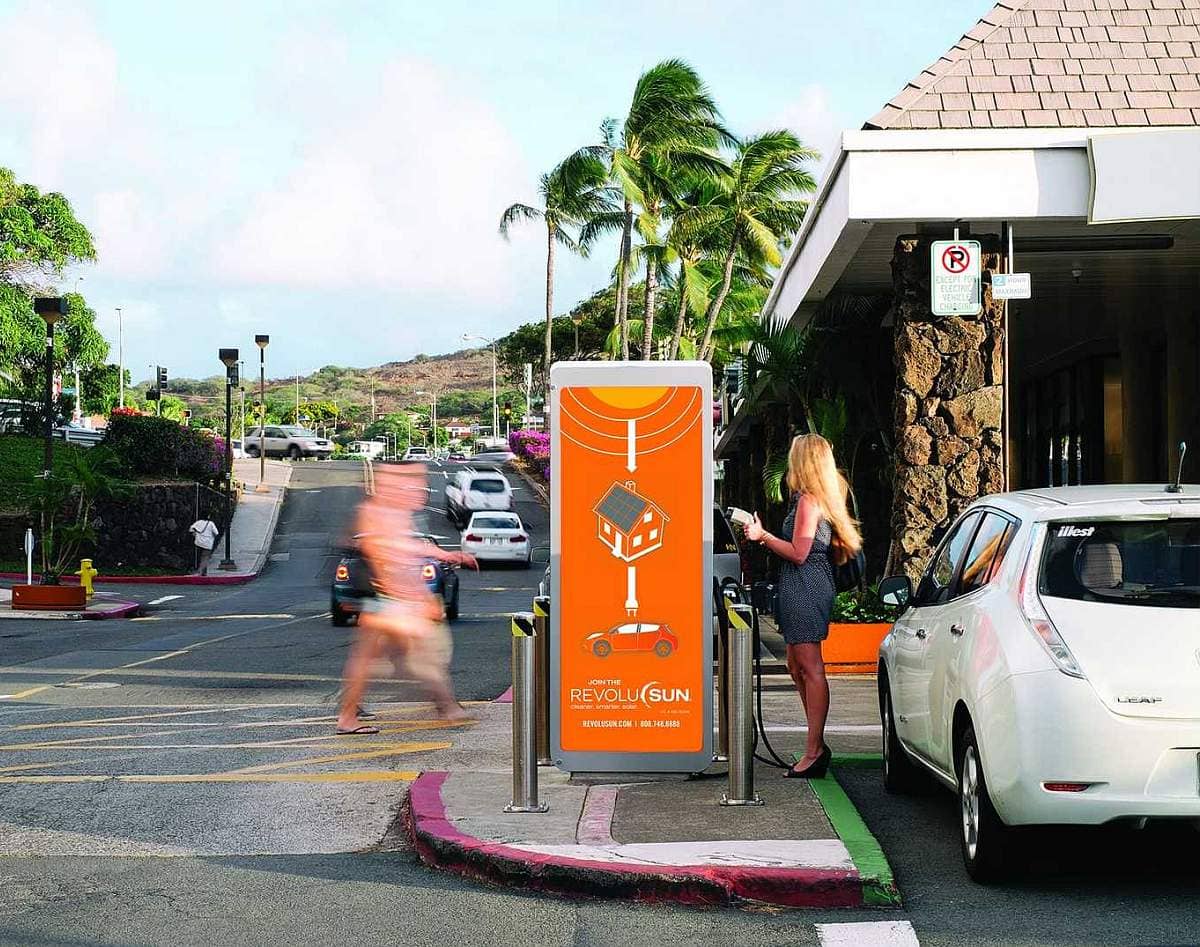 Epic Ventures Exits Volta Industries through SPAC
This week Epic Ventures, a VC firm in Salt Lake City, closed its 2013 investment of Volta Industries through a purchase of Volta by Tortoise Acquisition Corp. II, a Special Purpose Acquisition Company (SPAC). SPACs are an increasingly popular way to acquire, merge, purchase, or take a company public. SPAC IPOs have surged recently, growing four-fold from 2019 to 2020.
On February 8th, Volta Industries and Tortoise Acquisitions Corp. II announced plans to merge. The pro forma enterprise value of the combined entity is $1.4 billion and the pro forma implied equity value of the combined company is over $2 billion at the $10 per share price, according to regulatory filings with the SEC. Share value jumped 47% on the opening day on news of the merger. Volta, the combined entity, will be listed on the New York Stock Exchange as "VLTA". The company is expected to net $600 million from the deal. The transaction includes a $300 million investment from BlackRock, Fidelity Management and Research Company LLC, and Neuberger Berman Funds. Volta says it will use the funds to accelerate the build out of the company's electric vehicle (EV) charging station network, including the development of new AI-driven data mining and international expansion.
Not too far in the rearview mirror (January 2021), Volta raised $125 million in an oversubscribed Series D round. This investment brought the total equity funding of the company to $200 million. Goldman Sachs was the exclusive placement agent of the Series D round.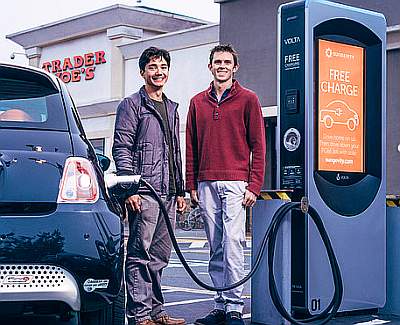 Honolulu-based Volta Industries, manufactures and operates a network of over 1,600 electric vehicle charging stations in 23 states in the US. In 2010, Scott Mercer and Chris Wendel (pictured left) co-founded the company to capitalize on society's shift from gasoline and diesel fueled vehicles to electric. Other EV companies offering similar EV charging products are EVgo, Blink Charging (BLNK) and Beam Global (BEEM).
However, one of the unique aspects of Volta is that the company does not charge customers for electricity, at least for now. Instead, the current business model is mostly ad-based—unique in the EV industry—and works by exposing customers to colorful ads on 55-inch digital vertical displays generating awareness of the company's partner brands—and high CPM rates (the company claims 450 million monthly audited impressions). Volta's charging stations are compatible with all EVs, regardless of make. They are located in convenient locations near banks, hospitals, grocery stores, movie theaters, and pharmacies in over 200 cities across 23 states. Volta estimates its customers spend 92 minutes on average at each station and spend an average of $54 per visit at each site. These numbers have enabled Volta to sign up several top partner brands including GM, Hulu, Nestlé, Polestar, Porsche, and Unilever which pays for ad space on the company's charging stations. The company plans to develop other revenue streams such as AI-driven data mining linked to the charging stations and consumer smart phone apps. Eventually, the company will establish strategic partnerships with big car manufacturers.
In the summer of 2013, one of Volta's angel investors introduced Scott Mercer to Kent Madsen, Managing Partner of Epic Ventures (who was on vacation). "In 2013 it wasn't necessarily obvious how fast and furious the EV market would be coming," recalls Madsen. "When I met with Scott, I saw in him the classic entrepreneur story: lean operation, no office, meeting at a Starbucks—a young, scrappy, and ambitious CEO pounding on the doors of malls and grocery stores offering to install charging stations for free. Scott imagined that any mall could become a charging station. He envisioned Volta becoming bigger than Exxon Mobil someday. I liked him from the start."
After two additional meetings beyond that initial informal meeting with Mercer at a Starbucks, Epic Ventures invested $200,000 in Volta Industries. They were joined by Blue Startups, 500 Startups, and Ulupono Initiative (the Hawaii-based social investment firm of eBay founder Pierre Omidyar, who resonated with the clean energy play). This combined seed investment in Volta amounted to just under $1.9 million—not including the restored 1967 Jaguar Mercer sold to get the company up and running.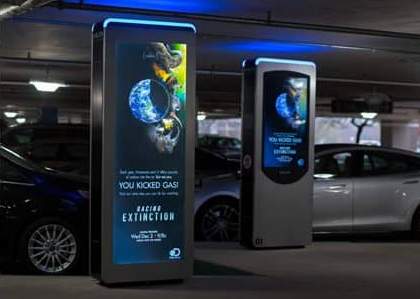 Epic's investment was driven by the serious bottleneck in the EV charging market that Madsen predicted as millions of new EVs were coming online despite the dearth of available charging stations. "It is a huge problem," says Madsen. "Demand for charging stations far outstrips supply. GM this week announced it will spend $27 billion on electric vehicles over the next four years. Ford and Toyota are also making big investments in EV. President Biden wants to replace every single government vehicle with an electric one, including the postal service fleet. Look at the number of gas stations out there and then imagine that in a few years a third or half of cars will be electric. There just aren't enough charging stations out there right now to support that kind of demand. Charging infrastructure needs to be put in place. Volta is addressing that problem with an innovative product. We see our investment in Volta as a long play."
Existing Volta shareholders, including Epic Ventures, will roll 100% of their equity in the transaction. These shareholders are expected to own approximately 64% of the company when the transaction closes.

Receive TechBuzz as a weekly email. Sign up for our TechBuzz newsletter here!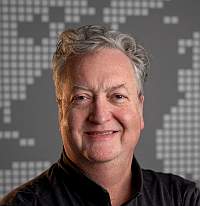 About the Author