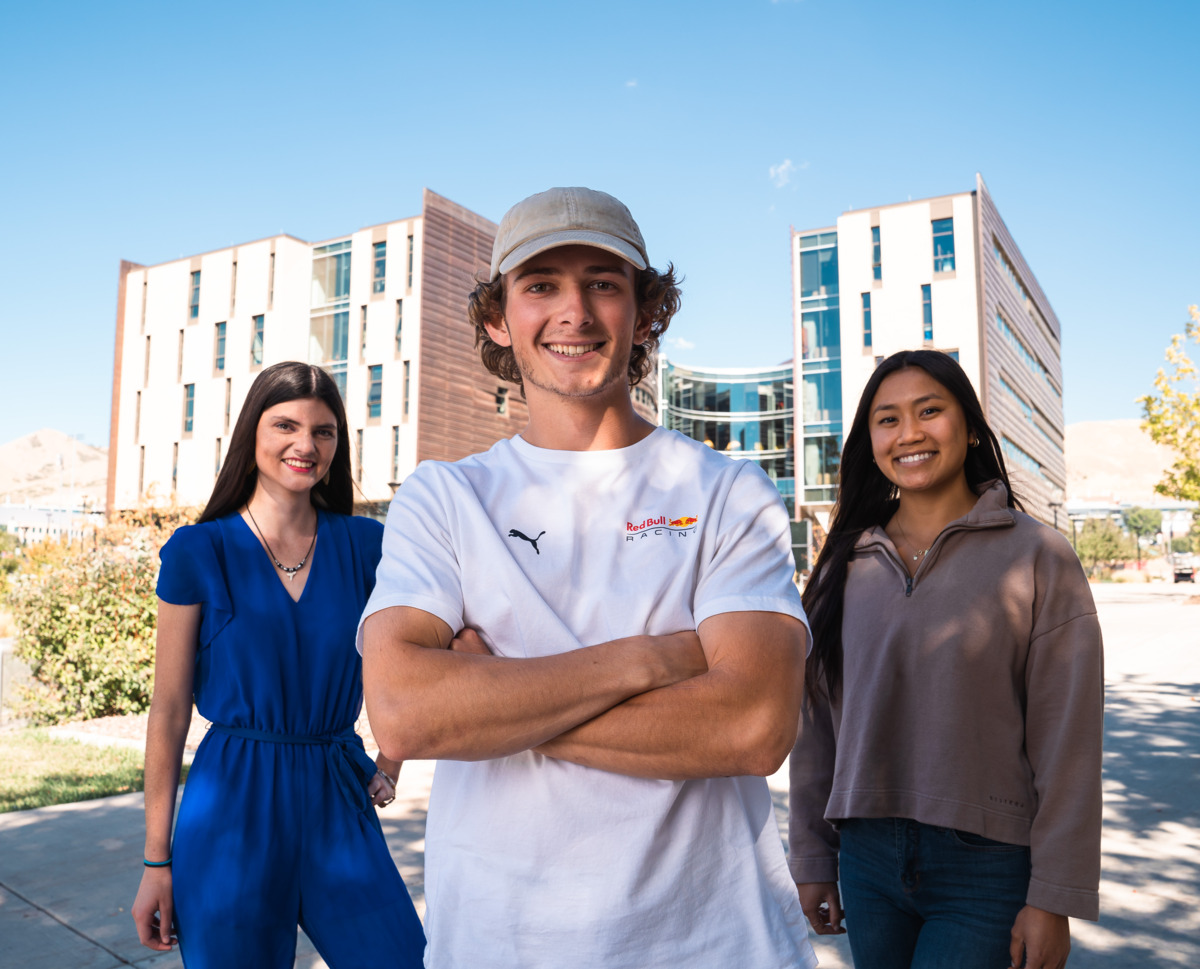 Lassonde Entrepreneur Institute Awards Over $1.5 Million in Scholarships & Waivers for 2023-24
The Lassonde Entrepreneur Institute, a top-10 ranked program at the University of Utah, and the David Eccles School of Business awarded over $1.5 million in scholarships and tuition waivers to over 140 student entrepreneurs for the 2023-24 academic year. Most of the scholarships come with the opportunity to gain leadership skills and experience while managing many activities for aspiring entrepreneurs.
Find a list of scholarship and tuition waiver recipients below. They include undergraduate to graduate students and come from many different majors across campus.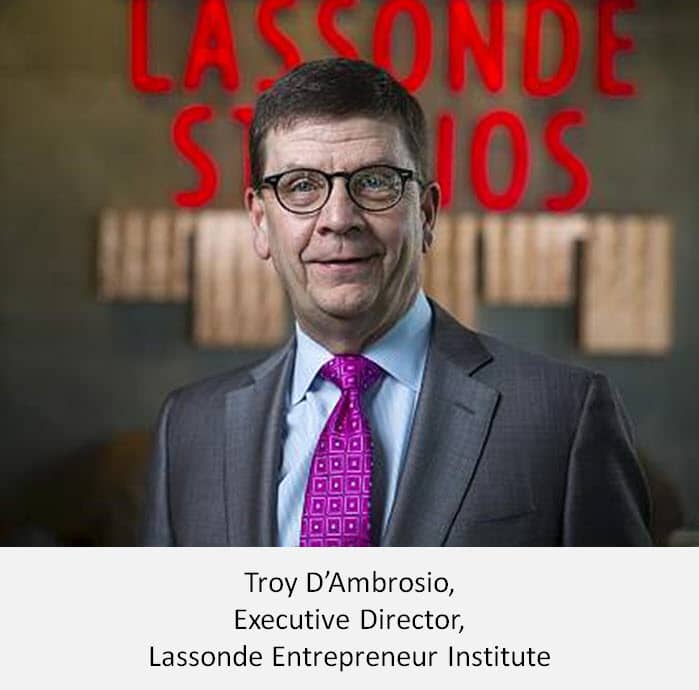 "We are proudly powered by students who receive scholarships to be leaders in our community," said Troy D'Ambrosio, executive director of the Lassonde Entrepreneur Institute and an assistant dean at the Eccles School. "These students are getting a great experience managing our many programs and opportunities while also receiving support for their educations."
All incoming and current students at the University of Utah are welcome to apply for scholarships from the Lassonde Entrepreneur Institute. The priority application deadline to apply for scholarships for the 2024-25 academic year is Jan. 9, 2024. Students who miss the priority deadline can apply at any time, and applications will be considered when opportunities are available.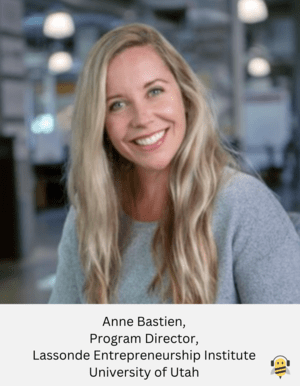 The majority of the students receiving scholarships serve as student leaders. They manage a broad variety of programs at the Lassonde Entrepreneur Institute, ranging from workshops and mentor sessions to a makerspace and high school outreach program.
"Our students do everything from showing students how to use our 3-D printers to awarding grants to fellow student entrepreneurs," said Anne Bastien, program director at the Lassonde Entrepreneur Institute. "They are receiving meaningful experiences that will help them prepare for the future.
Barry Carta is one of the students who received a scholarship from the Lassonde Entrepreneur Institute this year. He is an entrepreneurship student from Chicago. He currently serves as the director of the Company Launch program at Lassonde.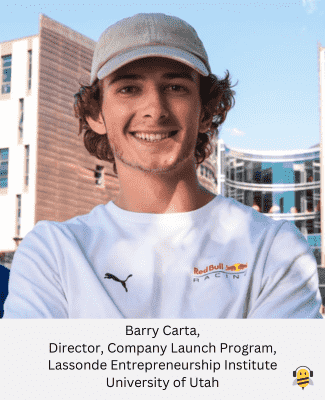 "Being a student leader at Lassonde has given me access to the other side of the programs I participated in as a freshman and sophomore," Carta said. "I'm gaining invaluable experience from managing the budget, planning events, organizing communications, and networking with faculty. These programs are built just as much for the student leader as they are for the student."
Lydia Smith is a recipient of the Launch Your Imagination – Kylie B. Park Memorial Scholarship. She is from Salt Lake City and is studying modern dance. Smith is the director of the Workshops program, where she hosts workshops and other activities at Lassonde Studios.
"Something I like about being a student leader is the connections you can make with others outside of your major," Smith said. "I love hearing others' perspectives on things and learning about the various life goals my generation has."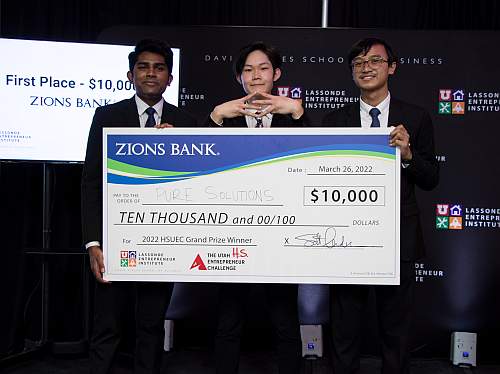 Logan Bogesvang is the student director of the High School Utah Entrepreneur Challenge. He is studying quantitative analysis of markets & organizations and information systems and is from Woodinville, Washington.
"Lassonde is special because of its community and student-led initiatives and programs," Bogesvang said. "I like being involved with this interdisciplinary and diligent ecosystem that helps inspire my best work."
Other recipients of named scholarships include Gerald Pharin, recipient of the Cameron Russell Williams Legacy Scholarship; and Sadie Bowen, recipient of the Erin Valenti Women in Entrepreneurship Scholarship.
Many of the scholarships for graduate students were awarded to founders in the Master of Business Creation (MBC) program, which helps founders grow their startups with personalized mentorship, applied curriculum, access to funding and more. The MBC program recently received a 2023 Business Innovation Award, as covered by TechBuzz.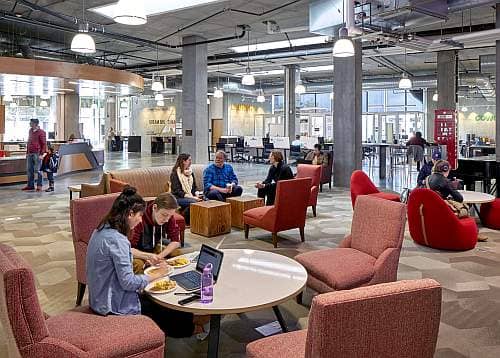 The Lassonde Entrepreneur Institute is an interdisciplinary division of the David Eccles School of Business. The institute provides many programs and opportunities for all students on campus to launch a company, build a product or join a team. Most programs are provided at Lassonde Studios.
Learn more about scholarship opportunities at lassonde.utah.edu/leadership. Learn more about the Lassonde Entrepreneur Institute at lassonde.utah.edu.
Lassonde 2023-24 Scholarship & Waiver Recipients
Below is a list of the Lassonde student leaders and scholarship and tuition waiver recipients for 2023-24. The recipients are listed by program or program group and then alphabetically by last name:
Company Launch
Barry Carta
Lauren Lengel
Garrett Peterson
Competitions
Logan Bogesvang
Sadie Bowen
Nicole Duckering
Saina Malili
Eli Paredes
Mila Pimentel
Nathan Privari
Grace Wunder
Get Seeded
Ayodele Alaga
Hunter Conrad
Venkatachalam Kapuganti
Cameron Mcomber
Gerald Pharin

Hours with Experts
Lucy Christensen
Kelsey Hart
Zack West
Lassonde Founders
Kiana Adolpho
Sean Andrews
Diane Bahati
Elliott Bloem
Mia Bookstaber
Cole Cable
Abby Cheney
Autumn Cibik
Haley Freeman
Khongor Gantumur
Thomas Glasmann
Jenna Hirtle
Anderson Jones
David Kale
Noelle Kieffer
Katrina Knackstedt
Natasha Mayr
Alon Meir
Aren Naegeli
Carter Neal
James Nickles
Lauren North
Mya Oetinger
Eliasib Paredes-Bautista
Mila Pimentel
Nekane Powell
Jack Regan
Braeden Riley
Matthew Schwarz
Noah Singer
Camiryn Stauffer
Andrew Sweeney
Jack Urness
Elayna Williams
Lassonde New Venture Development
Yasmin Abuomar
Yash Agrawal
Alan Brinkerhoff
Shreya Chawla
Samantha Davies
Ololade Folashade
Jennifer Godinez
Ghasmin Guillen
Hardik Jain
Eric Johnson
Walker Krebs
Roarke Lacey
Colin Loughlin
Abigail McCoy
Gabriel Ortiz
Scott Stoermer
Brandon Wild
Make
Matthew Benich
Sadie Bowen
Aye Chan
Derek Che
Carter Dean
Seb DeVillers
Sydney Greenland
Cole Hadlock
Johnny Hernandez
Mason Hirschi
Tren Hirshi
Ashley Howell
Diona Irwin
Tess Jorgensen
Saina Malili
Derek Martin
Justin Newkirk
Jace Peterson
Hailey Sherman
Alex Shuster Crowe
Juliet Smock
Master of Business Creation
Zully Davila Amenero
Chase Austin
Austin Birch
Osei Boatang
Brandon Brooks
Connor Chase
Michael "Tiger" Chase
Connor Chase
Kevin Chavira
Scott Church
Emi Dalton
Daniel Diehl
Matthew Eau Claire
Stephanie Eau Claire
Dane Eyerly
Arjun Gill
Domus Go
Greg "Zeke" Greer
Susma Gurung
Landon Hull
Brooke Hundley
Faith Ivory
Isabella "Bella" Johnson
Susan Kingsley
Susan Knott
Caitlin LaComb
Dan Lathen
Matthew Liu
Jeffrey Lunt
Christine Mather
Cory McArthur
Samuel Mehr
Cory Morin
Boston Richins
Kassidy Ricks
Sabrina Sherwood
Erik Smith
Isaac Tai
Kian Torimi
Kenechi Uzor
Rena Vanzo
Rebecca Waldron
Bo Wilkinson
Adam Wilson
Terry Wilson
Alexanna Wonder
Becki Wright
Carson Young
Outreach
Derek Che
Evan Dennis
Chloe Flach
Ololade Folashade
James Linton
Major Nelson
Kaden Pax
Skills
Susmita Bastakoti
David Kale
Lydia Smith
Kellie Spear
Sadie Whitney-Havlicak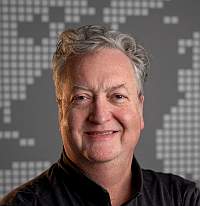 About the Author