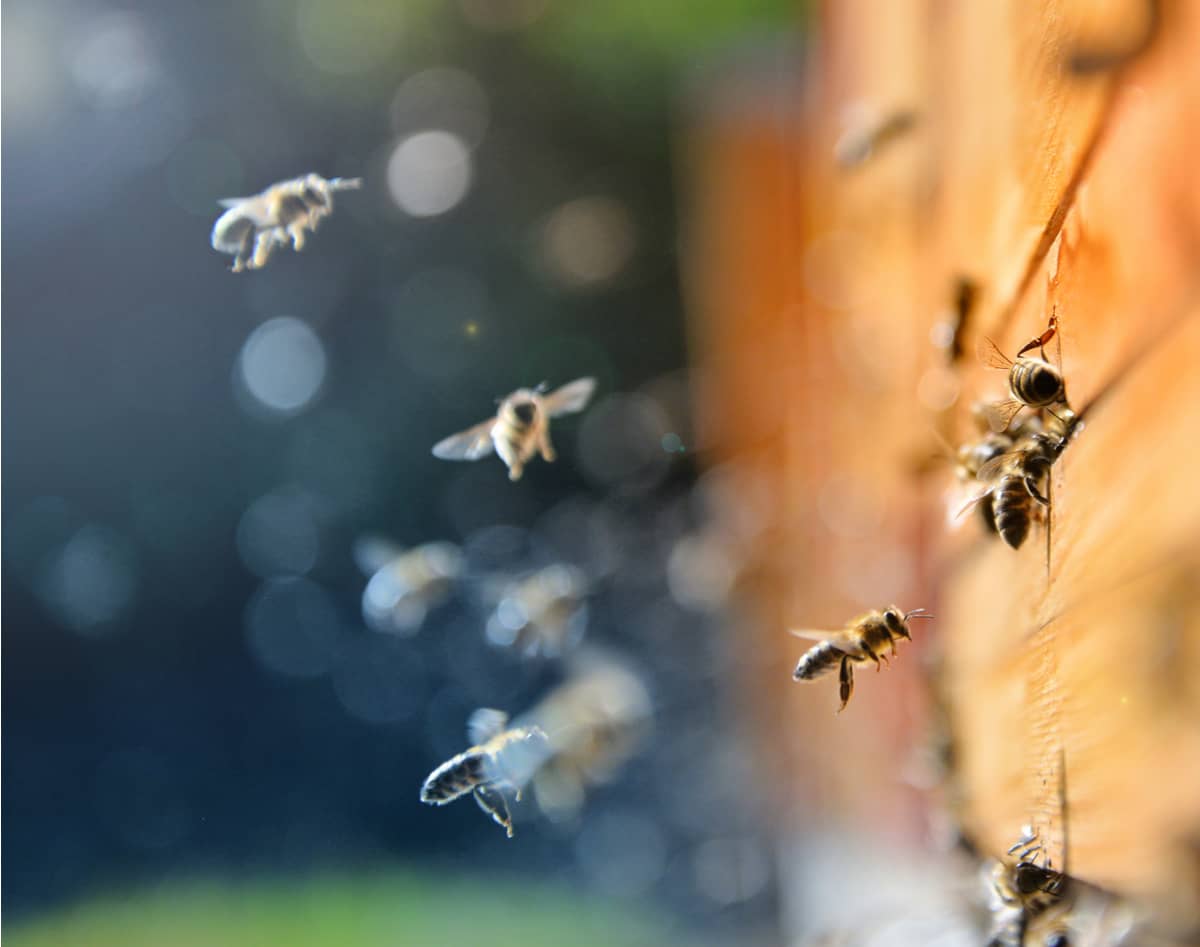 Buzzworthy - March 11, 2022
Top 20 Announced in 2022 High School Utah Entrepreneur Challenge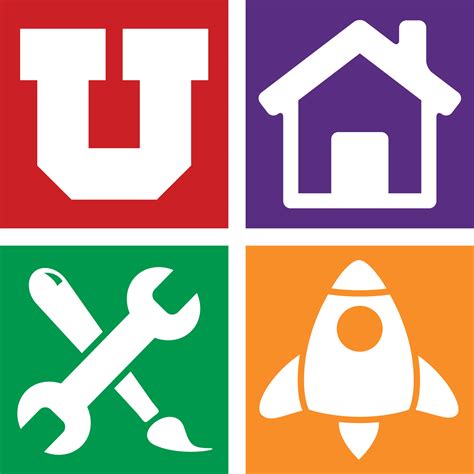 On March 11, 2022, the Lassonde Entrepreneur Institute at the University of Utah announced the top 20 teams of The High School Utah Entrepreneur Challenge (HSUEC). 90 teams submitted applications for the 2021-22 season. The top 20, listed below, will advance to the final stage of the competition. The competition is open to all high school students across Utah, ages 14-18. They are competing for $30,000 in cash and scholarships. The competition is managed by the Lassonde Entrepreneur Institute, an interdisciplinary division of the David Eccles School of Business at the University of Utah, and sponsored by Zions Bank.
Each high school team faced the challenge of identifying a problem and proposing a creative solution. The teams submitted a broad variety of ideas. See the list below for details and descriptions for the top 20 teams. The public is invited to vote online for the best idea in the High School Utah Entrepreneur Challenge. Online voting will be open March 14-25. The winner of the public voting will be announced at the final event. Vote online here.
"We received a lot of applications this year and many incredible ideas," said Treyvon Sidberry, student director of the High School Utah Entrepreneur Challenge. "The amount of time and effort that went into each application was wonderful to see, and I am glad that the Lassonde Entrepreneur Institute allows for this opportunity. There were 20 teams that really made an impression on our judges, and I am looking forward to seeing their presentations on competition day."
The top 20 teams will advance to the final round, where they will meet for the last judging round. A public showcase and awards ceremony will be held on Saturday, March 26, 2-4 p.m. at Lassonde Studios. Everyone is welcome to attend this event.
"We are excited to be hosting these amazing student entrepreneurs," said Anne Bastien, program director at the Lassonde Entrepreneur Institute. "The experiences that these students are gaining through this high school idea competition are invaluable to bring them closer to their entrepreneurial goals. We are proud to host these high school students and their innovative ideas."
The High School Utah Entrepreneur Challenge is the youth version of the collegiate Utah Entrepreneur Challenge, a competition offering $60,000 in cash and prizes.
Here are the top 20 teams for the High School Utah Entrepreneur Challenge for 2021-22, listed in alphabetical order:
Cent (American Fork High) – An app to help teenagers learn financial literacy. They can learn and connect with others about different financial topics as well as keep track of their finances and investments.
Creative Book Folding (Bear River High) – Imagine being able to create a product that can be customized to fit all customers, all events, and all budgets with very little overhead costs. Creative Book Folding is a company that does all of these things. It creates unique and customizable gifts or decorations for any and all occasions out of recycled books. Satisfaction is guaranteed from the creation of the pattern all the way through to the completed product.
Eco-Elevated (Mountain Ridge High) – Eco-Elevated is all about providing an enjoyable, unique experience for people trying to get away from home. They turn shipping containers that would be burned down into modern, unique, homes on platforms like Airbnb. These "Eco-Capsules" will be located in the Lava Hot Springs, Idaho, area.
Flora (West High) – Flora is the future of the event-planning industry. It will solve the hassles of event management with event software and a network of leased venues across the US. First, discover your event goals, and get insights into the best venue for you with a quick survey. Then, pick a venue, and their "Blossoms" (temporary low-skill workers) will set it up for you. Finally, attendees can check in at stations to receive their personal barcode for entry.
Lazorback (Westlake High) – A physical therapist and the student founder are developing the Lazorback system to help strengthen people's back muscles so that they won't slouch. The system includes a laser strapped onto your chest. You need to keep the laser on a target. A physical therapist tested it for a year on more than 50 people and said the device works. They are building an app that will motivate people via competition and progress tracking. The device and system are patent-pending.
Lock2Drive (Orem High) – Without help to set and keep good habits, teens will fall into bad habits, like driving distracted by their phone. Lock2Drive helps fix distracted driving by providing parents a smart lockbox for teens to put their phone in while driving to reduce distractions. This gives them peace of mind that their teenager isn't driving distracted. If Lock2Drive delays your teen's first accident by two months, then it pays for itself.
Moodz Clothing (Farmington High) – This team is trying to solve a problem affecting over 200 million people in the world. The problem is mood disorders and mental illnesses. There are many different solutions for mood disorders and mental health. The strategy this team is taking is through clothing. Everyone wears clothes, and why not wear clothes that can help someone or brighten someone's mood?
Morris Workstations (Park City High) – The Morris Workstation is an all-terrain workstation suitable for tasks in any environment. Initially designed as a fully integrated ski-waxing station for ski racers, its modularity allows for multipurpose use in a variety of fields, from welding to carpentry. The workstation has integrated battery and gas storage to run accessories. The table is designed to be stable on any surface, and the entire system folds up with a toolbox to make an easy-to-transport backpack.
Noisy NICU Cap (American Heritage) – The Noisy NICU Cap is a patented sound-attenuating device developed for premature babies in the neonatal intensive care unit (NICU). Noise levels in the NICU exceed the safe range 70% of the time, exposing babies to sounds that may damage their auditory development. Designed to reduce the sound level to an acceptable range, the proprietary blend of materials in the cap meets comfort and safety requirements for our most medically fragile infants.
Opala (Park City High) – Opala's idea is taking waste from the ocean (primarily fishing nets) and reproducing it into surfboards and some clothing, and jewelry. This will help towns and villages near coastal areas have a cleaner and healthier ecosystem surrounding them.
Pure Solutions (Skyline High) – Pure Solutions is an innovative product that enables consumers to easily and comprehensively analyze water samples from the comfort of their homes. Unlike current water testers on the market, Pure Solutions' reusability, intuitive design, and Bluetooth capabilities, will enhance water safety. Their product will inform millions of people about the quality of their water and provide low-income communities an affordable and effective way to improve their health and standards of living.
Secured (Farmington High) – Secured is a high-tech, safe, private, and upscale innovation created to prevent human trafficking and increase safety worldwide. This product comes in one of their many jewelry forms. It includes an attachable charm. The charm has the capability to call the police in times of distress, privately track your location, and send preconceived messages to family or friends. It does this while using sustainable and ethical materials to promote global cleanliness.
The Meliorist (American Fork High) – This team designed an app for self-improvement. But unlike other self-improvement apps, you can customize it to improve in different fields that you are interested in and find support and tips from experts and other users. Some examples include career pathways, college pathways, how to fix things, hobbies, sports, self-affirmation, and nutrition.
Therma Band (Skyridge High) – The Therma Band is a lightweight, reusable bracelet device designed to keep athletes warm while playing. Whether you are playing with friends just for fun or at the very highest level possible, it is crucial you remain warm for comfort and performance level. Their high-comfort, heated sports band will provide the athlete with warmth throughout their entire body while maintaining mobility. This will not only boost their performance but allow them to have a better time.
Travelminder (Park City High) – Travelers have more choices than ever when it comes to customizing their experience. The problem? It's plagued by people fighting for a commission and missing a single-platform solution that intuitively helps you book your trip and monitors it 24/7 for any change to price, travel restrictions, and more. Travelminder empowers any traveler to discover, plan, book, afford and attend to their travel plans – all in one place.
UPLIFT Gum (Mountain Ridge High) – When the founder was in ninth grade, they had a serious iron deficiency. They had to take two iron supplements a day, and they can't swallow pills, so they chewed them despite the terrible taste. At the time, they were a gum addict, chewing up to eight pieces a day and thought, "What if I implemented nutrients into gum?" UPLIFT implements vitamins and minerals into a piece of delicious, refreshing gum. UPLIFT makes consuming nutrients convenient, accessible, and delicious.
Valor (Mountain Ridge High) – Valor will provide men's self-care items. Self-care is a predominantly feminine industry. They will offer a range of products from lotions, body wash, cologne, moisturizer, shampoos, and more. Their product helps men find their passion and their inner roar.
Viridis (Park City High) – Viridis ("green" in Latin) is an outdoor company that supplies gear and clothing for camping, hiking, and fishing enthusiasts. They aim to be eco-friendly and launch an in-house line of recycled ocean plastic clothing. The founders launched an initial website in January 2022. Currently, the business follows a drop-shipping structure.
Vita Dolce (Academy for Math Engineering & Science) – Vita Dolce is a suite of vitamin supplements, including gummies, made without refined sugars and artificial sweeteners. Vita Dolce sticks to basic, natural ingredients such as organic fruit juice and raw honey as a sweetener. Unlike traditional sugar and artificial sweeteners, honey delivers essential health benefits – it is an anti-inflammatory, antioxidant, and antibacterial agent. At Vita Dolce, they've invented a tasty, chewy gummy that you can feel good about.
Western Lands Preservation (Waterford School) – Western Lands Preservation (WLP) is focused on preserving western lands in an unobtrusive, sustainable, profitable manner. There's something magical about being alone in nature. WLP was founded to encourage that feeling and to bring nature closer to people in a world more focused on the city. WLP is a for-profit corporation because it gives them greater flexibility and a closer stake in the land that they preserve.
Remaining Dates for the 2021-22 Season:
Public Online Voting Starts: Monday, March 14, 2022, noon
Top 20 Powerpoints Due: Wednesday, March 23, 2022, at 11:59 p.m.
Public Online Voting Ends: Friday, March 25, 2022, 5 p.m.
Competition Final Event: Saturday, March 26, 2022
Metaverse Meetup at Atwood Innovation Plaza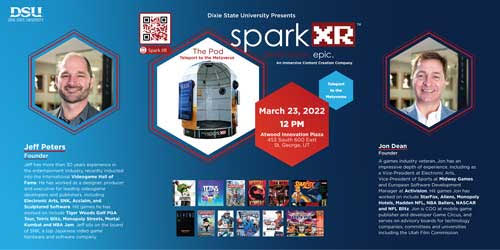 On March 23 2022 the Atwood Innovation Plaza at Dixie State University is hosting a discussion with gaming gurus from Spark XR. The lunch (noon) gathering will feature Spark XR founders Jeff Peters and Jon Dean, former senior executives at major content publishers including Electronic Arts and EA Sports, Activision, Acclaim Entertainment, Game Circus and Midway Games. A meet and greet with business leaders will follow at 2pm.
Peters and Dean will present THE POD, the XR-One 'Pod' that VR and adds real-time, AI-controlled 360-degree sensory effects to create a unique, state-of-the-art adventure that delivers the Metaverse. They will explore implications of the Pod in the Metaverse, talk about their gaming background and collaboration with AIUla Adventures.
This event is geared to gamers, EA Sports fans, designers, VR enthusiasts, clubs, businesses, coders, educators, engineers, storytellers, students, staff, entrepreneurs, and anyone interested in the Metaverse.
Free Coding Bootcamp for Girls

Code Adventure is offering a free coding bootcamp for high school girls. The camp is designed specifically for girls, ages 14-18, with no experience with technology or coding. The bootcamp will take place at Entrata in Lehi (4205 Chapel Ridge Rd, Lehi, UT 84043) from 9am to 3pm on June 8-10, 2022.
The vision of the camp is to "inspire and educate young females to learn more about technology and coding through fun hands-on activities while networking with females who have similar interests." The camp will cover an intro and the basics of software engineering, UX design, data analytics/AI, and other technology fields. Guest speakers will talk about their current jobs and establish a context for coding and the careers.
The organizer of the camp is Allyson Irwin, an information systems student at BYU. She is seeking mentors and additional sponsors for the camp.
Bacon Named Official Gig Work App of Real Salt Lake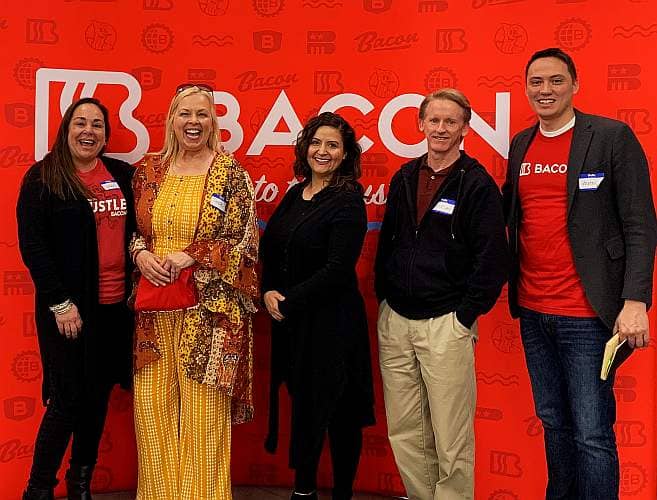 On March 11, 2022, Bacon, announced it has become the Official Gig Work App of Real Salt Lake. The Major League Soccer team will provide Bacon users the chance to earn quick cash while working at RSL home games.
"The teamwork between Bacon and Real Salt Lake will help score great jobs for our fantastic workers," said Hunter Sebresos, Bacon founder and president. "This is a win-win situation for everyone. Workforce needs are changing rapidly, and Bacon offers employers the ability to find qualified workers to fill temporary needs and even discover someone they want to hire permanently," added Sebresos.
Bacon connects people with hourly jobs with the tap of a button and allows them to work for as short as a single shift. Employers post shifts, pay and requirements and then choose the person best suited for the job based on reviews from previous supervisors. After the shift is done, employers rate the employee worker and vice versa.
"Real Salt Lake is thrilled to welcome Bacon as a corporate partner. Bacon's belief in the power of hustle aligns with our beliefs on and off the field," said John Kimball, President, Real Salt Lake.
Bacon workers will be able to work RSL games as concessions and club attendants and have a chance to win free seats at RSL games in the "Hustle Hot Seat," RSL swag and pregame access to the field.
TechBuzz profiled Bacon last August after it raised a $3.5 million Series A round. With that funding, and thanks to the 270% revenue growth it ended 2021 with, the company plans to expand to more than 50 markets in the next 24 months. It has added over 2,000 new business accounts since the onset of the pandemic. The Bacon Worker On-Demand app is now available in 14 markets.
WeLink Expands Leadership Team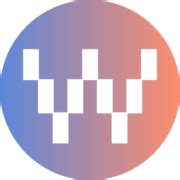 On March 8, 2022, WeLink, announced two new members of its executive leadership team. Brendan Smith has joined as Chief Operating Officer and Mark Trout as President.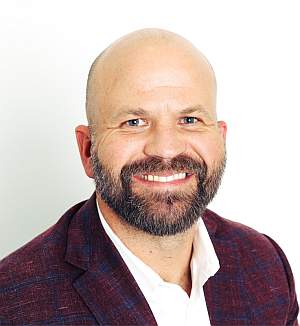 Brendan Smith will be responsible for our general business operations, including customer experience and field teams across all markets. He brings more than 18 years of experience leading large organizations. Senior Vice President at Sunrun, he managed over 4,000 employees within multiple departments in his most recent role. His responsibilities included the installation, maintenance, and system performance of more than 600,000 residential solar energy systems for single-family homes and multi-dwelling units (MDUs) in 23 U.S. states and has been a key component to the industry's overall growth. Building efficient and cost-conscious processes that enable scale and deliver a world-class customer experience have been at the heart of his success.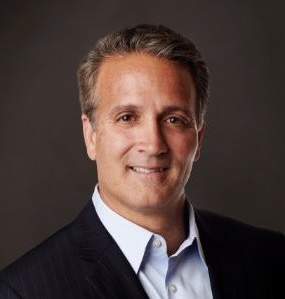 Mark Trout will lead the company's technology, network planning, deployment, and engineering, G&A functions, and coordinate our product offerings internationally. Mark will oversee network expansion, and network operations, including expanding coverage in new and existing metro markets in the U.S. Mark brings extensive enterprise experience to lead the overall company strategy, finance, marketing, human resources, and information technology. Before joining WeLink, Mark spent most of his career working for high-tech software and hardware companies. Mark's foundation was an extensive tenure at Accenture. He was responsible for the growth, business operations, and P&L for Accenture's Electronics and High Tech Group. His career also includes a leadership role at eBay, where he was the Chief Transformation Officer for the Enterprise Group and was responsible for client growth, P&L, and operations. Mark recently served as CTO/CIO at Vivint Solar/Sunrun, leading the information technology and product organizations. In that role, he helped shape the strategic direction for systems and processes, architected the solution for Grid Services, and developed an industry-leading digital sales platform used in direct-to-home sales.
"Both Brendan Smith and Mark Trout join a talented team of executives, and I am thrilled to welcome them to the WeLink family," said Kevin Ross, CEO & Founder. "As we strive to expand affordable internet access to more people and close the digital divide, Smith and Trout each have the unique and valuable experience necessary to scale our operations and strategy at a time of rapid growth and increased national focus on broadband. With Smith and Trout on board, we can continue to impress and build long-lasting relationships with customers and bring much-needed competition and choice to communities across the globe."
MX Partners with University of Wisconsin Credit Union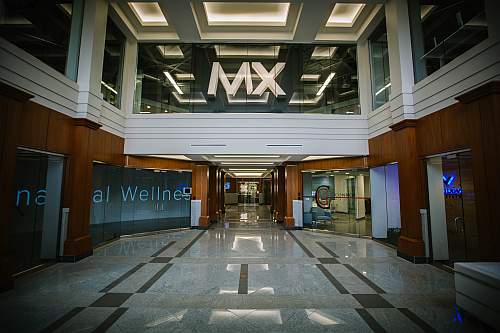 On March 11, 2022, MX, announced a new data access partnership with UW Credit Union, serving University of Wisconsin communities and the first credit union in the U.S. to implement two-factor online banking login security—now a federal requirement for all financial institutions. The new partnership enables UW Credit Union members to share their financial information with and services supported by MX using API token-based technology, removing the need for members to share their login IDs and passwords.
"Partnering with leading financial institutions like UW Credit Union to implement open banking APIs gives people greater access and control of their financial data," said Jane Barratt, Chief Advocacy Officer at MX. "UW Credit Union members will now be able to securely connect with their favorite apps and services in a more secure, convenient and reliable way, using API-token based technology and removing the need for customers to share their login IDs and passwords."
As key members of the Financial Data Exchange (FDX), a nonprofit organization that is dedicated to unifying the financial industry around a common, interoperable and royalty-free standard for the secure access of user permissioned financial data, MX and UW Credit Union are committed to leading the charge for open standards and secure access to financial information.
"We are excited to launch our FDX implementation in partnership with MX," said Eric Bangerter, VP of Digital Technology at UW Credit Union. "Security and convenience are sometimes opposing concepts—and we don't think they have to be. Our FDX implementation will allow our members to easily access fintechs and other financial technology products while keeping their passwords private and under their control. We are glad to be members of the Financial Data Exchange organization and to continue to be industry leaders in digital security."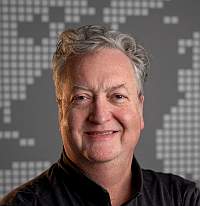 About the Author