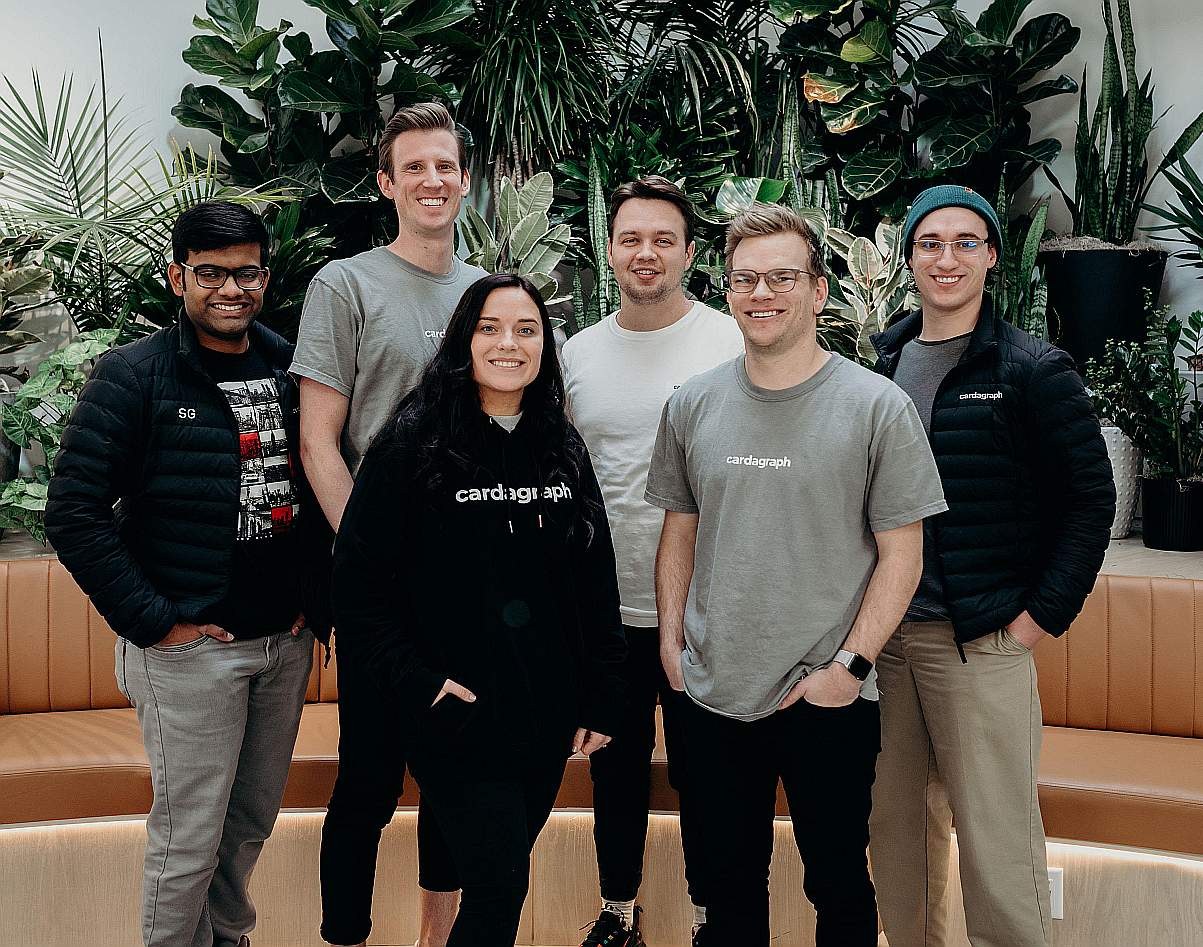 Cardagraph Launches Business Productivity Analytics Software; Receives Angel Investment From Notable Utah Investors
Cardagraph, makers of business productivity analytics software, announced today the public beta launch of its SaaS platform, after two years of development and beta testing. The Cardagraph Platform uniquely bridges the gap of data visibility plaguing business leaders by extracting data across popular software tools such as SalesForce, HubSpot, Trello, Slack, and more. Angel investment came from Startup Ignition cofounder John Richards, Managing partner at SageCreek Partners Greg Butterfield, and ObservePoint CEO John Pestana.
CEO Bentley Wilson and COO Spencer Jack founded Cardagraph in 2019. "We're able to ingest all of your data and automatically show you how to become more productive," says Jack. Currently the company has about 16 employees. Until now, they've been in stealth mode, iterating on their product, gathering feedback from beta users, and preparing the product for launch.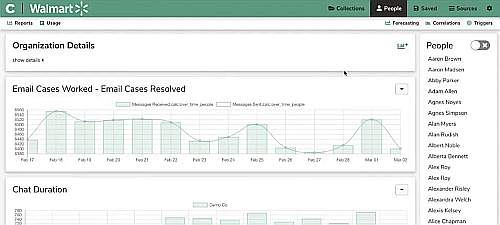 Cardagraph, based in Lehi, Utah, takes data across platforms such as Salesforce, Slack, Zoom, Gmail, Workfront, etc. and automatically collects, organizes, combines, and visualizes that data to create new projections and insights. The company calls this process "ETL" — Extract, Transform, and Load. It happens almost immediately thanks to proprietary algorithms developed by the company. "This is a major breakthrough," said Jack, "as it instantly provides resolutions to increase productivity and identify ways for various teams within companies to improve their workflow and processes by bridging the gap of data visibility and solutions."
"Within a minute, we integrate all of your company data, analyze it, and give insight on bottlenecks, high and low performers, and most importantly, patterns and how they affect your organization. We show you how to become more productive," says Jack.
Cardagraph deploys AI with triggers that can detect when a user might be gaming the system or otherwise manipulating the tool.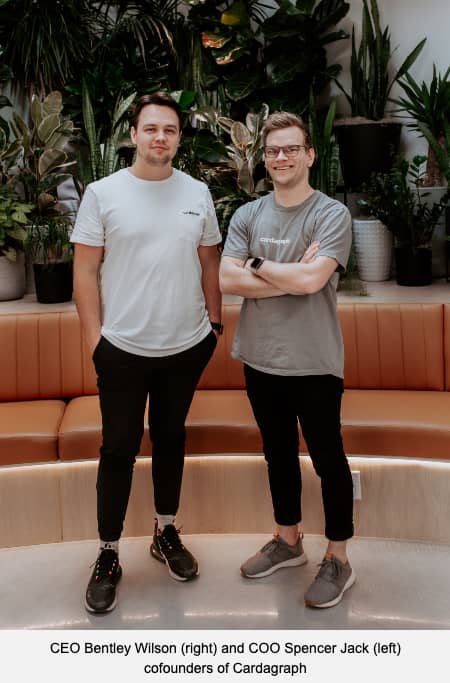 Part of the inspiration for Cardagraph was a tough upbringing of CEO Bentley Wilson, pictured left. "I had to learn how to be as productive and efficient as possible," says Wilson. "I had to make the most out of what I had available to me." For COO Spencer Jack, pictured right, the inspiration for the company was a different story. Jack observed process inefficiencies while managing a team at his previous workplace. "There wasn't an efficient way to identify trends and increase productivity," says Jack. "All I could think was that there has to be a way to fix this."
Wilson and Jack met while they were working on their own separate companies but using the same manufacturer, and they decided to work on a solution together. "I was a newlywed with a mortgage, and Wilson had a 6 month old baby," says Jack. "We just quit our jobs. It was scary, but we had to fix this problem." Wilson and Jack were mentored by John Richards, who they met at Riverside Country Club. Wilson and Jack both went on to attend Richard's Startup Ignition and entrepreneurship startup bootcamp. Richards was one of the angel investors who invested in the company towards the end of 2020. The money from investors allowed Jack and Wilson to wrap up product development and beta testing, and prepare for the public launch. "We have become much more accessible, are providing a lot more demos, and overall releasing more information to the market about what our product does," says Jack.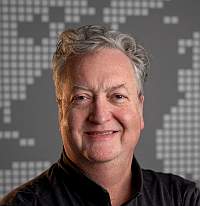 About the Author