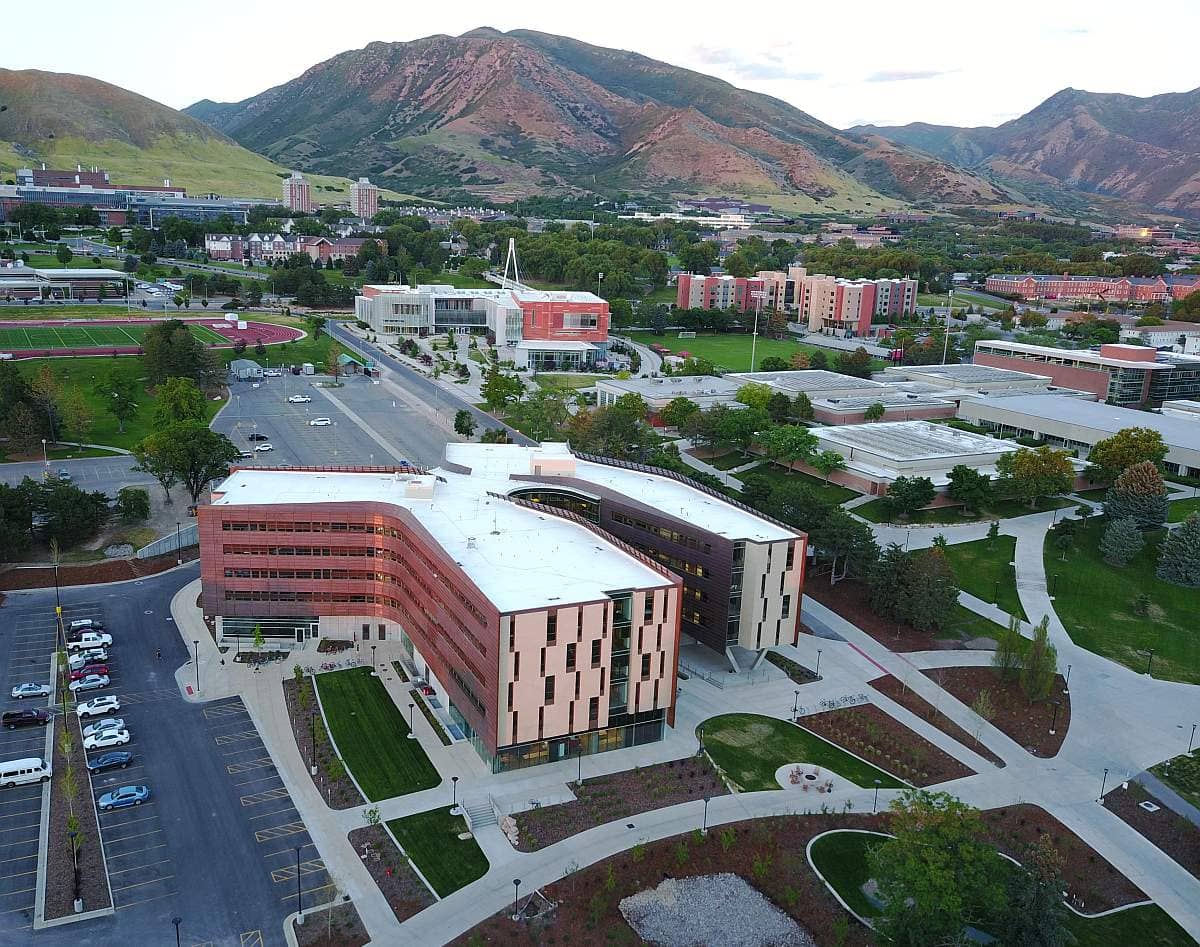 University of Utah Launches Lassonde for Life
By Elainna Ciaramella

This fall, the University of Utah launched a free online entrepreneurship program for alumni from all departments and majors called Lassonde for Life. The program is available through the Lassonde Entrepreneur Institute, and made possible by strategic partnerships with the U's Office of Alumni Relations and the PIVOT Center. This launch came on the heels of the university's ranking of No. 5 for undergrad entrepreneurship (No. 2 among public schools) by U.S. News & World Report.
Troy D'Ambrosio is the executive director of the Lassonde Entrepreneur Institute. He helped start the U's entrepreneurship program, before the business school had one. D'Ambrosio is an entrepreneur and alum of the U. 20 years ago, he was asked by the dean to assemble an entrepreneurship program. Pierre Lassonde, a graduate of the business school and the Lassonde Entrepreneur Institute's benefactor donor, provided guiding parameters of what he wanted to do, which was something student focused, multidisciplinary and entrepreneurial
"Over the 20 years, we've built programs and activities. A lot of those have been in response to our students, what would help them be more effective as an entrepreneur, and what would be more interesting to them," says D'Ambrosio.
Lassonde has evolved and today it includes Lassonde Studios, its own residential community with a 400-bedroom dorm, a 20-foot makerspace, a startup launch program, workshops, an 'hours with experts' program, a full prototyping facility, and more—a comprehensive campus resource for entrepreneurs.
Filling two key gaps in Lassonde's program
According to D'Ambrosio, Lassonde has always had alumni that have been through the U's programs and gone and had great success in their industries, who would say, "You guys really helped me while I was at the university, and now I have this great career and built my business. How can I give back to you and help?" but Lassonde always had limited ways to do that.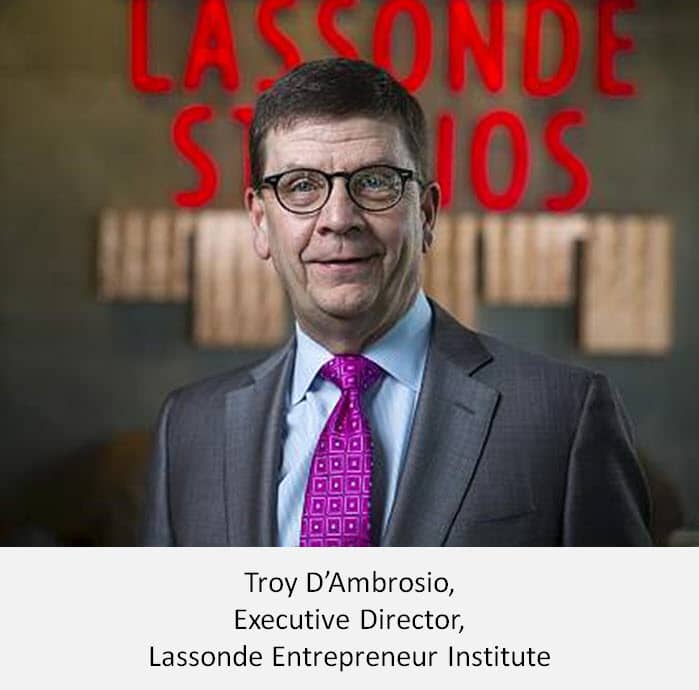 "We have them come be a guest speaker in a course, or we can have them do a workshop for us or mentor a team in a competition, but for the number of alumni that we have who want to help, we didn't have enough spots to accommodate their requests," says D'Ambrosio .
On the flipside, D'Ambrosio says they had a lot of alums come back and say, "You know, I was a humanities major ten years ago at the U, and I knew about the Lassonde program, but I wasn't ready to be an entrepreneur, but now I am. How can you help me?"
D'Ambrosio says they didn't have a good answer to that with the exception of, "Well, you can take a class," and the alum would say they already had their degree. The last option was the alum doing the U's Master of Business Creation program for serious entrepreneurs working on a startup, and the alum's response would go something like this, "I'm not there yet, so how do you help me?"
D'Ambrosio says the U has always talked about keeping their alums engaged, but also how the university can help all of their alumni, not just some of them, reach their career goals, even if that means diving into entrepreneurship 5, 10, 20 years after graduation.
D'Ambrosio sat down with colleagues from the U's alumni association, and its PIVOT Center and they asked, "What if we created resources and services for all 300,000 plus University of Utah alumni across the world?" The concept: If you're an alum and ever want to be an entrepreneur, the U is here to help you, no matter what major you had and no matter when you graduated. It's a free service to help aspiring entrepreneurs so they can make the next move—that's what Lassonde for Life is all about.
Lassonde for Life was born out of listening to the alumni then building something very unique. D'Ambrosio looked around at dozens of universities to see what they were doing with their alumni and he said, "Nobody's doing anything this broad or this deep or this significant for their alumni."
What Lassonde for Life looks like
Lassonde for Life is for alums of all ages, but the typical profile might be someone in their late 30s, early 40s who has gained significant work and life experience, wealth, and a broad network—all factors that have set them up for success as an entrepreneur.
The alum has enough life experience to see problems and opportunities, and now he or she has the technical skills and knowledge to create something. When someone is in that exploration phase, they may be thinking about leaving their corporate job, but they haven't made a decision yet, so how do they figure out if entrepreneurship is a good idea?

"Lassonde for Life is helping people as they're going through that change of what they want to do with their professional career and then facilitate that," says D'Ambrosio. The U has a lot of services for people looking to change jobs in corporate America, but not transition from an employee to entrepreneur, and Lassonde for Life is now filling that gap.

Lassonde for Life has been a daydream of D'Ambrosio's for many years, and as his team started putting it together, they decided to focus on alumni who are in the very early stage of exploring their entrepreneurial potential.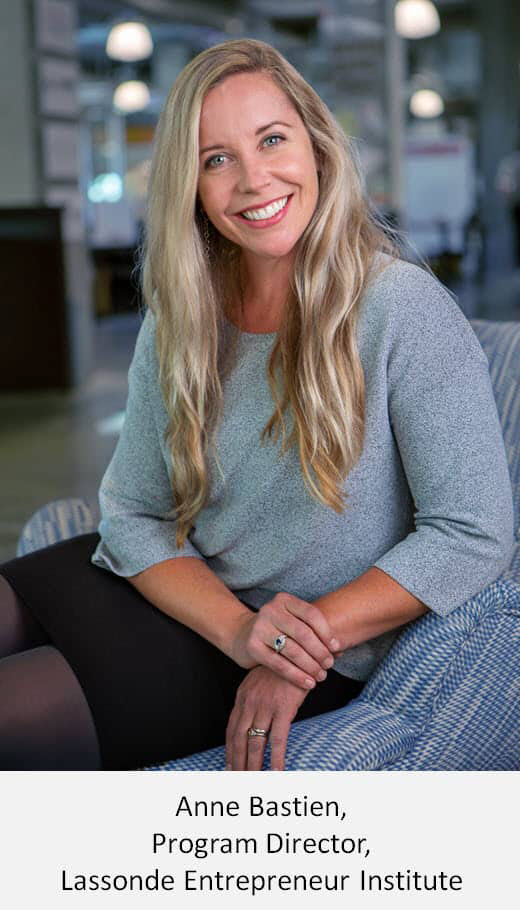 One of the program's unique features is peer-to-peer coaching and support, explained Anne Bastien, program director of the Lassonde Entrepreneur Institute. The program will bring in alums with business and product experience to deliver content on early-entrepreneurial-stage topics based on data the U gathered from alums in their aspiring entrepreneur community.

Over the summer, Lassonde also assembled focus groups with their alumni to determine what knowledge and expertise they had to share with other alumni, and they came up with 10 introductory topics, but D'Ambrosio expects those topics to evolve and change as the program matures. Essentially, the topics will cover industry conversations, and very specific business problems.

Lassonde is partnering with alums, "entrepreneurial coaches," to craft online workshops where they'll share their own stories, and what it looked like in practice as an entrepreneur. What will follow is an open conversation for the aspiring entrepreneurs to ask each other questions.
To illustrate: on Oct. 5 from 12-1 p.m. (MT), Mark Pittman, CEO of Blyncsy and University of Utah graduate, will host a workshop entitled, "Identify a Problem & Opportunity," where he'll discuss how before you start a business, you need to make sure you have identified a problem that customers want solved.

On Nov. 2 from 12-1 p.m. (MT), Dolly Casper, a U alum who has participated in six startups, filed four patents, and formalized a company where she raised $250K in non-dilutive funding, will hold a workshop on "Business & Marketing Research" where she'll speak on learning a lot about the potential of an idea by doing business and marketing research.
Then, on Dec. 7 from 12-1 p.m. (MT), Dylan Turner, another U alum who leads the day-to-day operations of Doxy.me, will host a workshop entitled, "Propose a Product or Service" where he poses this question, "Every business needs a product or service, but how do you know it's the right one?" This workshop will help advance entrepreneurs from identifying a market opportunity to choosing the right product or service to provide.
Alums taking advantage of the Forever Utah Alumni Network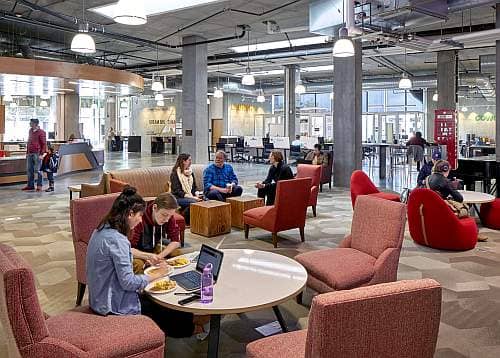 In Sept. 2021, the U's Office of Alumni Relations launched a new digital platform just for alums that lives on its website called the Forever Utah Alumni Network. Anne describes it as a "mishmash of LinkedIn and Facebook, but exclusively for alumni and students of the university." The platform can create closed or private groups, open groups, it can post resources like files, PDFs, videos, and message boards—all of those features that give alumni in the Lassonde for Life program the real sense of connection and opportunities, not just to enjoy the resources provided on the platform, but to mentor students and other alumni, the main function of the program.
Troy D'Ambrosio does not look at Lassonde for Life as "courses," he thinks of it as discussion topics. "One thing I've learned being involved in entrepreneurial education and coaching over the years, you're never done. It's not like you take this assignment, take a test and you're done. This is a continually iterative thing, it's not like you complete this and you're an entrepreneur," he said.
"It's more of getting people to not think of it as a class or a course, but as a way of developing skills, like playing tennis. You never get perfect playing tennis, you're always working on it and going out there and hitting the ball," He adds, "We're not giving somebody a certificate or a degree—it's about gaining skills to go do something you're passionate about."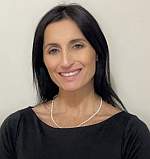 TechBuzz welcomes back Elainna Ciaramella, a business journalist and writer who lives in St. George. Elainna interviews business owners, researchers, university leaders, and c-suite executives from all over the country. Her curiosity is endless and she is constantly seeking information that will intrigue and inspire readers.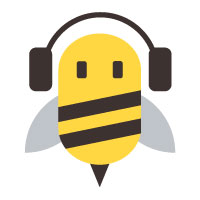 About the Author