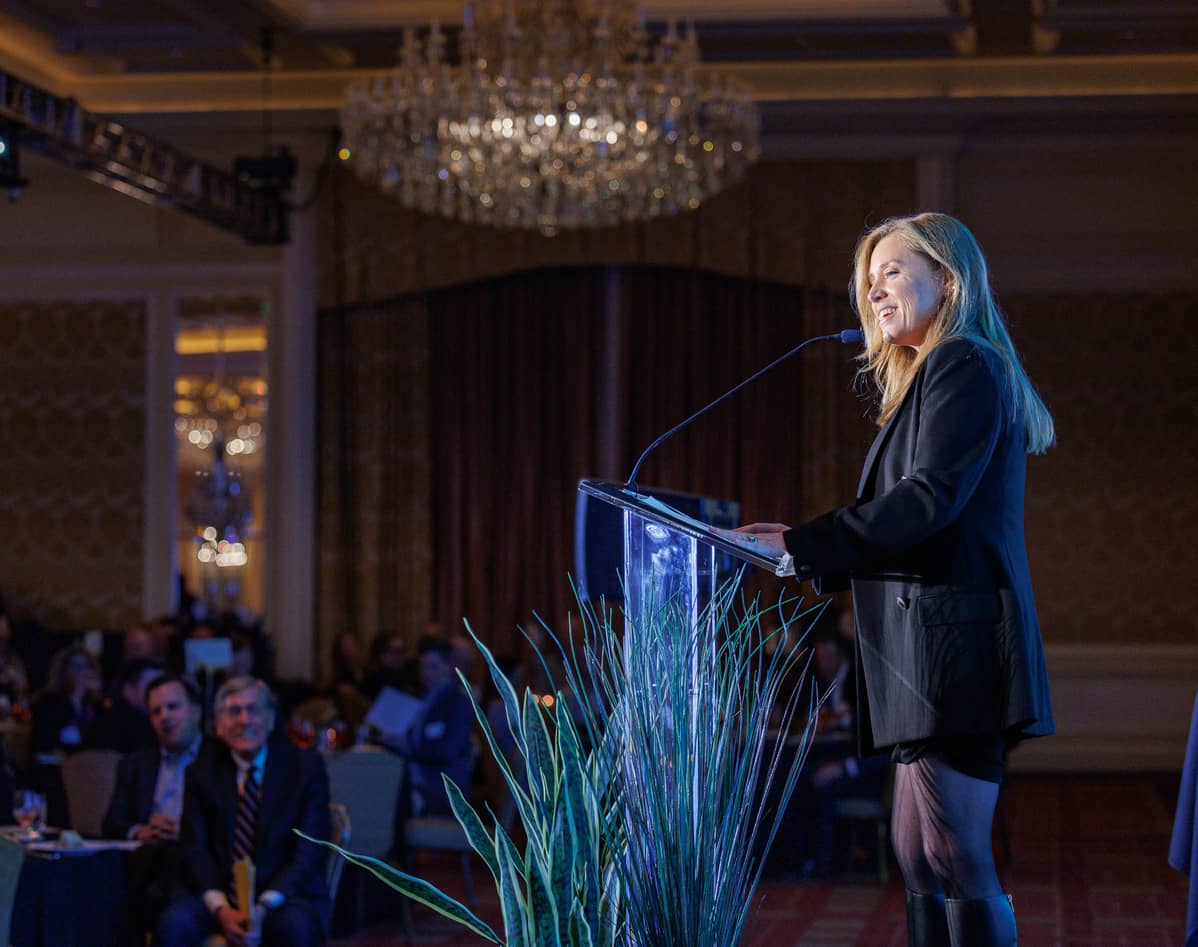 MountainWest Capital Network Names Robert Redford 2023 Entrepreneur of the Year
On April 21, 2023, MountainWest Capital Network (MWCN) honored Robert Redford, actor, filmmaker, and founder of Sundance Resort, Sundance Institute and Sundance Catalog with its 35th annual Entrepreneur of the Year award. Each year, MWCN recognizes entrepreneurs who create industry-shaping businesses in Utah, inspire others with their entrepreneurial vision and give back to the community.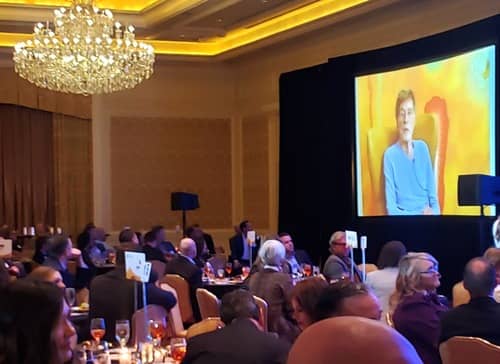 One of the most celebrated and successful actors in the history of film, Redford has been an industry-defining and award-winning leader both in front of audiences and behind the scenes for more than seven decades. In 1981, Redford founded the Sundance Institute at his Sundance Resort property in Provo Canyon, providing labs, grants and mentorships for artists working in film and episodic storytelling.
Now, the Sundance Institute has over 180 full-time employees across offices in Park City, Utah, Los Angeles and New York City. Redford also developed the Sundance Resort into one of the most popular skiing destinations that showcases Utah's famous snow. In 1989, Redford created the Sundance Catalog, a mail-order catalog business based in Salt Lake City, that features the work of artisans whose work reflects the lifestyle of the American West.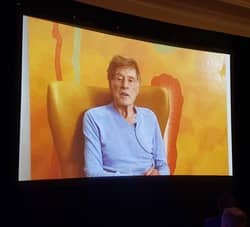 "My history with the State of Utah goes back over 50 years. I chose to sink deep roots here because of its unique and scenic landscapes, which have been a source of inspiration for much of my work—along with its people, who are known for their generosity of spirit and strong work ethic," said Redford. "These elements have provided Sundance with a strong foundation and continues to be the backdrop for our work. I thank the MountainWest Capital Network for this honor, which also serves as a tribute to the countless Sundance Catalog, Institute and Resort team members who have dedicated their time and talents."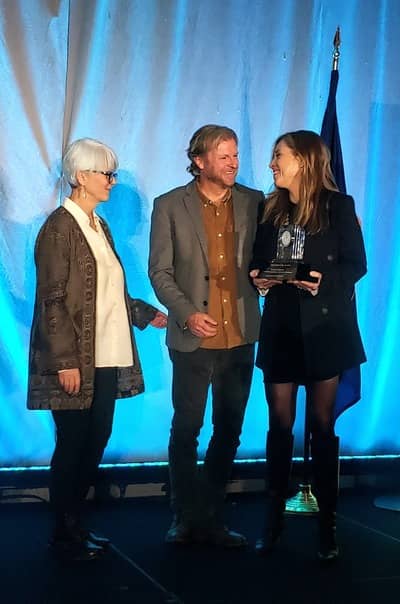 Redford is the creative force behind the Sundance Film Festival, the largest independent film festival in the United States and a major contributor to Utah's tourism economy. In 2020 alone—a year impacted by the COVID pandemic—the Sundance Film Festival was estimated to have brought $167.5 million in Utah gross domestic product and 2,730 jobs for Utah residents.
"For the 35th year of our Entrepreneur of the Year award, we really wanted to acknowledge a global icon who creates communities and helped put Utah on the map," said Ryan Dent, president of MWCN. "Mr. Redford's vision of Sundance and the many opportunities it has generated in the Beehive State and beyond has inspired and enabled many others to likewise pursue their dreams."
The MWCN Entrepreneur of the Year luncheon honoring Robert Redford was held on April 21, 2023 at the Grand America Hotel. Redford daughter, Amy Redford, actor and producer, received the award on behalf of her father who provided a pre-recorded video which included memories of his connection to Utah and gratitude for the award.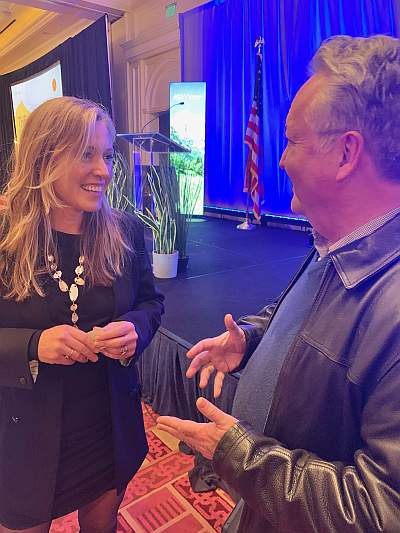 "Part of this story is actually tied to my mom, [Lola Van Wagenen], who was from Provo and who came from pioneer stock," shared Amy Redford with TechBuzz after her acceptance speech. "When my dad came back to Utah to be with my mom, for him it also was a rediscovery of the Provo area, especially that canyon. The nature of the canyon called to him. He knew it was a place that he wanted to protect. But it was a cumulative process. Piece by piece. The first house they built was no palace. It was quite modest. But he was in television. He was on stage. He was making films. Whenever he worked on a project he would acquire a little bit more land with the goal of protecting it. There was a lot of development happening in the area. With each project he would do, most of the proceeds of those projects would either go into serving the land or the Institute. It wasn't about external abundance. It was about protecting the land. Otherwise the land might have gone to the wayside."
Chad Linebaugh, President and General Manager at Sundance Resort, shown below, shared his thoughts about Redford's vision and efforts over many years to preserve the area around Mt. Timpanogos that Redford happened upon as he was driving through Provo Canyon at age 20.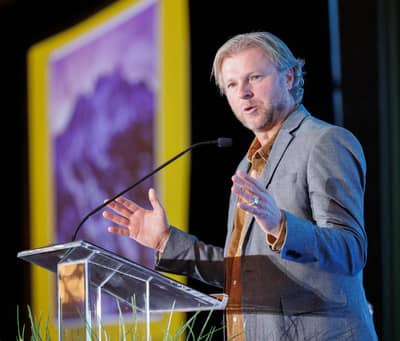 "Surely we have all felt the magic that surrounds Sundance—majestic Mount Timpanogos, the abundant aspen trees and rushing waters. It was nurtured by Robert Redford. Certainly it was Mother Nature or a Higher Power that created the landscape, but it was Bob Redford who played a vital role in shaping it, protecting it. In 1956 while Bob was driving his car through Provo Canyon on his way to California from Colorado, he saw Mount Timpanogos for the first time. He recognized it was very special place and that it must be kept that way. From that moment forward, Bob committed to doing all he could to preserve the land, and the canyon, and everything about that area that makes it so extraordinary. Without his vision and devotion to this place, it's hard to imagine what might have become of the mountain today."
Redford joins other entrepreneurial giants and pioneers who have also been named Entrepreneur of the Year since 1983. Honorees in the past decade include Sam and Kacie Malouf, Hanko Kiessner, Dr. Steve Neeleman, Fred Lampropoulos, Ryan Smith, Jeremy Andrus, Aaron Skonnard, Peter and Nicole Mouskondis, Tom Dickson, Todd Pedersen and Josh James.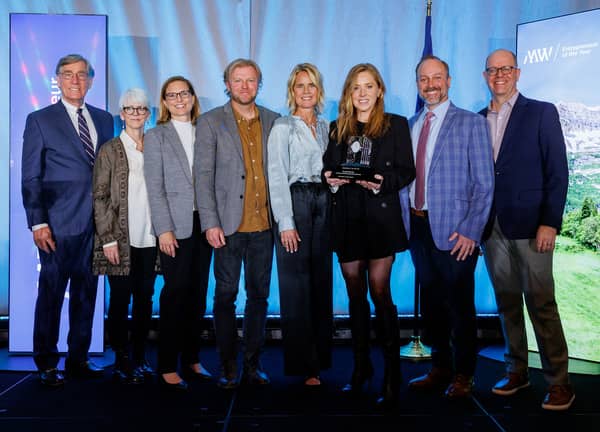 Photography by Laura Kinser of Kinser Studios, Barclay Burns and Mark Tullis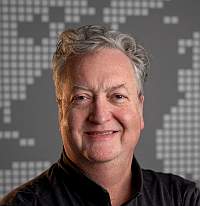 About the Author