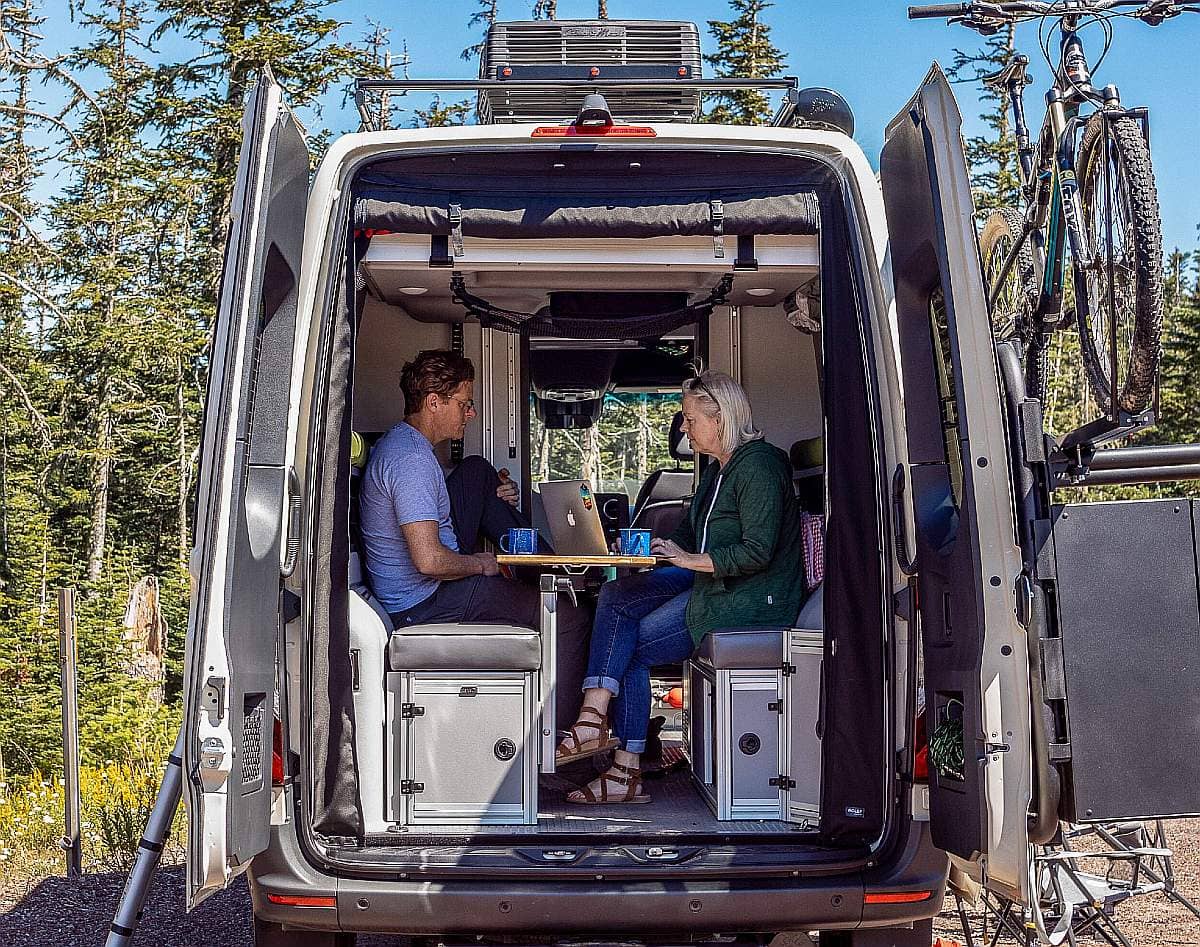 The Dyrt Hires Digital Nomads to Grow Camping App
True to their mission to "help more people enjoy the outdoors," co-founders Sarah Smith and Kevin Long (CEO) are frequent users of their own camping app, The Dyrt. "We were on the road after a van convention in Logan, Utah, and needed to find a spot near Price," Smith recalls. "It was getting dark and I was anxious to settle in, so I used my account on The Dyrt to search dispersed camping options. We chose an area just a few miles outside of town and parked our van. It was completely remote, easy to access, and one of the best dark-sky corridors I've had the pleasure of sleeping under."

Smith left her 5-star review on The Dyrt's platform:

It's just one of The Dyrt's 4M+ user-generated reviews offering tips, information, and photos for campers wandering the (roughly) 70k designated and dispersed camping areas across the United States. Growing rapidly since its founding in 2013, The Dyrt is now the largest consumer subscription software platform for campers in the US. It's a top ranked app for camping in both iOS and Google Play, with website tracking at 20M visits per year—a different camper arriving every second.
The team recently announced their Series B: $11M led by Realization Capital (Menlo Park, California).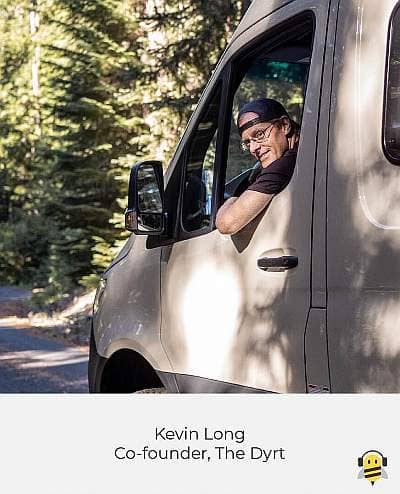 "We set out to be the Yelp of camping because we knew from personal experience there was a market for better intel on campsites," says Long. "The industry is growing at a rapid pace, with over 4 million Americans who went camping for the first time this year. There are so many different reasons for this increase in popularity. People need breaks from the hustle culture, parents want their kids to have less screen time, and there's heightened awareness for the environment."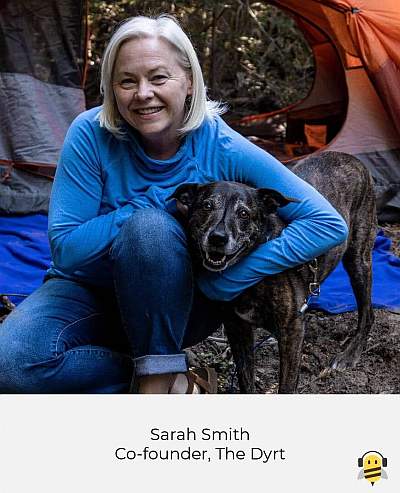 The Dyrt's popularity is also indicative of the trend toward recreational activities during the pandemic. "2020 was a major growth phase for us," says Long. "Everyone in the U.S. was reevaluating their lives, time, and efforts, and we were on the frontlines of a massive boom in digital services and products for camping recreation. The Dyrt's traffic doubled, and in 2021 we did it again: grew over 100% and tripled our revenue. We're super excited to have positioned ourselves as a tool for a range of communities to experience the outdoors."

According to Long, about 80 million Americans camp regularly (3-5 times a year), and last year 4 million more went camping for the first time. "And 31% of these new campers were from non-white communities, so there's more diversity," he explains. "The internet has made it possible for both new and seasoned campers to get out more than ever before."

The power of The Dyrt, Long explains, is making the most of these campers' limited time. If they only have a weekend or two to spend outside, they need to know where to go and how to make it count. "The annual PRO subscription is especially valuable," says Long. "$35.99/year gives you enhanced trip planning features, maps, offline access to the app, and camping and gear discounts. It's becoming an indispensable tool for campers, roadtrippers, and van lifers."

With increased traffic to National Park destinations and tourist areas, The Dyrt has focused its mission to relieve pressure on the country's most popular camping sites. "We're absolutely committed to the 'Leave No Trace' principles," explain Smith and Long. "We're building access and awareness of public lands and emphasizing the need to take care of these 'free' resources. As a tool, The Dyrt helps you find camping and seek out alternative routes, which in turn helps distribute impact. The U.S. has about 40k-50k designated campgrounds, but dispersed camping adds another 20k sites. If we give these a platform of responsible access, there are thousands of options out there."

The team is also interested in supporting small business owners and camp hosts building their businesses online. "What's happening in the camping vertical is what happened in the hotel industry ten years ago with digital features and distribution on travel and booking sites," says Long. "Tech-savvy campground owners are realizing this as well, using sites like The Dyrt to elevate their web presence and increase bookings."

Following the Series B, The Dyrt's investors are interested in the platform's rapid growth, open-source development, and remote-access hiring model. Looking to 2022, the team aims to double their headcount by hiring 100% remote and nomadic employees in marketing, development, and outreach (Current listings can be found on The Dyrt's job board. Vanlifers are encouraged to apply).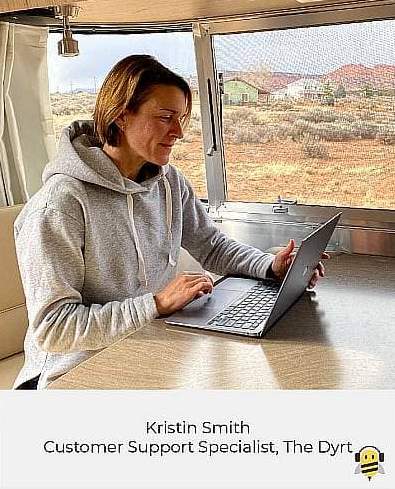 One of The Dyrt's digital nomads is Kristin Smith, an East Coast transplant currently living out of her Airstream trailer in Kanab, Utah. "My partner and I were living in southern California and drove through the Panguitch, Bryce Canyon, and Moab areas on a road trip. We felt like we were on another planet. We fell in love with Kanab and decided to drop anchor more permanently. We bought a house there in March 2021—surrounded by red rocks, a handful of stunning National Parks within an hour and a half in any direction."

Emphasizing education, community, and access, Kristin echoes Smith and Long's vision for The Dyrt. "This special chemical reaction happens when you're out camping, and people want to share the beauty and experience of being outdoors," she explains. "Beyond its review and search tools, The Dyrt is spreading the message of appreciation and responsibility, showing campers how to find alternatives, follow etiquette, and lessen their impact while enjoying nature."
Field research is a key part of Kristin's remote work. "The team is building out the app all day, so it's important to put yourselves back in the shoes of the camper," she explains. "Testing usability, seeing what perks are worthwhile, tracking campground interactions—these activities often lead to ways of using the app for things we never thought of. As remote team members, we're able to get out there and be actual campers so we can push for new features and filters."

The Dyrt's core value, says Kristin, is its community of experts, campers, and online contributors. "Everyone here understands what their fellow campers are looking for," she explains. "RVers, backpackers, hikers, car campers—we're looking for different things but can talk to each other in the same language. Beginners can find reliable specs, and veterans can offer inside info. It's become a crucial element in my trip planning. I don't have to stress or think twice about my next adventure."

Long affirms The Dyrt's emphasis on community. "Successful organizations build a known recognized brand and community," he says. "You can't just throw money at a user-centric platform; you have to work."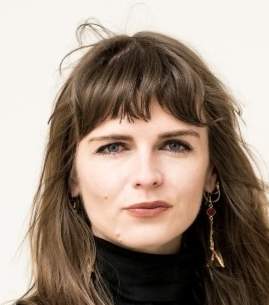 About the Author